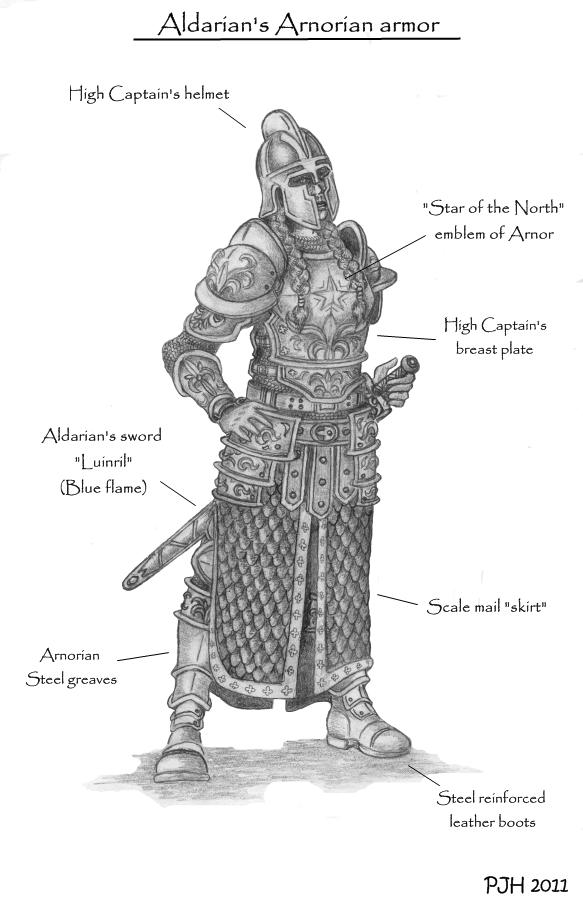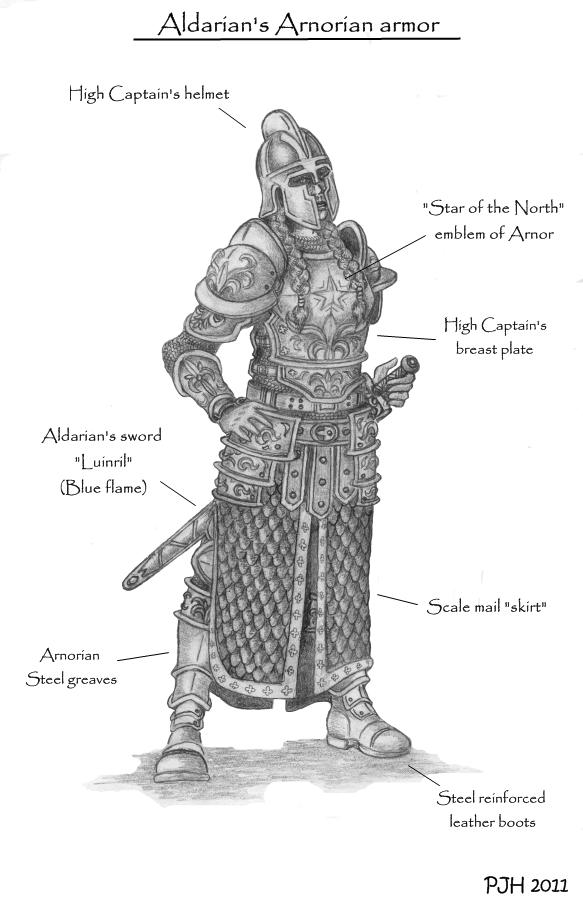 Watch
...
And so it happened that from the armory of Rivendell Aldarian found an armor. An ancient armor made in the forges of the long lost northern kingdom of Arnor. Perhaps it was once belonged to a captain of the guard or perhaps even to a prince of the realm. Perhaps it had been used in those last desperate battles against the Angmar during the final days of the northern kingdom.
But be it so or not, one thing was sure. When Aldarian wore that armor, it looked like some Numenorian lord of old would have landed once again to the shores of the Middle-earth. Indeed she had all those same charasteristics which had made Dunedain mighty in those days . Both good... and bad.
...
An armor study and desing for Aldarian. During the story Elrond offers his armories for Aldarian to use and from there she found an old Arnorian armor. To highlight more the fact that she is the heir of Cardolan (part of the northern kingdom), Aldarian uses it in her battles against the newly risen Angmar.
More honed version fo the same armor ->
[link]
LOTR is (C) to J.R.R.Tolkien
Last heiress of Cardolan is (c) to me

Reply

Well, I am a bit of an "armour geek". I am very interested and fascinated about the armors and especially chain- , scale- and plate ones. I have drawn armors for a long time and will continue to do so in the future.

My Dragon Age gallery contains perhaps most of my armor drawings as I truly like the Templar armor design from the game. Especially my playing character Jolanda (who is also in the burning tower picture) is represented there much. I have even made couple of short comics about my DA heroes.

Reply

Wow.... This has to be some of the most detailed jobs I've seen from you so far. You don't mess with people in real heavy duty armour like that. Research and artistiv effort indeed.
Her right boot looks a bit off though, something with the perspective. But other than that... great job!

Reply

This might very well be one of my most detailed ones when it comes to armor. But I wanted to give the armor a really ancient look (as I descriped to DonnaAnna below), so I put some effort to those decorations and overall design.

Tried to express her in a wide standing pose which is why her right foor is more closer. I don't see much problem with it but I am not so satisfied to the look of the rightside split of her scale male "hem".

Thanks Louise!
Reply

Reply

Thanks. While Dragon age armors are cool to look, I'll find it good to try to design some more original armors time to time.

And in that aspect Aldarian is my "sweet child" and regular "model".

Reply

Original armor design is good. I'm steering more and more off the game armor myself - the more you learn about armor, the more you notice how wrong it is XD
Reply

True that game armor designs are not always the "most realistic" ones. That is partly acceptable as we know that players want to see good, coold and epic looking armors. Not that I would be sure that my designs would be any more practical if I would have to use them in the real world.

Anyhow, at the moment I am quite pleased about this design. I wanted it to look heavy armor but not be a full plate. I also tried to have some ancient feeling with it. Arnor was destroyed 1974 third age and this story settles to the years around 2976 third age so it has been over 1000 years since the event. As it also seems that in Tolkien's middle earth almost everything is declining and waning during years, I wanted this to look more magnificent than the usual man made armors of her age.
Reply

Reply