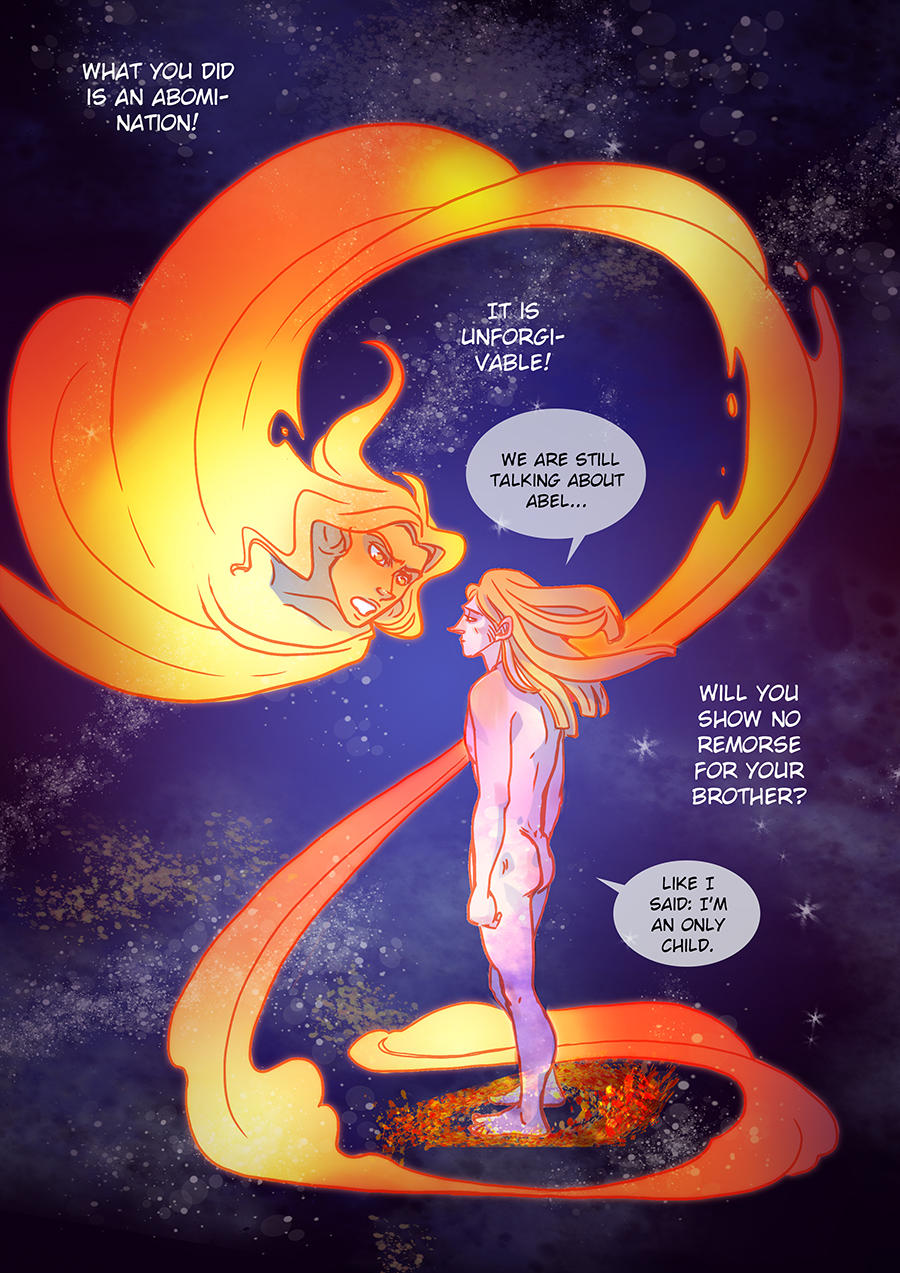 First Page.
Previous Page.
The Mark of Cain - Chapter 4 - Page 2
Next page.
The Mark of Cain - Chapter 4 - Page 4
--------------------
The Story of Man has been lasting for millions of years, and in millions of years million of stories or a million versions of the same story were passed down to us.
All equally true, all equally false, like the people who lived them and lived to tell them.
I know a story which contains them all, as contradictory as they may seem, they never cancel each other out.
I know the Story. The true Story of Man.
If you'd like to hear me out feel free to keep an open mind, believe my words or not, take this Story the same way you would take any other story.
All equally true, all equally false, like this one.
If would be just another millionth version... if it weren't for the fact that, I can assure, it's not.
Nevertheless, we all have a right to cling to a reasonable doubt; I am just a witness, not very objective and very much involved, in my pupil's story.
I shouldn't lie to you: I am what you'd call an angel!
Then again if you don't believe in angels... feel free to believe in nothing at all!
If you cannot wait a month XDD and want a juicy drop thrice a week you can follow Tapastic.
It releases first on Tapastic:
tapastic.com/series/Themarkofc…
The shop:
Daily Deviation
Given 2017-05-24

congratulations for the DD! well deserved

hope you have a great day

Reply

Reply

This is very interesting! Congrats for the DD

Reply

Thank you very much

DD? When did this happen? O_O
Reply

Ever read the comic book 'The Goddamned" it's implied Cain in that story had a similar conversation with God in that story.
Reply

I am not familiar with it but maybe the author read Faust by Goethe, like me and fell in love with it hahaha XD
Reply

This is amazing work! I love how you composed this one.

Reply

This page made me very sad.
Reply

Reply