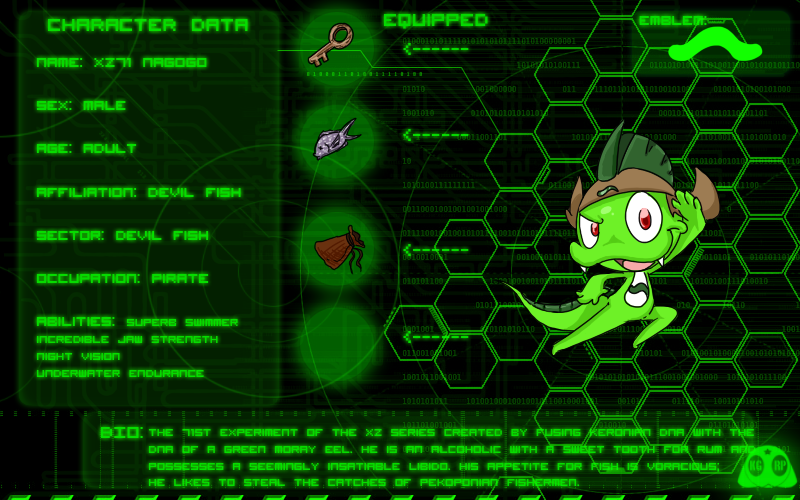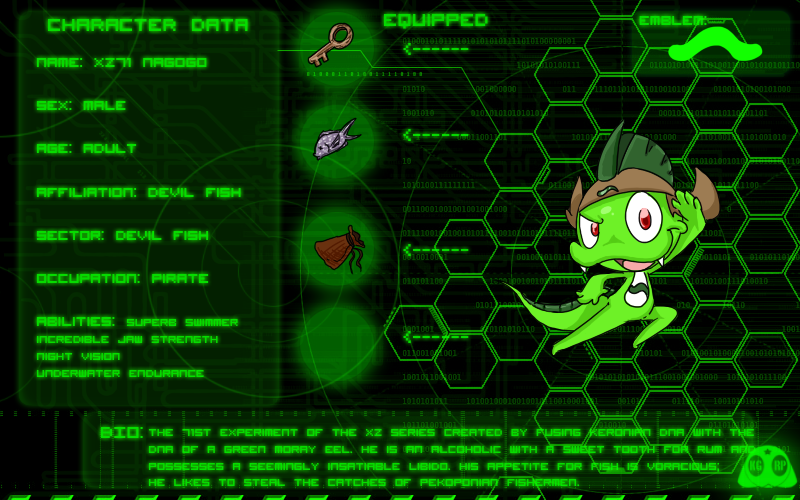 Watch
Like the other seventy XZ series experiments before him, Nagogo was engineered for the sole purpose of becoming a hybrid super soldier capable of both aquatic and land combat. DNA mutations have enabled him to snap nearly anything into pieces with his powerful jaws, even otherwise durable materials such as brick and steel. Later experiments were gifted with gills, so disadvantaged Nagogo has spent many years building up his endurance to remain underwater for long periods of time.
An unforeseen effect of his genetics is the presence of a feral instinct that, when unleashed in times of danger or protection, causes the deckhand to lose control and transform into a snarling vicious beast. Take extreme caution when he is in this state.
Due to the fact he was "born" with visible features that tarnished the Keronian image, he was to be scheduled for disposal at the hands of the government until the head scientist Haigaga's apprentice stepped in and stole the experiment away during the night to release him into the wild where he was found by the abbess of Tasulasa House. He spent a good portion of his childhood at Tasulasa, where he met his best friend, an intelligent yet shy tadpole named Tomomo. After a nasty showdown between the orphanage bully, Nagogo landed himself in the hospital where his blood type was soon discovered by authorities who tracked him down. He had no choice but to run away from the orphanage he grew up in, once again avoiding extermination.
While living in the wilderness, Nagogo stumbled upon the Devil Fish Tribe, who accepted him as one of their own and this is where he remains to this day. He has a position as a deckhand aboard the
Devil's Wrath
, but he is normally very lazy and shirks his duties in favor of going out to taverns to drink the night away and flirt with the wenches. When he isn't being ill-behaved, he loves to search the ocean for his food of choice: fish, fish, and more fish. His monstrous appetite has a tendency to net him into trouble; sometimes he swallows things he is not supposed to (much to the chagrin of the tribe's resident nurse), other times he has an occasional encounter with Pekoponians, either on the hooked end of a fishing rod or caught red-handed stealing from the local fishermen. Due to these instances, he does not like humans at all, but if one were to bribe him with items of interest then he could potentially reverse his judgment; after all, the way to this man's heart is through his stomach (or another place to remain unmentioned). This nearly childish attitude of instant gratification has the potential to be very dangerous if played into the wrong hands...
The Devil Fish Tribe has recently found themselves transported to the mysterious planet of Pekopon with no clue as to how or why they arrived...but Nagogo is in no rush to find out; Pekopon's oceans are teeming with all kinds of delicious fish.
Inventory:

Captain's cabin key -- AKA the "key to his heart"

Small dead anchovy for on-the-go snackage

Leather coin purse (usually empty)