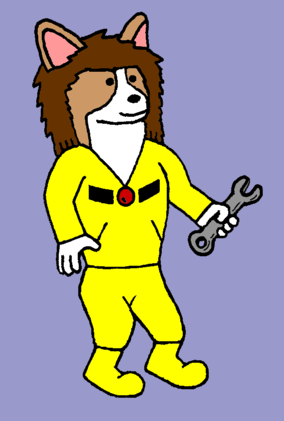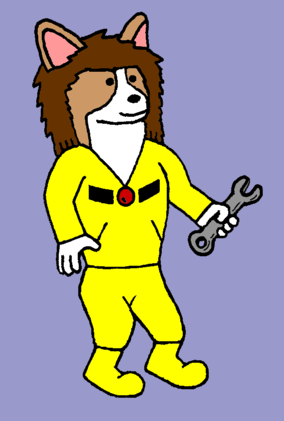 Watch
In Mark Stanley's
Freefall
sci-fi webcomic, engineer Florence Ambrose (
freefall.purrsia.com/ff3300/fc…
) is herself genetically engineered as an anthropomorphic wolf, known as a Bowman's wolf. Recently, her spaceship captain, Sam Starfall, pictured her as various dog breeds (
freefall.purrsia.com/ff3300/fc…
). This got me wanting more, possibly in a fan art forum thread.
I had tentative plans to start with a non-domesticated canid, but then I noticed how convenient a portmanteau her first name makes with "corgi." Besides, the Pembroke Welsh corgi is one of my favorite breeds, if only for cuteness.
Sam's renditions merely look like random anthropomorphic dogs in Florence's signature outfit, some of them using the sort of tools she'd use. I decided to give mine Florence's head hair for good measure. I'd say the main differences are in coloration and proportions. OK, I also opted for beady eyes, because the whites of her usual eyes didn't contrast enough with white facial fur.

Nice!
Hello from international Freefall translation project Comicslate.

Reply

Reply

Reply

Small doggy!

Now that's adorable! ...And could also be a useful form for those repair jobs in tight spaces, right?
Reply

Heh, "Florgi", that's perfect! Just saw this linked on the forums...
Reply

Do you have a different username on the forums? I don't recognize this one offhand.
Reply

No, I go by "The Urocyon" there too. Although I've only been on the forums since November, I try to be fairly active.

Reply