Hi all!
Hi dear Devious member reading this journal, or member of our group,
Hi Ladies and Gents!
I have the great honor, to present this interview of the
Decisive-Impression
team (the co-founders), with ten questions about Art.
I am particularly proud of this since these persons, these Artists, are great and very talented people, active devious members of the Community. So questions are about Art, their vision of their own art.
Therefore… Enjoy! Throughout their answers, I hope you'll find some interesting and inspiring thoughts...
To me as founder of this great group, it has been a lot of fun and intense moment to read the views of these great people

You'll so go through the questions and answers of:








Q1. What kind of gear do you use?
ZephyraMilie
I have two cameras, an Olympus pen e-p2 and a Canon EOS 7D with:
- Canon EF-S IS 15 - 85 mm f/3.5-5.6 USM
- Canon EF 50 mm f/1.4 USM
- Sigma 70-300 mm f/4-5.6 APO
This is my first DSLR and I got it in July 2014 so it is still a new world for me. I mostly use the 7D for portrait, people, street, events, architecture. The Olympus is great when I don't want to carry the 7D, when I go hiking, etc, but of course it is way slower with many limitations.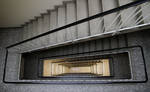 Andaelentari
Photoshop, Wacom Bamboo tablet, various point and shoot cameras

JACAC
NikonD800 14/24 (2.8) 24/70 (2.8) 70/200 (2.8)
Fujifilm X10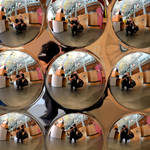 Pierre-Lagarde
Phone, compact cameras, DSLRs, computers… and a bicycle.
Nat-ti
Traditional, digital
:thumb456114787:
ZiaulKareem
I shoot exclusively with Mirrorless cameras.
Olympus OMD E-5,Fuji X100s, Fuji X T-1, Panasonic Lumix GX-7 and Ricoh GR.
Cyril-Helnwein
Canon 5D II, Hasselblad H3DII, Mamiya RZ Pro II, Pentax 67, Heidelberg drum scanner and Epson 9890 printer.
Batsceba
1-
Niki Ray
(Nikon D7000) -
Blue
(Olimpus u9000,S9000)
Daniel
(Nokia C5) and others....
Cam
(CASIO EX-Z110) -
Lucy
(Panasomic Lumix)
Polly
(Fuji )
Ollie
(Olympus OM2) ....
Jeff
(iPad)
I am not a traditional photographer (
state of incessant imperfection - nothing lasts, nothing is
complete, nothing is perfect
) I believe that the means are not so important, after all ... and I
don't have so much money to buy what I'd like. So I dream of a dark room, a study, one Hasselblad,
three Laica, a series of Polaroid, and more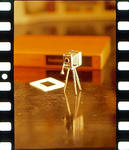 Q2. What is your vision of your art (your domain of art)?
Cyril-Helnwein
I like to work on a series or theme of photos for an exhibition and after that is complete, to do something entirely different. You'll see the style and methods are quite varied between "Beautiful Disasters", "Downtown", "Myths & Fairytales", "The Ethereal". Of course there are things that these series together, but I try to reinvent myself as much as possible with each series and thereby keeping it fun and challenging for myself.
Batsceba
An "artistic product" is made of contingencies, chance, true/centratura.
it is different to anyone: you like it or not, it tells you something or lets you cold. it makes you angry. it provokes. it gives you enthusiasm. he does not affect you. it is. it has its own life. it does not belong to the artist anymore.
(from ART OF IMPERFECTION, SUBTRACTION AND SDEFINITION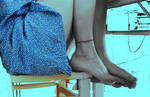 ZephyraMilie
The main vision of my photography could be "expand the reality and your imagination". I always tries to get to an otherworldly level through my art, being mostly inspired by abstract, surreal, conceptual, architecture, geometry, reflections, shadows, patterns, street, etc. I like to shoot what people generally find uninteresting and to explore new concepts. I can be attracted by interesting shapes anywhere!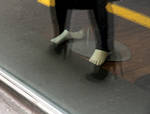 Andaelentari
Digital art, specifically photomanipulation, digital darkroom, and dabbling in digital painting.
JACAC
Well I am an architect and that is a great help in composition and to see things because I am always looking around. I don't see it as art, but as a exhibition of my feelings looking to life and to what catch my attention.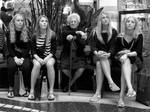 Pierre-Lagarde
Nawak. In fact anything that can be shown as an image. For the moment, I use photographic images.
Nat-ti
Touche à tout just for fun
:thumb489463129:
ZiaulKareem
Vision is the art of seeing the invisible. In this respect, vision is not just seeing, it is not just "sight." Instead, vision is insight.
It is the ability to see something that only you can see, something that others do not see because this something does not have a physical reality. It is something you see in your mind's eye, something that exists in your imagination, something that is within yourself.
Q3. Whose work has influenced you most?
JACAC
In street . Cartier Bresson /
In fashion . Helmut Newton
In everything . Jean Loup Sieff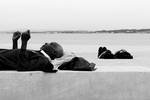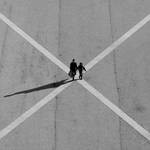 Pierre-Lagarde
Modern painters (Yves Klein, Yves Tanguy, Yves Montand… no,

, Kandinsky, Georges Matthieu and many others) and Stanley Kubrick
Here on dA, many also but mainly Cyril

, Ulrich

, Samuel Poromaa

and Florian

ZephyraMilie
Dali, Magritte and Miro are three artists which are really inspiring for me. But honestly in photography, I have no name to tell you. I am mostly influenced by a lot of wonderful artists and works I discover on DA or other artistic communities. I am always amazed of the many talented artists I find online! Otherwise, my main inspiration is simply the natural and human life around myself…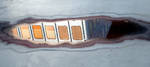 Andaelentari
Uhhhhhhhhh the first person I thought of is alicexz:
alicexz.deviantart.com/
Her paintings are so well done and I'd like to paint like that someday:
Nat-ti
Too much to say
:thumb362902175:
ZiaulKareem
My main influence has got to Robert Doisneau. Other photographers though would definitely be HCB, Vivian Maier, Robert Frank, Daidō Moriyama, Garry Winogrand, Raghu Rai to name a few.
Cyril-Helnwein
I like a lot of the old masters (Cartier-Bresson, Ansel, E.S. Curtis, etc), but the inspiration for my ideas often comes from many different things - sometimes a song, sometimes a personal experience, sometimes a film, sometimes a particular person.
Batsceba
Uhm... Many

Man Ray, Ansel Adams, Urs Lüthi, Cecil Beaton, Vivian Maier, Robert Doisneau, Diane Arbus, Weegee, René Groebli,
André Kertész, Helen Levitt, Elliott Erwitt, Alfred Eisenstaedt, Henri Cartier-Bresson, Richard Avedon, Yuri Bonder... The world is full of good eyes... and Wittgenstein!!!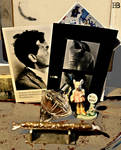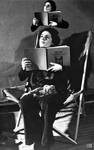 Q4. How do you educate yourself to take better pictures or achieve better drawings, paintings?
Andaelentari
I used to just do trial and error with everything, but have started using tutorials as well, mostly found on dA.
JACAC
I am the first great critique of myself, I got angry with me when the result is not what I want and I delete a lot of my works. I read a lot and I see a lot of photos, but I think the best way to improve myself is going out and taking photos, trying to do different things and approaches. And I also make same interesting experiences I go out to make street and choose a different lens for each day and try to make what I want with that lens, not easy, try it…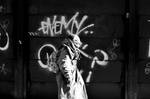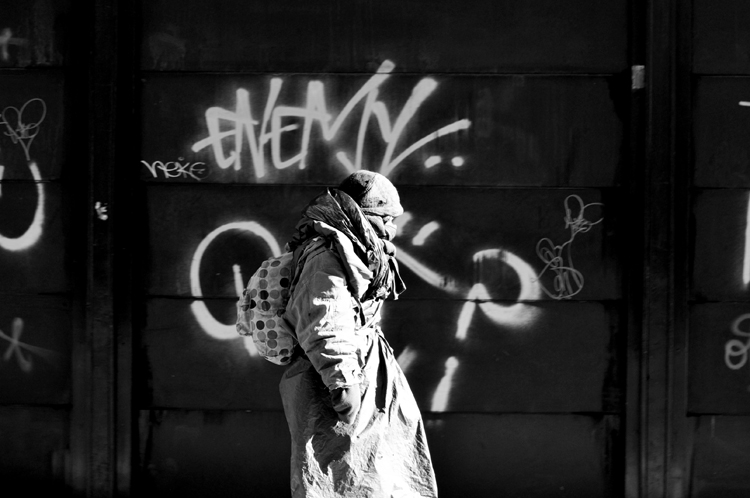 Pierre-Lagarde
I play, most of the time… and read technical datas and watch what others do too.
Nat-ti
Practising and studiyng
:thumb467536779:
ZiaulKareem
I can't really say I educate myself. I just get out in the streets as much as possible, I think that's the main thing. You want to be out as much as you can, practice. See the thing with street photography is the unknown, people out the next day that weren't out the last, different lighting, and I think because of that I became addicted to it really. Constantly wanting to go out for more. I do read a lot of photo books, and try to watch as many photography documentary's that I can, street photography related or not. I just love photography.
Cyril-Helnwein
I like to experiment a lot and figure things out by reading manuals, etc. Getting my hands dirty, mainly.
Batsceba
Studying, trying, doing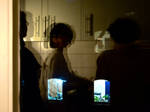 ZephyraMilie
For technical points, I sometimes use great tutorials I find online, there are so many! But the main education for me is to practice, practice, practice, try some new stuff which will lead to other explorations, etc!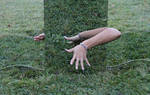 Q5. Among your works, which one is your favorite? Why?
Andaelentari
Hm, my favorite is probably:
because painting is the most relaxing and the most fun for me, and I love redheads and painting portraits. Oh, and I'm a big Paramore fan, ha.
JACAC
For sure this one, because I think is a really and touching photo of the mean friendship that is so important in our lives.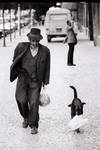 Batsceba
This shot, which is still analog, reminds me of the smell of the acids and the magic of the image slowly appearing before your eyes. I no longer have a dark room and the equipment to develop and print photos, and I don't like to rent other people's stuff... I am a loner, I guess ...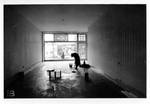 ZephyraMilie
I think this recent work of mine is my favorite. I titled it "Unlock your imagination": it is a visual representation of my vision of art, not only mine but art in general. Imagination has no limits! I also like it because many people think it's a photomanipulation, although I did everything by hand, it was very simple (with some transparent thread). In the reign of photoshop, some people forget that sometimes the most simple tricks are the most efficient. So another message of this shot is: explore concept by hand to really embody them, don't be "lazy" by counting ONLY on photo softwares (although these softwares allow wonderful stuff, don't get me wrong!) !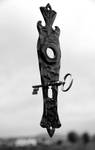 Pierre-Lagarde
Not really easy to say. Most of the time it's the last one. So, I'd say that one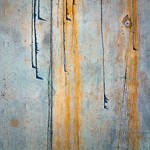 It's just because it's corresponding the most to my present vision.
Nat-ti
The lastest one because I'm working on it
:thumb502742487:
ZiaulKareem
I think it's a daunting task to pick my favorite among my own works.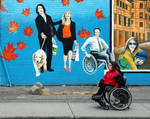 Although the title says "The Happiness Project", there is an irony behind this shot.
Cyril-Helnwein
I don't know that I have one particular favourite one as they all are from different times in my life and about entirely different subjects. From my last Series, "Beautiful Disasters", probably one of these 2: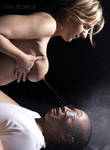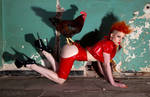 Q6. What kind of tools do you use for post processing or painting, drawing? Explain simply your work flow.
JACAC
I really don't like to post processing photos, only on professional works to magazines, then I use Photoshop. I my "normal" works I just make a crop to make them square or adjust the levels on b/w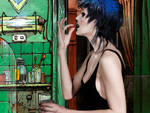 Pierre-Lagarde
Two well-known softwares for photographers

, and some other unix applications as enfuse, align_image_stack, plus some scripts I wrote to process multiple images.
Nat-ti
I work a lot in my mind before making something with my hands
:thumb439754085:
ZiaulKareem
I tend to do less Post processing as much as I can.I usually shoot JPEG+Raw. If I think the JPEG file is quite good than don't take the hassle of post processing.
Cyril-Helnwein
I try and 99% of my work in pre-processing - the camera. So that's where most of my work is - sometimes a shoot takes several weeks of work to prepare, sometimes it's simpler and only takes an afternoon.
After the photo is scanned, I will do a little adjustment here and there (something that you could easily duplicate in the darkroom such as cropping or adjusting contrast). Then just print and frame!

Batsceba
It depends on the project. If the work is strictly photographic (street e.g.) I try a very little edit, as if I were working on an analogic negative. But I also produce ' combi-photographies ' superimposing some photograms (two or more), as in analog photography, blending forms and colours - reality and individuality - through a synaesthtic perspective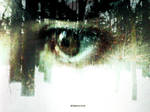 ZephyraMilie
I am not a post-processing expert and honestly I like to shoot and not the PP. So my PP is usually very basic (contrast, white balance, light, b/w, etc). I try to compose a shot at best while shooting, so I don't have to do much PP. I only use open source softwares: Gimp, and Darktable for the RAW.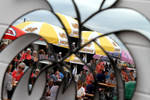 Andaelentari
eh? I mostly start with the model and then add textures and experiment with colors and angles, etc. until a concept appears for me to grab hold of and use to complete it.
Q7. What is the one thing you wish you knew when you started taking photos or started drawing, painting?
Nat-ti
Never give up
:thumb363297475:
ZiaulKareem
Take Your Camera Everywhere.You'll never make a good photo with your camera sitting at home. I've had to convince myself that the day that I leave the camera at home will be the day I miss the opportunity I'm waiting for. Therefore, you'll rarely catch me without a camera.
Cyril-Helnwein
I don't think there is something specific that I could look back on and regret or think of in terms of "damn, I wish I had done that differently" because once I'm done with something I move on to the next. Sure, there were many stupid mistakes (like dropping a camera in a waterfall, etc) but they only happen once and never again!
Batsceba
Because I am doing it ... I myself do not like to do anything without knowing why I am doing it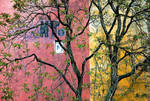 ZephyraMilie
I wish I had known learning to shoot manual is not that complicate!
Andaelentari
That I should have started with painting because it's a LOT more useful than photomanipulation!
JACAC
That I will catch the feeling/story behind the photo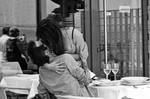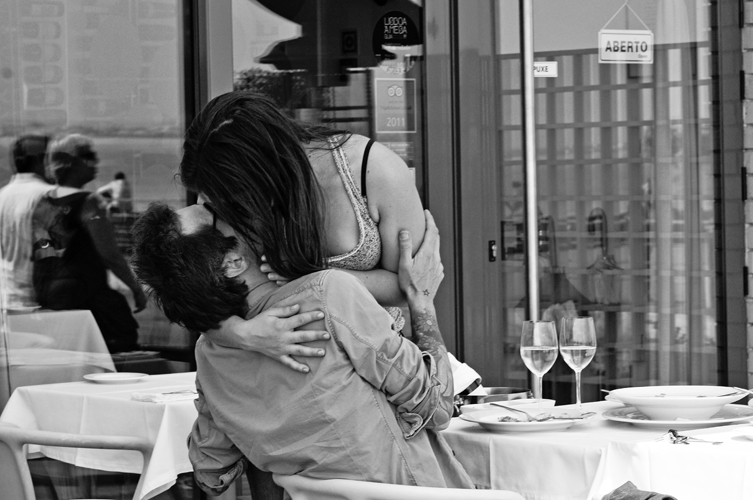 Pierre-Lagarde
I've never wished I knew things before discovering them… I love discovering things all the time.
Q8. What advice would you give to a beginner?
ZephyraMilie
Open your eyes, inspiration can be anywhere! Art has no limits, explore anything you feel inspired by without shame! Be free, be yourself! And there is no failure, of course you won't like the majority of the shots you will make, but what you may consider a "failure" will lead you to some better shots. Just shoot, practice, explore!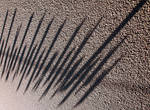 Andaelentari
Learn painting as soon as possible, digital and traditional. It's the most in-demand skill, well that and some forms of photography, I think.
JACAC
Go out and click, click and even click !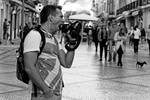 but the other way


Pierre-Lagarde
No real advice in fact, just have fun ! And then ..well… have fun

but anyway, let yourself feel what you need to express, while still taking care of others.
Nat-ti
Never give up
ZiaulKareem
Know thyself first and then seize the moment.
Cyril-Helnwein
1. Keep on working and when you can't think of anything to do, then just do anything at all but don't sit on your ass - with action and doing comes inspiration.
2. Find your own style and be true to yourself; don't try to please anyone or let someone criticize your work.
Batsceba
I don't like giving advice. I think it is important to learn to observe, and above all to be candid.
if you're lucky enough to find a teacher, it's nice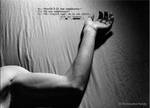 Q9. What is your actual project?
Cyril-Helnwein
I'm working on my next series - no name yet - shooting on medium format instant film with my Mamiya. That's about all I can say about it for now.

Batsceba
ri-Vestirsi

I have enough of seeing pictures that transform the female body into an erotic and aesthetic object,
I'm working with a model on the opposite concept of naked: to cover ourselves. She dresses herself after being naked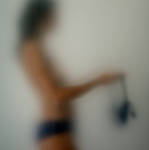 JACAC
After my last book "Advertising" about the contrasts of advertising in the cities, I am doing photos for my next book, ghost in town, so I am collecting photos of cities all around the world, I need to have 100  it's an amazing experience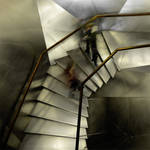 ZephyraMilie
I don't really have "projects", but currently I am exploring some surreal and conceptual self-portraits with different technics, filters, long exposure, etc.
:thumb511790388:
Andaelentari
actual project?

OH WAIT job? I'm a freelance artist which means I'm poor and mostly unemployed

.
Pierre-Lagarde
Nowadays I'm in a project of photographers showroom with two friends. The project is called Le Local 12 :

Nat-ti
Traditional drawings
:thumb410233293:
ZiaulKareem
If time permits to travel extensively, explore more cultures and take photos of people.
Q10. What is your favorite personal quote, or proverb?
Cyril-Helnwein
"When the going gets tough, the tough get going." haha, just kidding... I don't... don't think I have one!
Batsceba
"It is joy to be hidden and disaster not to be found" (D.W. Winnicott)
ZephyraMilie
I have many favorite quotes, but here is one I really like:
"Your living is determined not so much by what life brings to you as by the attitude you bring to life; not so much by what happens to you as by the way your mind looks at what happens." Kahlil Gibran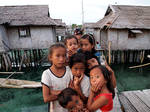 Andaelentari
it's on my profile widget, and it comes from Dead Poets Society: "We don't read and write poetry because it's cute. We read and write poetry because we are members of the human race. And the human race is filled with passion. And medicine, law, business, engineering, these are noble pursuits and necessary to sustain life. But poetry, beauty, romance, love, these are what we stay alive for. To quote from Whitman, "O me! O life!..." of the questions of these recurring; of the endless trains of the faithless... of cities filled with the foolish; what good amid these, O me, O life?" Answer. That you are here - that life exists, and identity; that the powerful play goes on and you may contribute a verse. That the powerful play *goes on* and you may contribute a verse. What will your verse be?"
JACAC
And there is a smile of smiles
In which these two smiles meet
William Blake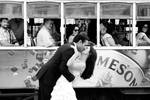 Pierre-Lagarde
At least two...
"Tout est dans tout, et vice et versa"
"Mourir pour des idées, d'accord, mais de mort lente"
www.youtube.com/watch?v=p-ZI28…
Nat-ti
"Si ce sont les plumes qui font le plumage, ce n'est pas la colle qui fait le collage". Max Ernst
:thumb366259527:
ZiaulKareem
"We do not see things as they are. We see things as we are."