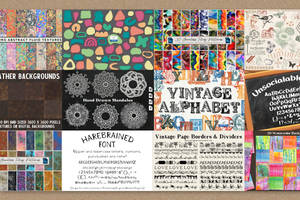 HG Designs Subscriber Area
Lots of high resolution goodies for graphic design including textures, photoshop brushes, seamless patterns and more.
---
CAMERA DOODLES SHAPES AND PNGS
Description
A set of retro camera doodles that I created with Illustrator and Photoshop CS5. They can be downloaded from my blog free HERE:
[link]
I get many comments from people saying that they can't find the download link. It is because they do not take the time to read the description and follow the link to my blog. These comments will be ignored because if you can't take the time to read the description, I'm not wasting my time answering you.
Image size
1200x1200px 434.68 KB