Welcome to the official Death Until Dawn page! Feel free to browse to your heart's content. There is a lot on here about Death Until Dawn. There is literature explaining certain elements of the DUD universe, concept arts of the characters, merchandise, some fanservice, and quite a bit more. Plus, ask a character a question on their concept, and they will answer you! And coming soon, miniwebmangas and short comics! Welcome to the world of Death Until Dawn! Become a fan from the very beginning!

The designer of my logo is Ben Shepard, a graphic designer native to the United States, Arizona. His work is awesome, and I highly recommend him. His prices are reasonable, and the quality of work is worth whatever the wait. His contact information: benshepard11@gmail.com

Featured Work:




The Red Queen has come...








Check out these other deviants!
























Go here to earn free points!





Awesome place to receive constructive criticism:





Go here to support my manga!






Fanart by other artists::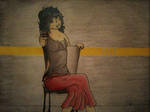 Scottthespy
Bringmemisery