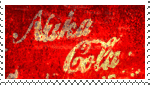 Assistant Chef in an Italian Restaurant by day. Gmod posing internet geek by night. When I'm doing neither of those things I'm usually cruising the net or messing around on my 360. but my main hobby is doing modding work for Half-Life 2. I mainly do reskins for environment props and NPCs'. Other than that I have the standard geek rap sheet. I watch Anime, MST3K, Ghost Hunters etc. And in my spare time I enjoy gaming, cooking and bike riding (casual riding not that hardcore cyclist thing) I'm not really good at introductions so I'll just shut up now. Check out my gallery, message me, send me anthrax, whatever you like.
Current Residence: Jacksonville, Florida
Favourite genre of music: Metal, Electronica, Classic Rock, Game & Film Soundtracks
Favourite style of art: Realistic, Surreal, Detailed, Good quality Anime
Operating System: Windows XP Home Edition
MP3 player of choice: Winamp
Wallpaper of choice: Pop art, Video Games or Anime
Favourite cartoon character: Nathan Explosion, Alucard from Hellsing, Forte from Galaxy Angel, Rocko
Personal Quote: If at first you don't succeed, there's always Beer!
Favourite Visual Artist
Chemicalalia Asuka111 Artgerm Patrickbrown Sideshowmonkey GENZOMAN torei
Favourite Movies
Alien, Ghostbusters, Predator, Spriggan, Akira, Casino Royale, I Am Legend
Favourite TV Shows
Metalocalypse, Aqua Teen Hunger Force, The Walking Dead
Favourite Bands / Musical Artists
Chimaira, Dethklok, Soilent Green, Soilwork, Lamb of God, Children of Bodom
Favourite Games
Current favorites: Fallout: New Vegas, LA Noire
Favourite Gaming Platform
PC & Xbox 360
Tools of the Trade
Photoshop 7, XVI32 Hex Editor, GCFScape, VTFedit, Garry's Mod 10, Source SDK
Other Interests
Anime, Music, PC & Console Gaming, Cooking, Half-Life 2 Modding