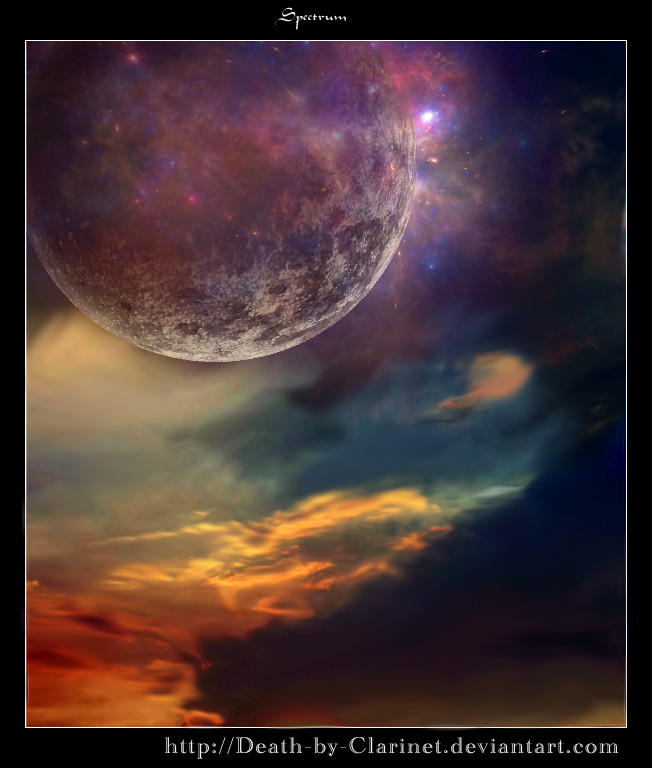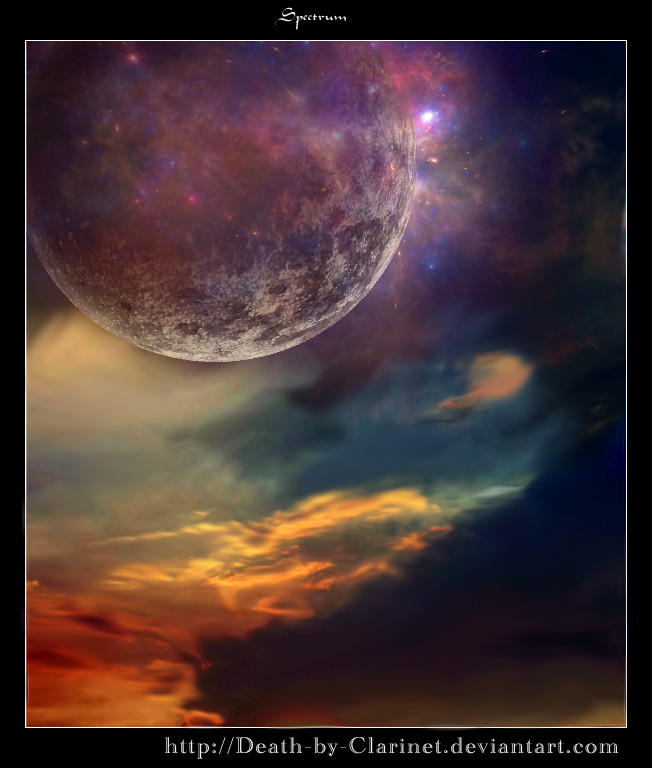 Watch
A spectrum... full of color and life.
******* FULL VIEW OR I LOCK YOU IN A CLOSET WITH AN INFINITELY LOOPING ANN MURRAY CD.******
The background isn't that great res wise, so I tried to smooth it out a little... that's the only problem I have with this. Otherwise, I just love the colors.
Credits:
Sky:
Planet:
Starry Background:

I have to agree, the colors are stunning :]
Reply

o_O wow

your threat is the funniest !!
Reply

Reply

awesome

Reply



COLORY SPACE THINGS!
oo oo! you're making something for me

i actually found a way to do my shockwaves in that contest entry i did so maybe that'll help



you ish uber kewel Megz0rz
Reply

YES.
I have a great secondary title for it too.

w00t! I had an awesome idea too, but I hope I can pull it off.

*searches stock art like crazy.*


Why danke! You @r3 73h aw3s0m3 t00.


Reply

god i wish you went to my school!
we have a creating writing and lit club (i'm in it) and we're having a lit journal, and we're having art and photos in it, and i'm the editor for photos, which puts photo manipulations as one of the things i edit, and i haven't gotten any yet, and this would look killer sick in it!!
Reply

Badass. =o
*hinthint* It's not like I would know if you used it.

Kidding. Well, I wouldn't know, but...
I hereby give you permission to use it, or any other photomanips I do, if you like. Heck, you can even make a request if you want. Although, the request might be risky. But, just to throw the idea in the air.

Reply

If you wanna add some depth & realism to it, the easiest way would be to delete the starfield on top of the planet, since it couldnīt be visible in reality. If the planet would be a gasgiant, then it could shine through a little.
But still, that only if you like realism, I rarely like it in my own pieces, itīs more fun just to go nuts and see what one ends up with. Good to see the stock was useful.

-F
Reply

Yeah, thanks a lot for the advice. I debated putting that in there, but since I've yet to use one, I was like "Hey, it looks okay so far, why not?"

I think my problem with photo manipulations is that I'm too timid to go nuts and dive into it. I'll keep working at it though, and plan to branch out using different types of stock. So, thank you!
Reply

Ohhhhh wooooooooooowwwww, the coooooollllooooorrrrrrssssssssss..........

Reply



I still can't figure out what to do for the Riko's theme. It's not like you can SEE sound or SEE thunder... so maybe approaching stormclouds and some sort of shockwave type thing?
You're air, yes? I'll make one for you too.

Reply

Hmmm... that's a toughie. Even she isn't sure how to portray that. She's doing a contest entry where she and the other's character are fighting, and she has kind of a shock-wave portrayal... like, the front end of the wave is curved, and the back is a little jagged. I dunno; when she submits it, you'll see what I mean.
WUT~!? Forreals? Why, thank you!

=3
Reply