Deviation Actions
Daily Deviation
June 18, 2014
F3N - Illustration Brushes by
TheEchoDragon
is a lovely set of painterly style brushes that many artists will find useful, try them out!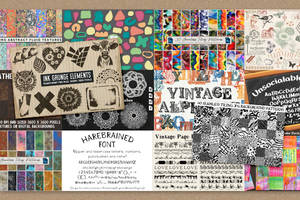 HG Designs Subscriber Area
Lots of high resolution goodies for graphic design including textures, photoshop brushes, seamless patterns and more.
---
Suggested Premium Downloads

F3N - Illustration Brushes
289.1K
Views
1
Collected Privately
Description
The brushes I tend toward are always changing and evolving but this is my current set and one I enjoy using a lot. These are all custom made or tweaked from default photoshop brushes. They focus on making hard and soft painterly strokes, blending, and sketching.
They should all work in Photoshop CS2 and above but I cannot vouch for older versions, sorry

(please let me know in the comments if you are having difficulties)
Hopefully you will find something useful among them

--:: Because numerous people have had trouble finding it, and Deviant Art continues to stick it in a very awkward place, the Download Button is on the right of the page somewhere >>>
NOTE: These brushes are free to use and may be used to produce commercial work, but please DO NOT redistribute the brush set itself for profit. They have always been and always should be free for everyone. If you should ever see a website selling this set for money please kindly re-direct people here.

Comments have been disabled due to being spammed with offsite links to dodgy websites and links to portfolios that run through an ad site first.
Comments have been disabled for this deviation