News
I wrote this for

today and I thought.... after typing this all I might share it with you as well, especially after the screentone-pack xD
Here you go:
Screentoning
</u>
This lesson will be about screentoning in general. As a help you can download this screentone-pack:
I will use it for examples in the later lesson.
A short overview over the lesson:
1) Basic-knowledge about Screentones
2) Screentoning - the simple way
3) Special-effects and self-made tones
4) Advanced use of screentones
1) Basic-knowledge about Screentones
Screentones are the most common way to shade traditional manga-pages. They are texture-like images -most of the time small little dots- that use the colors black and white only. The traditional screentones are foils that were attached to the linearts drawn with ink. Today most artists screentone their pictures with computer-programs. There are even programs especially for screentoning.
There are different kinds of screentones.
-Basic-tones
-Gradiation-tones
-Effect-tones
-patterns and designs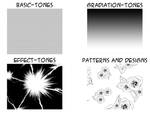 When taking a look at traditional tones you will find a few datas attached on them.
A number between 1-100% and a number and an L at the end.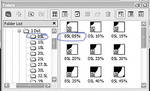 In this example I marked the 05L 05%
This means the screentones has 5 dots per inch (05L). The higher the %-number, the thicker the dots. 05% is the lightest tone. 95% the darkest.
2) Screentoning - the simple way
After downloading the screentone-pack above, please open a graphic-program. Gimp, Photoshop, ... they should all work out fine as long as you can create different layers ( <- Paint for example doesn't work...)
Open an old lineart of yours and lift it to a new layer so you have only the black lines. (You can find lots of tutorials about this here on DA. Just take a look around for a decent one or look at this:
deamond89.deviantart.com/art/L…
)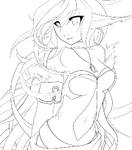 Open the 1st Ste of 600 dpi -screentones in the pack and open them in your program as well. Copy and Paste the middle tone to your lineart-picture (on an extra-layer!) Now select the parts you want to screentone. Go to Select>Inverse Selection. Now anything but the parts you want to be toned later on are selected.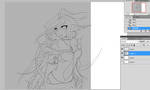 Click on 'Cut'.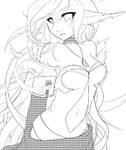 Your picture should look like this now. Congratz! You just added your very first screentone!
Now we want to add highlights. Just erase some parts you want to highlight and reselect your previous selection (The one you just cut away).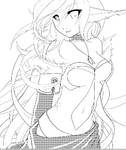 Copy and Paste the light tone. Make sure it is from the same set and the dots sit above each other (The dots have to sit on the same space, otherwise they will look weird)
After all you don't want it to look like this: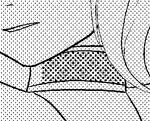 If you made it right, it should look like this: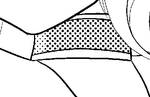 Now time to add some shadows. Use the select-lasso and select the parts you see fitting for shades.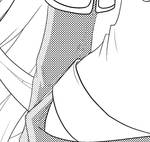 Import the dark tone now. As before, make sure the tones are fitting! Inverse your selection and cut it.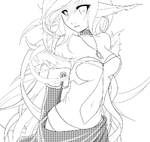 We are done. This is the simple and most common way of screentoning a picture.
3) Special-effects and self-made tones
Typical for Mangas are special-effects as speedlines, explosions,... as well as backgrounds as skies, mountains, .... Usually it is rather hard finding a matching screentone right away, so we have to make one for ourselves.
To make an explosion (the way it is shown in the effect-folder) is very simple.
Open a new file. Your selected colors should always be black and white as these are the only colors used in traditional Mangas.
Go to the filters and select the cloud-filter.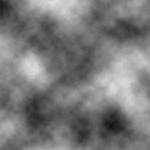 Now go back to Filter >Blur>Radial Blur. Choose the Zoom-Blur instead of Spin and play around with the intensity-bar...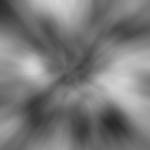 Now got to the halftone-pattern-filter. It depends on the taste but I like tones best in which you actually see the dots clearly, you can choose this however you please though.
You can use the half-tone-pattern-filter for any kind of tone you want to make yourself.
4) Advanced use of screentones
Basic-screentones look okay... but really good results you get with the help of Gradiations!
As before, select the area you want to tone.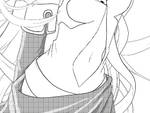 With a black brush (hard!) add shadows. On round areas as her breast you can add some low-opacity shading (I used 20%).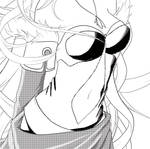 Now import your gradiation-tone the same way you imported the tones before. Turn the tone, so the light sight is turned towards your light-source.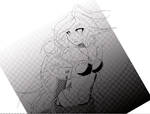 Select and cut as before.
The gradiation makes the shading look more smooth and natural.
The same works for the skin as well:
Import the gradiation and select the areas you want to shade.
For skin you should use the lighter side of the gradiation. Cut the pixels as before. If you see fitting, erase the gradiation with a low-flow-eraser so the edges aren't as hard.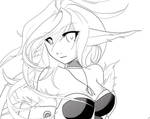 If you have any questions, feel free to ask me.
~Deamond
Contest!
The 4 categories:
-4-paneled mini-comics: A short-comic most of the time with 4 panels, but you are allowed to extend it to more. (3-8 panels are alright) As long as it is EoT-related, you can draw whatever you want!
-Modern EoT: The characters of a fantasy-world drawn in modern time, cloths, etc. Maybe how the girls go to school, or the guys playing football, etc.
-Young EoT: The EoT-crew how they were as kids. Callo babysitting Ary, Ledah playing with his brother,... just think of something nice and cute

-Dea+EoT-crew: To celebrate my DA-birthday, draw a picture with me (Dea) and some of the EoT-charas. It doesn't have to be related with the DA-B-day though.
Prizes:
For each category, the prizes are the same:
1st prize: 3 month-subscription, 1 month journal-feature, picture will be taken into my shoutboard-"hall of fame"

2nd prize: Special journal feature, Picture will be taken into my shoutboard-"hall of fame"
3rd prize: Special journal feature
Special prize: I will chose one picture that I love the absolute best. The winner will get a free sketch that I will probably, depending on my time, turn into an inked and colored picture.
All entries will be featured in one journal as well!
Take a closer look at the rules!
deamond89.deviantart.com/journ…
Artist Feature + Clubs
I want to feature an artist that deserves a lot more attention! Seth is a good friend of mine almost since I joined DA... His works are really great, I love the sketches especially x3
Take a look!!!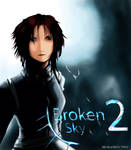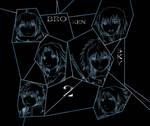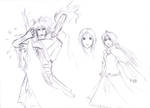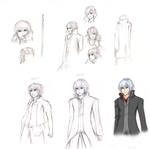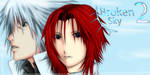 And for those amongst you interested in great stories, read his Broken-Sky-story!

Broken Sky Chapter 1Prologue
On the world of Exire, there was once nothing but war. Before such a thing as the Empire existed, tiny tribes fought amongst themselves for power and glory. These wars however, were not fought with conventional weapons, the tribes themselves were more than normal. Humans with extraordinary powers, evolved genes through years of mutation, their eyes allowed them to control certain elements of nature depending on which tribe they were born from. The advanced technology also helped spur forth the coming of the end. As thousands of years passed, their population began to decimate and humans started to roam about freely, expanding the borders of the Empire without much knowledge of what transpired or what existed beyond their small gates. Five thousand years have passed since the war transpired, their kind have only few in number now and keep a low profile as the human's nation, called the Empire have prospered and taken over the entire continent. However, they exist beside th
If you want to be featured or know someone who needs/deserves attention, please send me a note!

Galleries