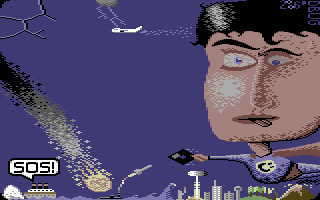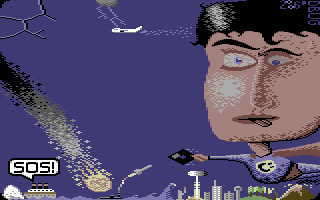 Watch
Well, it's my second c64 picture released at a party (Big Floppy People 2006 in Sweden). Did not get a very good ranking (10th of 15th), but I'm still happy because it was the first time I actually made something on a real C64 (instead of an emulator), using a real C64 painting program (Zoomatic).
I will not explain here again what the constraints of C64 multicolor mode are, you can find them on my other C64 picture (Oldskool Escape) in my gallery.
The picture itself was drawn on the party place, from 10:00 to 17:00 on the Sunday, on a C128 with a 1084 monitor (with bad light reflections on the screen

), and I started without any real idea, it happens that in the end it's Superman trying to bring a very important floppy to the party place before the deadline... trying hard to not lose time by saving the world from the numerous cataclisms that are all around him.
I know it's crap, the colors are pretty bad, due to the contrast of the screen I was not able to notice how bad the dithering is (until I saw the picture on another screen), one arm is missing, etc... will try to do better next time


I had no idea the C64 had a painting program..I'd love to try it

anyway, considering the conditions you made this in it's not bad!
Was there any tool for erasing/undoing actions?
Reply

They're quite many painting program for the C64, both on C64 and on PC (emulating the look of the C64).
Zoomatic is "hardcore", you can find it here:
[link]
I don't really remember if there was any UNDO, but it was very limited in term of functionalities. Had things like copies of patterns for sure, so you don't have to spend hours copying a dithered pattern, but that's about it

Reply