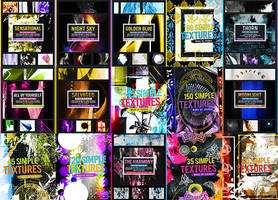 All Premium Content
Buy this to gain an ALL-TIME (not monthly) access to all premium resources packs I create (through Google Drive). As a subscriber you can also suggest what kind of resources you would like me to upload. Once you purchase, DM me for further info. NOTE: Reuploading and sharing premium content with others is strictly prohibited!
---

Description
Pack contains 11 jpg files 2300x1725 px
Since lately I became a famous deviant


(3 (three!) deviants faved my textures, and 2 (two) groups featured it

) , I have a few simple rules

which you have to follow if you want to use my fabulous textures:

You have to credit me!


You have to credit my husband and son (they don't have anything to do with it, but you still have to do it)!


You have to put a link to my profile below your deviation!


You have to thank me on my profile every day!


You have to give me 2 (two!) llamas, even though it's impossible, but keep trying!

You have to cherish me and pray

for me every day!
(If you are an atheist, you won't drink black coffee

, eat cakes

or smoke cigarettes

the day you use my textures!

You have to fave

all my deviations!


Below your deviation I want your written statement

that your deviation wouldn't be possible without my awesome textures!
Also, if you sell some deviation made with my texture, all the money or the points belongs to me!


You have to tell all your friends

about me, so they can use my textures, and follow my rules too!


If you wouldn't follow my rules, I'll know

I have connections...


Note for people without sense of humor or tired of numerous rules - this is a joke, dedicated to deviants whose rules is impossible to follow.


There are no rules. Cheers!

See also: Glass texture pack
[link]
and Concrete texture pack
[link]