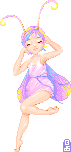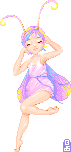 Watch
I finally gave up tryin' to make this halfway decent. Screw you antennae!! I also made her too pale, as always. I guess that's just my style.

Anywho I made this for the 2017
Glam Base Race
. Please come and join in!!



Base by
Phoenix1784

the colors on this are so dainty and pretty!! im so happy you're doing the base race

Reply


I like her dress~ The color blends in with her skin a bit, but the shading is well done.
Reply

Cute! If you are worried about paleness pallettes might help at least until you get back in the swing of things

Reply

Thanks! I do use palettes... but I usually end up just makin' my own because I'm unnecessarily picky.

Reply

Reply