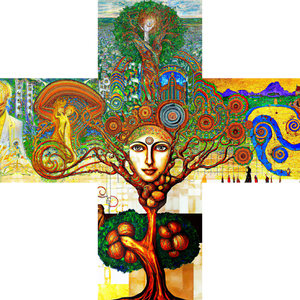 Art Lover's Club
Join the Art Lover's Club and unlock a world of creativity! Enjoy exclusive access to my diverse collection of art styles and support my artistic journey. Get ready to immerse yourself in a realm of inspiration and beauty. By supporting the Art Lover's Club, not only will you have the opportunity to explore a variety of art styles, but you'll also directly support my artistic endeavors. Your low membership fee ensures that I can continue
---
Suggested Premium Downloads

The Periodic Table of Storytelling, Second Edition
Description
The Second Edition incorporates all of the learning I received during my three years at the Rocky Mountain College of Art + Design. It has better typography, more story molecules, and updated kilowick counts, but the identifiers are the same so as not to break compatibility with the first edition. And there's now a clickable version here:
designthroughstorytelling.net/…
No more typing names into the TVTropes search box - just click the trope and you're there!
Image size
1300x2200px 449.9 KB