This is what happens when you draw two cards from the Deck of Many Kinks!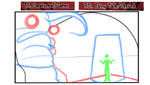 Randomly rolled two prompts on
pyperhaylie
's Kinktober list to combine for one picture. Got 13. Paranormal / Latex and 30. Fairy Tale / Shrunk and tried to see what I could put together in a day!
There's some stuff I'd still like to tweak given the chance, but all in all for a day's work I'm pretty happy with it!
Image details
Image size
2046x1376px 2.18 MB