Teaser: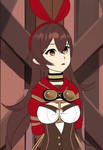 Get the pack here ---> app.gumroad.com/dawho555?sort=…

Ladies of Monstadt- sound off! (Or rather- don't)
Amber, Lisa, Sucrose, and even Signora's showing up to put on a little show for y'all.
4 loopable Animations, two with sound (including some edited samples from their actual in-game moans / grunts!)
www.patreon.com/dawho555
Follow me on Patreon to get access to all my other projects, and a 50% discount on all my gif packs
(meaning yes, it's actually cheaper to be a $5 patron and THEN buy this pack than it is to just buy this pack outright)

Image details
Image size
1106x1106px 1.07 MB

Thats a pretty neat idea. You planning to do more genshin in the future? I wouldnt mind Xinyan in bondage if you do.

Depends on how well this pack sells!
I really enjoyed working with these characters so in all likelihood it's very possible