Make sure you right click the player and set it to loop!

Gif version: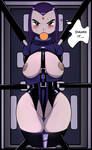 (All characters depicted are consenting adults participating in roleplay scenarios)
Looks like Raven failed the exercise and got herself put in the Penalty Box!

Dear oh dear I hope the timer isn't TOO long.
If you like my stuff and want to support me, follow me on Patreon where we do tons of long form comics and animations:
www.patreon.com/dawho555
Or if you'd rather buy my stuff in itemized packages, and even see some exclusive side projects, visit my Gumroad page instead!
app.gumroad.com/dawho555
Image details
Image size
664x1080px 2.06 MB