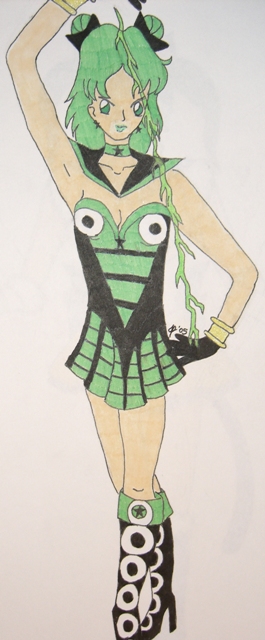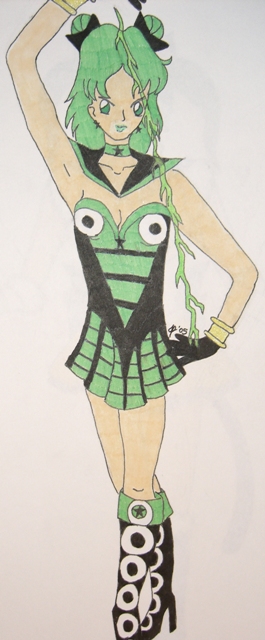 Watch
Sailor Titanium Kerokko is only found in the Sailor Moon Musicals (Sera Myu) just like Sailor Pewter Fox.
I have always wanted to draw her for a while but never got around to it. Then the anime-artists club was have an action pose contest and it was the perfect opportunity. I have no clue what kind of attack she does becuase she only showed up in the musical so I made her have some kind of lighting attack. She is charging her attack right before she throws it at who ever she is fighting.
I think this is as close as I have gotten to doing a piece on my own. The head and body came from one pic, the legs from another, the right arm from another, the left hand from a different pic and the left arm from my head.
Entry for
action pose contest.
This piece can also be found here:
Sera Myu Only series:
Sailor Pewter Fox:
[link]
Blody Dracul Vampir:
[link]
Sailor Astarte:
[link]
Year: 2005
Paper: Bienfang Sketch Book Professional Series 9" x 12"
Tools: Mechanical pencil, gel pens, and prismacolor markers
Sailor Moon ©Naoko Takeuchi
Other Sailor Titanium Keroko fanart:
zzDarkChizz:
[link]
fokkusu1991:
[link]
shuu-san:
[link]
[link]
[link]
[link]
(bottom of the page)

This is so cute.. I

her outfit!

Reply

Good job! YOu did great on those hands and feet girl!
Reply

Thanks. I hope to get better if I keep practicing.
I really liked how the legs and boots turned out but I am not to crazy about the arms and hands although looking at it now the arms do look a little better.
I am working on a new piece but I can't figure out what I want to do with the arms and hands yet.
Reply

OOHHH YEAHRRR
lovely nice nice nice i just want to climb inside her ohh yess sexy sexy
Reply