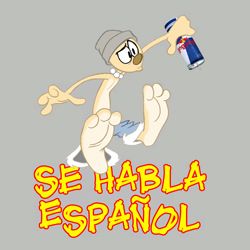 Yup.
Alias Enterprises ,the comic book house that publishes Yenny, is going Christian now.
This, of course, means that Yenny won't be published by them anymore and neither are a lot of other titles.
Altough I'm sad because Yenny doesn't have a publishing house anymore, I'm very happy because of them.
Mike Miller and Brett Burner are very brave making this move and as a Christian myself, I have to wish them the best in this new project! It was great working with you.
Way to go guys! Let the good Lord guide you on the way, man!!!
-Dave
Here's the Press Release:
Alias Enterprises Re-defines Their Vision: Christian Comics are where it's at!
October 3, 2006
La Mesa, CA – mid-level publisher Alias Comics announced today that they will be focusing their publishing efforts in and around the Christian market.
In May of 2005, Alias comics opened its doors by launching 12 books into the comic book marketplace, cementing their place in history as the independent comic book company with the largest number of launch titles ever. Several of those books were Christian titles and the founders of Alias, Brett Burner and Mike S. Miller, made no bones about the fact that they were both Christians. "Yeah, we are Christians running a comic book company that is Christian friendly, though primarily secular in what we produce.", said Brett Burner at the time.
Since that time, however, Alias has garnered more and more interest from the Christian market and mainstream Christian publishers. From the work on Ted Dekker's 'Saint', a promotional comic book produced and distributed for Thomas Nelson Publishing, to a 24 book deal with Zondervan publishing, a division of Harper Collins, as well as plans to develop the popular Christian video series, 'Angel Wars' into comic format, it is clear that there is a bright future for Alias comics and comics in general in the Christian world.
Talks with these and other Christian authors and publishers have pushed the young company into a direction they are perfectly willing to go. "We're going 'all' Christian". Said Mike S. Miller, co-founder of Alias. "It's just obvious that Alias needs to do this, and all the time and effort that goes into publishing other peoples work for the secular market is taking time and effort away from the work where Alias is finding the most success financially as well as spiritually."
What does this mean for the 'secular' books that Alias produces, including some of Miller's own titles? "We're going to help our studios find new homes for their books as much as we can. The last thing we want to do is leave them in the lurch after they've helped us become what we are today. I'll be making an announcement soon about where my own titles will land.", concluded Miller.
ABOUT ALIAS ENTERPRISES, LLC
Based in La Mesa, California, Alias is a publishing company dedicated to bringing the world of comics to the world beyond the comic aquarium. Alias's goal is to publish excellent comics and reach new readers for the medium in the Christian market.
-Mike
--------------------------------------------------------------------
Les agradezco los comentarios que dejan acerca de los comics del Nuevo Día y Primera Hora.
Siempre sería bueno que los editores de los periódicos lo sepan asi que he aquí unos cuantos e-mails para que se los dejen saber:
Editora de Por Dentro (Nuevo Día)
Norma Borges González
nborges@elnuevodia.com
Editor de la sección Flash (Nuevo Día)
Samuel Mujica
smujica@elnuevodia.com
Editora de la sección Flash
(Nuevo Día)
Claudia Robiou
crobiou@elnuevodia.com
Editor de la sección Así (Primera Hora)
ndelcastillo@primerahora.com
Editora de la sección Así
(Primera Hora)
colon@primerahora.com
¡Dejenle saber lo que piensan!
Ke Dios me los Kuide,
-David Alvarez
------------------------------------------------------------
GET YOUR YENNY COLLECTIBLE STATUE TODAY!
* Sculpted to perfect standards by Wally Rodriguez
* Only 100 will be made
* Made in hard Poly resin
* Customized upon request
* 14 inches tall
(Send an e-mail to dastudio@caribe.net for more pictures)
Price: $ 157.99 (add $7.00 for shipping costs)
You can make a Paypal payment to dastudio@caribe.net
Or send a money Order to
David Alvarez Studio
PMB #72
400 Kalaf Street
San Juan, PR 00918