I don't think that anyone really cares, but well, why not. Maybe someone has already read it on my DeviantID, but I'm going to write it down here as well: I recently decided to finally take commissions!
By now I can create somewhat decent sketches myself, but if you prefer a specific style, you may also deliver a sketch yourself (it can be very rough, I'm fine with that). I can do simple line art, flat color as well as fully shaded drawings. For prices, please send me a note. Examples of recent work: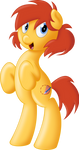 Additionally, I offer custom wood engravings and cuttings like the following one: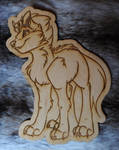 And now, go back to where you came from!