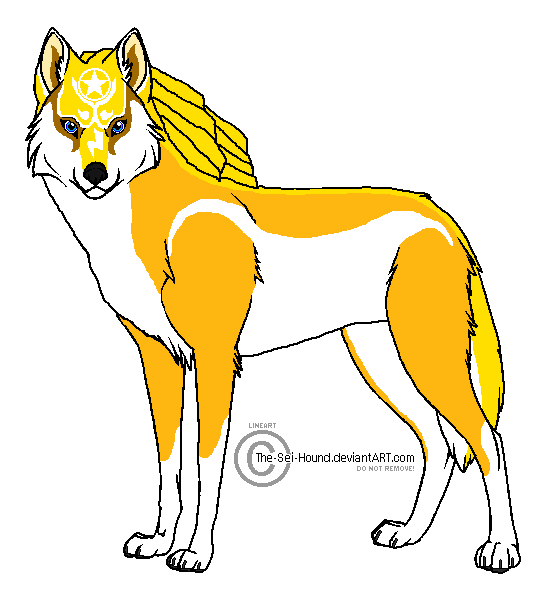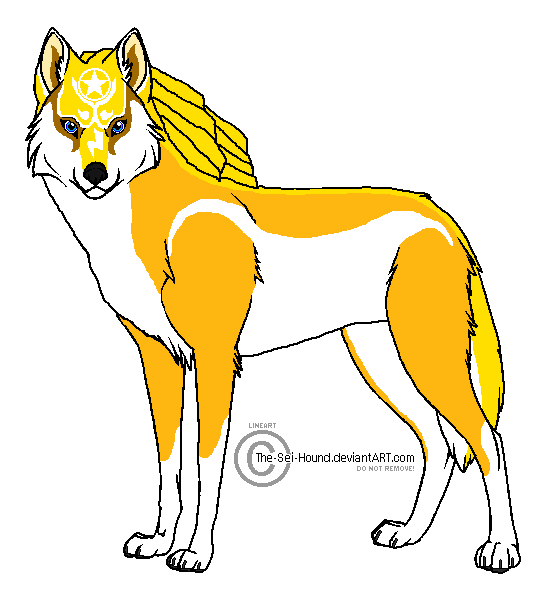 Watch
If I could be any kind of animal, I'd so be a wolf.
And this is how I'd look.
----------
Name: Goldstar Zues Michaels
Nickname: Goldie (by his mate)
Species: Demi-god Wolf
Colors: Golden Yellow fur, white underbelly, blue eyes, yellow mane, spine, and tail, brown eye markings, black nose
Build: Muscular (can't be seen due to fur)
Personality: Friendly, Loyal, Helpful, Loving toward his family, Easy to get along with, Aggressive when needed
Element: Thunder/Electricity (main), Light (Secondary), multiple other Elements
Non-Element Powers: Immortal, Telekinesis, Telepathy, Invisibility, Night, Thermal, and X-ray vision, Teleporting long distances, Flight (mainly with magically created dragon wings), Super Speed, Super Strength, Size changing, Can hold the soul or spirit of someone in his body, Can't be possessed, Able to enter and control machinery of all kinds, Able to survive in perilous conditions such as lava, getting eaten, explosions, planetary explosions/supernovas, poisonous gases, underwater, freezing water, in outer space, Acid, Nuclear Blast, Planetary Fall (although it results unconsciousness after impact)
Hidden Abilities:
-Fury Mode (reaches his peak power and gets a color scheme similar to Sonic the Hedgehog: gold body and red eyes, can activate and control at will and when in need)
-Blood Rage (gains a darker color scheme, red eyes, and dark red marks on his legs, can only activate when someone very close to him dies at the hands of one of his worst enemies)
Height: 3'7", but 7'10" when standing only on hind legs
Family: Demetria (mate), Luke, Wade (sons), Violet, Hermione (daughters), Elijah (adoptive son), Zeus (possible father), Poseidon (possible father-in-law), currently unknown mother and siblings
Skills: Human Reflexes, Video Game playing expert, Drawing, Building, Martial Arts
Weapons aside from powers: 2 Golden dual blade lightabers that can separate into nunchucks, a golden laser firing XM8 with a mini rocket launcher attachment, a red homing rocket launcher, a black machine gun, 2 nunchucks with orange handles, a frying pan, a legendary gear with electrical powers, and a gun that can shoot random items (like an apple, bowling ball, TV, or a bus)
Likes: Spending time with his family, Pups (he's a major sucker for them), Helping others, Cloud Watching/Star Gazing, Sunrises/Sunsets, Technology
Dislikes: His family and friends in danger, arguments
Weaknesses: Not invincible (but can only be defeated by super hard/heavy blows/attacks), Pups (sometimes as he's a sucker and playmate for them), His Blood Rage (can hardly control himself)
-----------
Made from LineArt aquired from:
[link]
Original Lineart ©

Wolf Form/artwork © Me
Please comment if you fav.
Do not copy, edit, or distribute without my permission!