Welcome!
This group is devoted to the closed species called Dainties! Here, Dainty owners can show off art they have gotten of their Dainties as well as participate in drawing prompts, raffles, events and contests!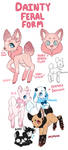 I want a Dainty!
If you want a Dainty all of your own, here are some ways to obtain one!
Get official designs by Pajuxi-Adopts as adoptables! Sales range from flash sales to auctions and customs.


Official mod and mini batch Dainties are released monthly in raffle sales!


Follow this group and watch out for special event raffles and draw-to-adopt Dainties!


Check out the Dainty Trade and Resell Center


Grab an MYO slot from an MYO event! See below for more details on MYO events and guidelines!
No Dainty of your own yet? Participate in the community anytime with the NPC Community Dainties
Chante!
or
Baggie!
or even our newest edition:
Shay!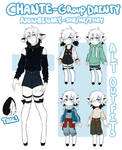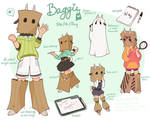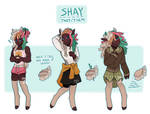 Dainty MYO ("Make Your Own") slots
are available for purchase when an MYO Event journal has been posted.
See this journal
for all you need to know about MYO Dainties!!
MYO Events
happen monthly.
They may be First Come First Serve or Raffle sales. Sometimes, bonus Flash Sales occur in addition to the monthly event.
Regular MYO
$35/ 3500

Crossbreed
$45/ 4500

<<< Click This For More Info!!
Contact the Group when...
You have MYO questions
You have trouble with another member regarding Dainties
You have a question about something that's not covered by the help links above!
You see a mistake on the masterlist
Group Rules
This group is for Dainties ONLY. All submissions must feature at least one Dainty!
You do not have to own a Dainty to join the group!
Do not bother people for their Dainties or any form of harassment!
Please note that we don't allow LF Dainty journal submissions into the group!
Make sure to ask others before drawing their Dainties, not everyone likes gift art!
Code of Conduct
Our full code of conduct can be found
here.
As a brief overview, we do not condone any forms of discrimination or harassment, nsfw underage artwork, or any illegal activity/anything that breaks the site's TOS. The opinions of the Dainty community members do not reflect our opinion as moderators. If you see anyone going against our code of conduct or someone is making you uncomfortable, please contact the group!
Our blacklist can be found
here.

Important Read!

PROMPT