Not Long To Go!
(20th December 2009)
Catch you guys real soon! Got the script/notes ready and SAM Broadcaster program up and runnin'. It's all GO!

The Man Behind The Voice of Dr. Eggman!
(17th December 2009)
Nuff' said, only three more days to go.
You know the drill guys! Be sure to spread the word to your friends since this opportunity doesn't come often. Don't forget to tune in on Sunday! = )
I will do my best to make this interview with the legendary
Mike Pollock
as unique as possible since there is a whole bunch of other ones he's already been on:
To
LISTEN
(to the show) and
CHAT
in the IRC chat room at the same time all you have to do is click on the pic above you.
Let bmn do the rest.
Be sure to bookmark the link for future reference!
Bmn suggested that you don't need Winamp or an IRC app to get it working. You do need
Flash Player
(for the radio) and
Java
(for the chat).
More importantly be sure to have an IRC client
- otherwise you won't be able to have access to the chat room. Check out
Allan's thread
on how to download one!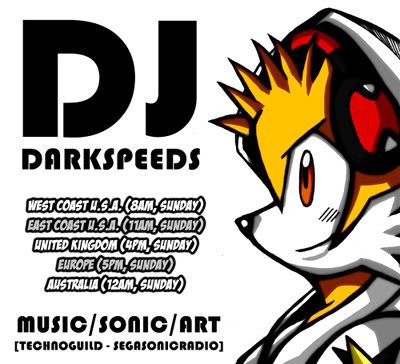 Catch you guys this Sunday! Once again please feel free to
POST YOUR QUESTIONS TO MIKE
here on this journal entry.
Do some homework and check out the 3 interviews mentioned earlier before posting questions that have already been asked.
Credit to
Brad Flick (aka Slingerland), Bryon Beaubien (aka Psyguy) & Andrew Paulson
for their work and of course to our special guest
Mike Pollock
who has confirmed with me that he'll be making it to the show this Sunday.
I will be sure to let you guys know first thing if I hear anything from Mike regarding whether he can still make it or not. Cheers! *thumbs up*
Kind regards,
Elson 'Darkspeeds' Wong
P.S. Oh and one more thing! Click on the DJ Darkspeeds image above or the real life image of me below - it will also take you to the
"DOWNLOAD PAGE of ALL DJ DARKSPEEDS SHOWS</a>"
up to date! Happy listening!
P.P.S. Also,

will be joining in the LIVE discussion with Mike and myself for added entertainment. Be sure not to miss out!

Preparing more fanart of DA friend's cartoon concepts. Also complete a request by Adam 'T-Bird' Tuff

Complete one concept and fully coloured pic of Cloud Raiders. (Pending)



Sonic Archie fan comic series - 'DEPARTURE' (70% complete)

Concept preparations of 'new series' CLOUD RAIDERS (still in the creative planning process)



Concept preparations of 'new series' GRAND HUNTER (still also in the creative planning process)

Update and complete ALL of my FAN-COMICS starting with Sonic Adventure 2 Fan-Comic (final 16 pages to go - currently ON HOLD)



Finishing my SOS Promo Videos – then plan and prepare Sonic community meet-up in the United States of America for 2010 (codename: UCSTH - United Community of Sonic the Hedgehog)