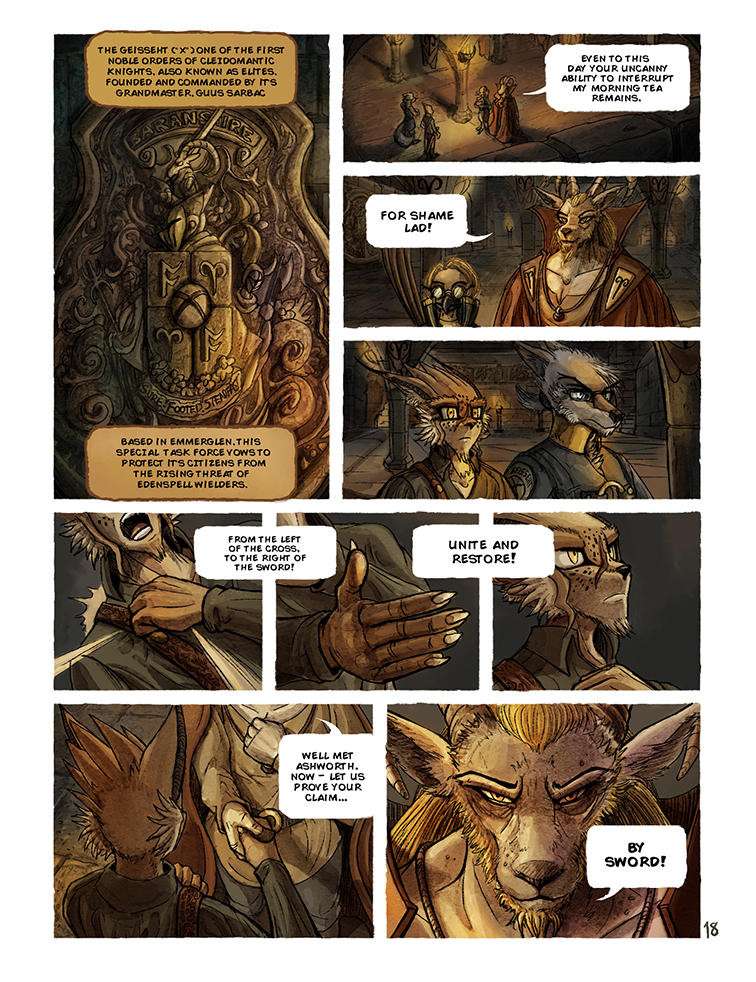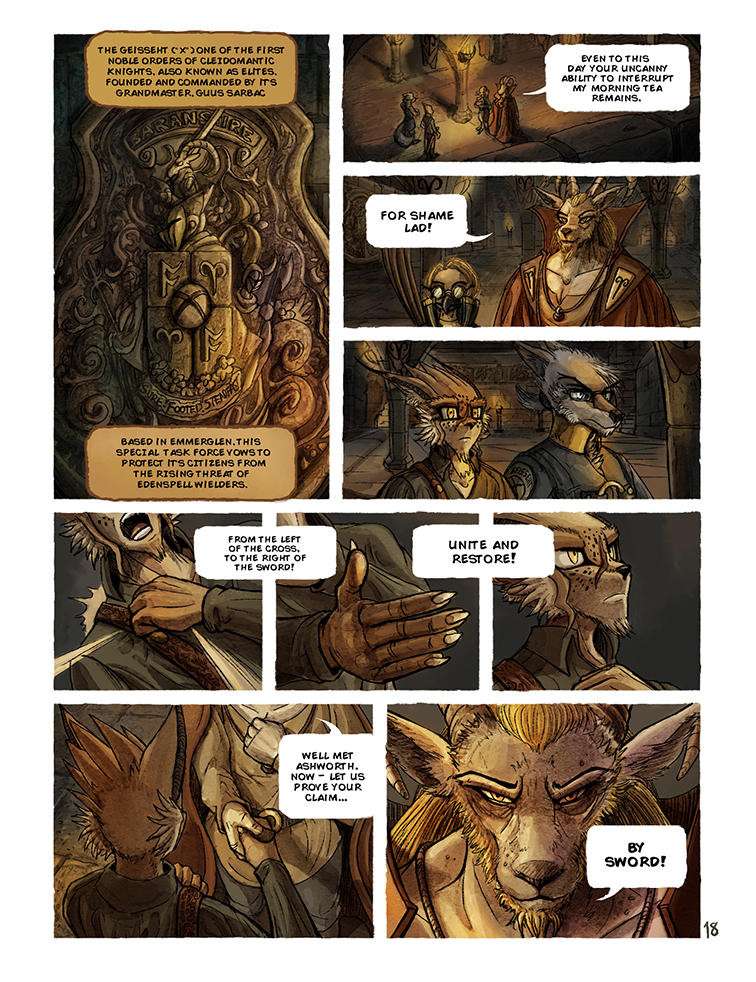 Watch
Edenspell Book One | Chapter 1 | Page 18 'Dawn of a New Elite' - Here we witness the ritual of what needs to be done before one becomes knighted into the Geisseht. Ashworth shows promise, but will he succeed in becoming an Elite?

I'm especially proud of this page. I really dig the colors used here for this scene set in the underground hall of the castle in Baranshire - it depicts the mood I was look for and it shows that a little bit of planning can go a long way to achieving the results you want (I will point this out later with color scripting)

I've not only improved in color/temperature control in the rendering process but also I completed this piece in a good amount of time, hence improving the speed and efficiency of the process.

Color scripting is something that art directors use in film and animation to plan ahead what kind of mood and atmosphere they want to bring to the table for the viewer. Each scene has a purpose and getting the right colors can completely enhance or downplay a scene fitted for that purpose. If you're into comics I suggest you play around with this technique and apply it to your story to maximise a certain 'feeling' for the reader.

For this page as well as the following ones I want to evoke that sense of tension that you get before a trial - the dark undertones suggest the unexpected and foreboding of events - it could go either way - for better or for worse for our protagonist. I also wanted to indicate that this wasn't a horrific situation, so some warm from the fire suggests that. Also, I pass on my props to
JUrdGaner
for providing the script and envisioning this scene with me. Both of us have been going through constant revisions this past year and we finally come to a critical moment for our protagonist early on. Enjoy!

[13 hours to complete]


Don't forget to
follow @edenspell on Twitter
, and
join the discussion and fun at
Edencord
discord.gg/ScETkYS

Prove it with swords!

Beautiful page!
Reply

The warm muted palette instills an ancient dignity to the atmosphere of the scene.
Very cool to learn about color scripting! I feel like I've seen you throw up pictures that have several different temperatures and color ranges as a practice of this.

I enjoy that your art pieces already come with much to enjoy, but you take the time to write down your process and tips for your readers and followers. It really means a lot to someone who is learning more before attempting a comic.
Reply