418-PURIFFIN
[Purify-Puffin]
-Water/lFlying
-The Sea Bird Pokemon
-Ability:
Hydration - Early Bird(HA)
-Dex: "It makes its nest on rocky cliffs over the sea, from where it can jump into the water for food. It only nests on places where water is pure, if the water below its nest gets polluted it will fly away abandoning its nest. Seeing a flock of PURIFFIN near the shore guaranties the water is clean"
-Move-set:
-Dive
-Wing Attack
-Water Ring
-Rain Dance
-->Evolves when leveled up next to OCTANOLEO<--
419-FRIGASSOL
[Frigatebird-Gas-Gasoline]
-Fire/Flying
-The Natural Gas Pokemon
-Ability:
Oily Skin* - Early Bird(HA)
-Dex: "It can create large amounts of highly flammable gas, and store it inside a special pouch on its chest, this gas can be used to stay afloat both in the air and over water. When threatened it will inflate its pouch with gas, making itself look larger and more intimidating, but if this doesn't deter its foe, it will ignite the gas by snapping its beak, creating a large ball of fire."
-Move-set:
-Sky Attack
-Flame Burst
-Scald
-Roost
*User is unaffected by water-type moves and Holding moves:

-Bind
-Circle Throw
-Clamp
-Constrict
-Crush Grip
-Electroweb
-Seismic Toss
-Sky Drop
-Spider Web
-Sticky Web
-String Shot
-Storm Throw
-Submission
-Take Down
-Vice Grip
-Vital Throw
-Wrap
-Wring Out
---
Remake of this ugly UGLY THING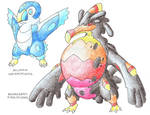 to go with this one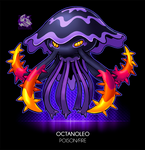 PURIFFIN
is based on the
Fratercula cirrhata
or
Tufted puffin

FRIGASSOL
is based on the
Fregata magnificens
or
Magnificent frigatebird
The method of evolution is a reference to seabirds getting caught on Oil Spills, their feathers getting covered in oil
There is still one pokemon to go along this 3, so stay tunned
See ya later