???-PUREPOISE
[Pure-Porpoise]
-Water
-The White Whale Pokemon
-Ability:
Thick Fat - Swift Swim(HA)
-Dex: "Incredibly social and naturaly playful, they are often seen playing with other aquatic pokemon as well with fishermen and sailors, with which they can form longlasting bonds. Due to the pure whiteness of their skins they are often called 'Snow whales' despite being pure water types,"
-Move-set:
-Body Slam
-Water Pulse
-Ice Ball
-Water Spout
-->Evolves when leveled up next to OCTANOLEO<--
???-CRUDORCA
[Crud Oil-Orca]
-Water/Poison
-The Killer Whale Pokemon
-Ability:
Oily Skin* - Swift Swim(HA)
-Dex: "Despite living in large pods and having a complex social structure, it can be highly aggressive and will attack ferciously if bothered, caution is recommended. Due to the coating of oily sludge lubing its body, it can swim at very high speeds, making it a fierce predator, only surpassed by a couple of larger monsters."
-Move-set:
-Gunk Shot
-Liquidation
-Crunch
-Aqua Ring
*User is unaffected by water-type moves and Holding moves:

-Bind
-Circle Throw
-Clamp
-Constrict
-Crush Grip
-Electroweb
-Seismic Toss
-Sky Drop
-Spider Web
-Sticky Web
-String Shot
-Storm Throw
-Submission
-Take Down
-Vice Grip
-Vital Throw
-Wrap
-Wring Out
---
And the final one of my Oil Spill family, to go along this other 2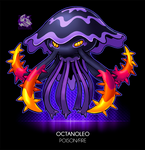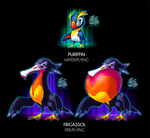 They are based of course in a
Beluga
and an
Orca
There is also a bit of Venom inspiration as well, had to fight the urge of naming the last one VENORCA, but I wanted to keep the Oil theme going
Aso the only other 2 predators CRUDORCA's dex entry is hinting to are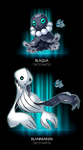 and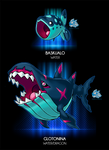 which are right now the largest predators in Kroelian waters
Hope you like this and see ya later people!!