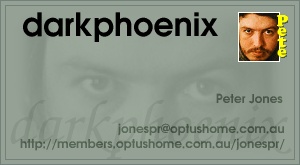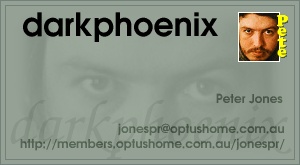 Watch
It's, uh, my deviantID!
It is pretty simple, but then, so are my graphics skills...
Update
: I guess I should also add that, limited skills aside, most of my primitive manipulations so far have been performed in PSP. This marks my first serious foray into the Wonderful World of the GIMP!
Update II
: Since I (finally) revised my user icon a little, I had to revise my devID to match. Spot the difference...


i know no difference from before... but then ... i have a hard time popping in here and look at the ID without thinking you wanna bite me....

Reply

Nah, I don't bite. Much...

Reply

Reply

Oh yes, absolutely. I hardly ever bite.
Well...
...unless the moon is full, but that hardly counts, does it?

Reply

Your eyes frighten me.
-----
Reply