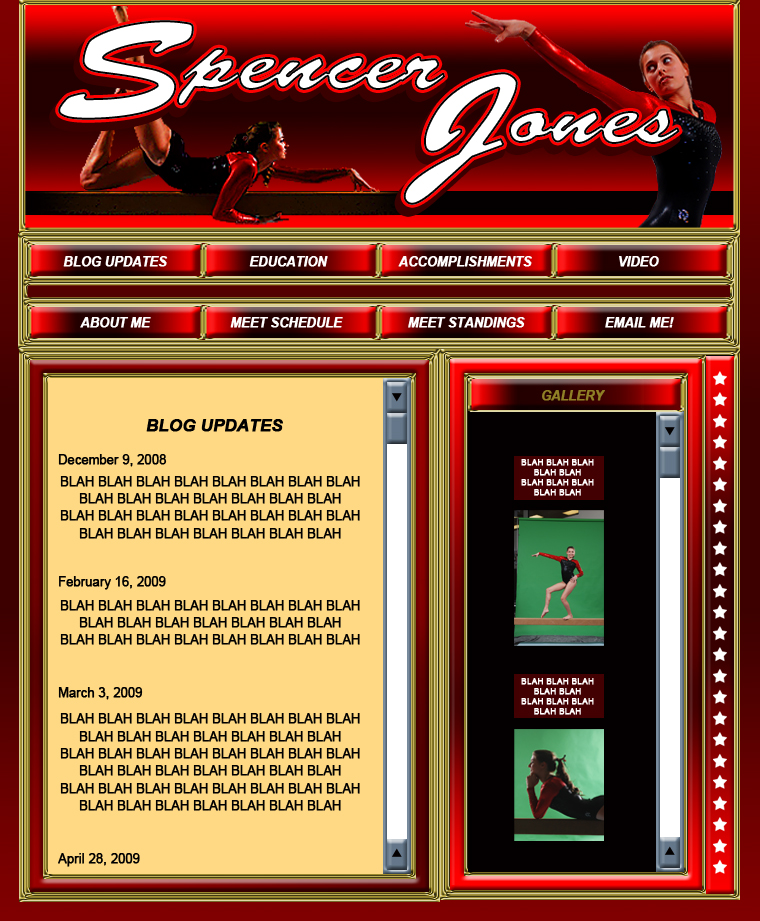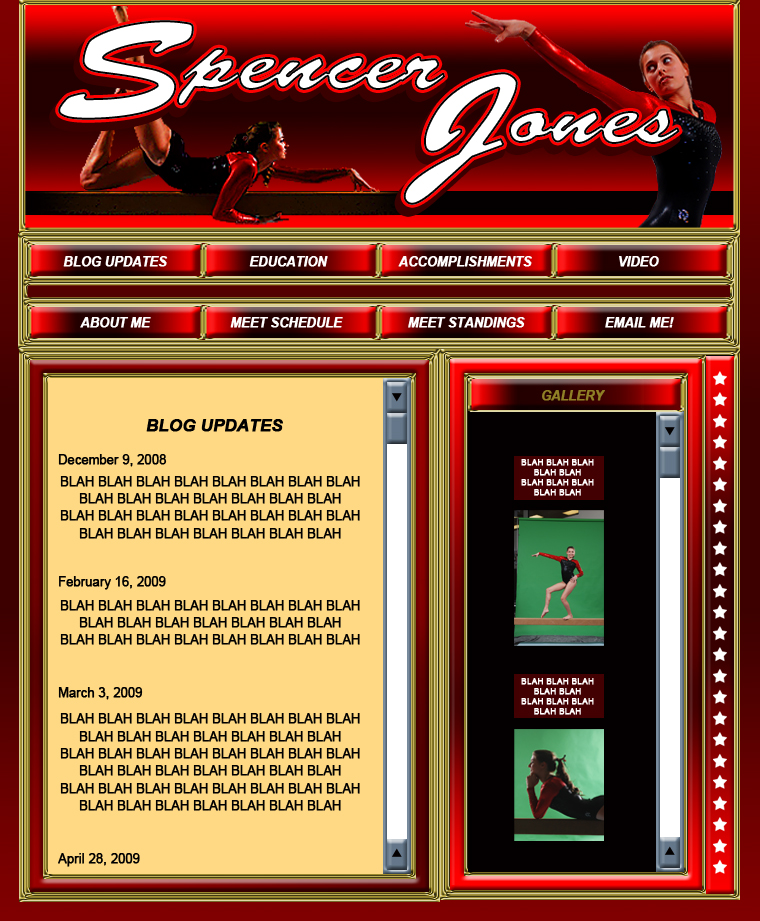 Watch
A web page I designed for my boss. About 4 hours in PSCS2.

Reply

With everything aside, yes. Or at least that you really haven't taken into account the current trends in site layout. I would keep the home page clean perhaps with some minimalist button layout & a logo (possibly some design element to draw the eye to the logo such as a dancer silhouetted). As it stands now, there is a massive button for "blog updates" when it is already on the front page, right next to a large "gallery" box. I would add a gallery button, and then people can go and click that (and it would be one less box on the front). Also, the "Email Me!" might be toned down a bit to a "contact" button which would appear more legitimate.


( I personally find that I like all the buttons centered on the page underneath the logo. Perhaps also, after noticing your star pattern down one side, I would remove that, but play off of it. You could layer some of the stars at off angles and different sizes and overlay them on top of the dancer silhouette, implying that the dancer IS the star depending on how you did it).
Reply

All really outstanding ideas.

Unfortunately, the boss showed this to the client and her daughter. They loved it, and it is now a sold product.

I think the next one I do might impress you more, however.
Reply

Btw, just for future reference, do you want me to be more blunt in future reviews for stuff like this? I try not to make hasty assumptions when it comes to reviewing something I didn't understand the criteria for, as it then it just boils down to subjective opinion. (In other words I can light a fire under whatever the art is, and accidentally end up burning it/offending its creator).
-->Btw, since they loved it anyway, mission accomplished

Reply

On my stuff in general, be brutal. As far as webistes go, I dunno. It's not my main gig. I do it because the boss needs it, but I am never going to try and become a serious page designer.
Reply

I'm definitley no expert on web design (nor do I know the client's wishlist for this project), so all I feel I can comment on is perhaps the colour scheme. To me with the bright in your face red, and then gradated down to a near crimson for the more background elements, I feel it is a page from the early 2000's or late 1990's. (The large buttons also sort of lend to the feel of that era as well for me....as things seemed to have trended towards getting slicked down these days). That's just my subjective opinion though as I have no clue of the client's wants.
-->On a final note, the gold trim with the dancers and all makes me feel like I'm in vegas

Reply