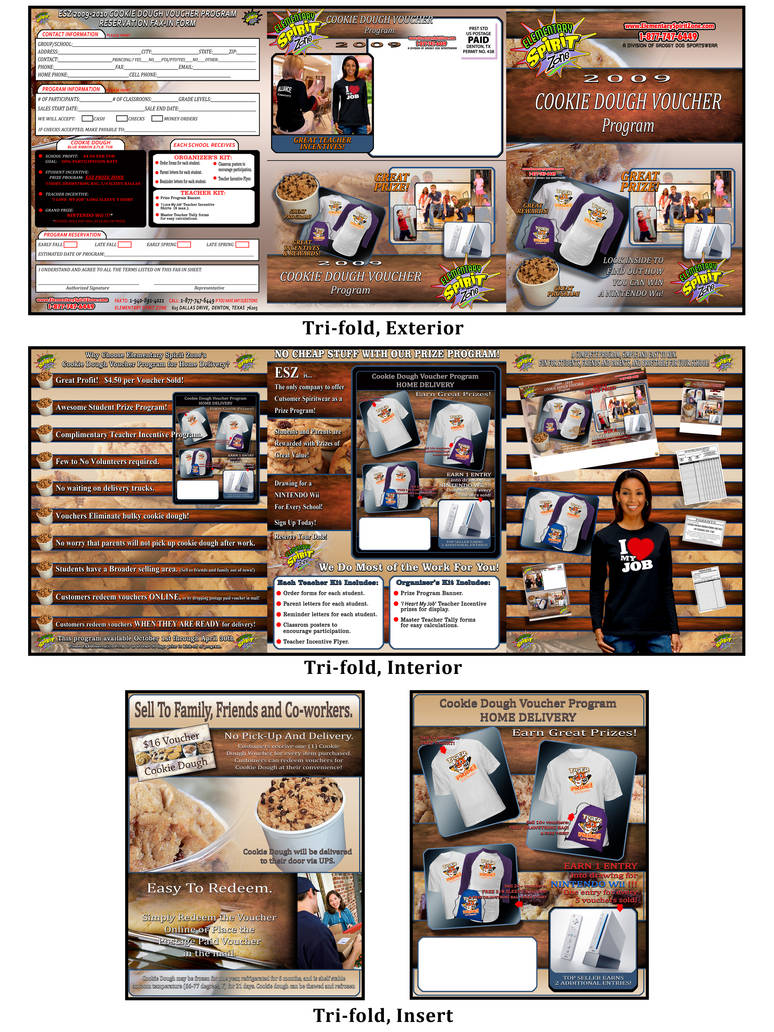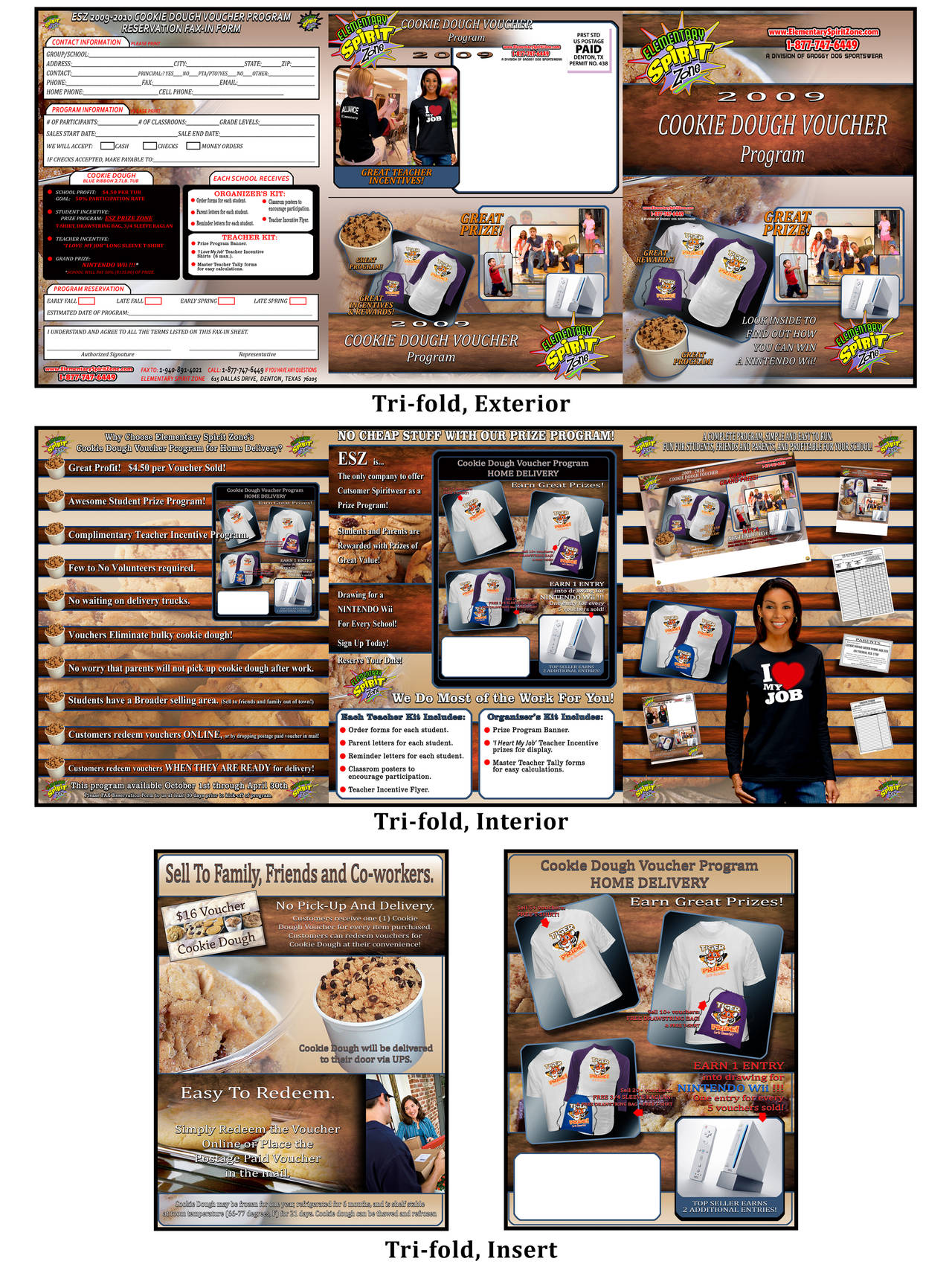 Watch

looks good and professional
Reply

So basically its like a fund raising program for the school. The kids sell vouchers for cookie dough and can win shirts or a Wii.
If I'm reading it all correctly

Sounds like an easy way for schools to build funds as there is no inventory and no actual items to lug around. Hell I'd take that up in a second

Reply

That's certainly the way it is suppossed to work.
Reply

Well if I had a school that layout would sell me on it

Hell you could use that idea and aim it boy scouts or something as well. Its not school spirit but still spirit none the less. I know here in Canada they are always getting shirts done for camps and their own groups and stuff. Trying to find good fund raising ventures isn't alway easy, especially for groups like scouts and girl guides.
Reply

I really apreciate the acknowledgement, Pxl.

Haey, ultimately, it's the boss's nickle on the line. I try to do the best I can to set him up for success. But mine is still only a piece of the puzzle. Now it is up to others to market and sell the program in.

If it goes well, it'll be worth a $4K raise to me this fall.
Reply

Did I understand this thing right that you are selling... whatevers (or want students to sell them for you) and then you ship out unbaked cookies?
Reply

We (the company I am art director for) do a number of things. We produce original designs for custom t-shirt orders. We market an extensive line of what we call "spiritwear" designs to about 30,000 elementary and middle schools throughout the continental U.S.
We administer several different commercial campaigns which we market to these same schools. The underlying concept is similar to (for structural comparison purposes only), oh say, The selling of Girl Scout Cookies. Thare are many companies in various fields more or less which fall under the general umbrella of '

romotions", who administer similar programs.
The entire thing is for profit, down to the level of the individual school. A parent company makes such things as cookie dough. They develop a core concept, and a method of order fulfillment , and sell the concept to companies like the one I work for.
That company develops a graphics based presentation package. The parent company makes susggestions as to components that should be included. Some graphics, such as order forms, tally sheets, etc., must be included. But, each company is free to market the concept as theirs, in any way they feel is appropriate. In our case, we developed an entire marketing package, from a 9X12, 4 over 4 glossy print tri-fold catalog with 4 over 4 insert.... a second 6X9, 4 over 4 mini-tri-fold.... a complete set of custom designed support documentation and promotional aids.... including everything from poster banners to various forms, all namedropped with our logo.
This package is marketed to the schools. All of which often seek such programs in order to raise funds above their annual budget for various school needs/wans. So they are looking for us, many of them. If they accept the use of the program, we send them a complete package of catalogs, sample shirts, forms, tally sheets, instructions, numbers and websites to use to get support... basicly everything they need to send any child who wishes to participate home with a complete package. We also send them the Nintendo Wii grand prize in advance. Every school that participates gets a Wii, and some child who outsells everyone else gets to take it home for every individual school program that is run.
Participating schools make $4.50 guaranteed for every 2.7 lb. tin of raw cookie dough sold. The parents and friends who buy get vouchers ($16 each, as many as they want), which have a code number. They may either go online and use the code to order dough delivered right to their door by UPS, on an as desired basis, or they may fill out the postage paid voucher and drop it in the mail.
We make about $5 per 2.7 lb. tin sold, averaged out over the course of a seasonal, multi-school campaign.
Out of curiousity, why do you ask?
Reply

I asked because I wasn't quite sure if I nailed the concept behind the catalog down. I was a bit confused as to what was the actual product being sold.

Going back to your explanation, the school I went on exchange at did something very similar, selling oranges. Actually, all the private schools from the city were selling oranges. I don't know how they got to actually make a profit for every school...
In the end, this is pretty much the same, everything is halfway organised from a company and the rest is done by the school to get some money. Makes sense.
Reply

We hope. The upfront costs are.... significant. So we need it to work.
Reply