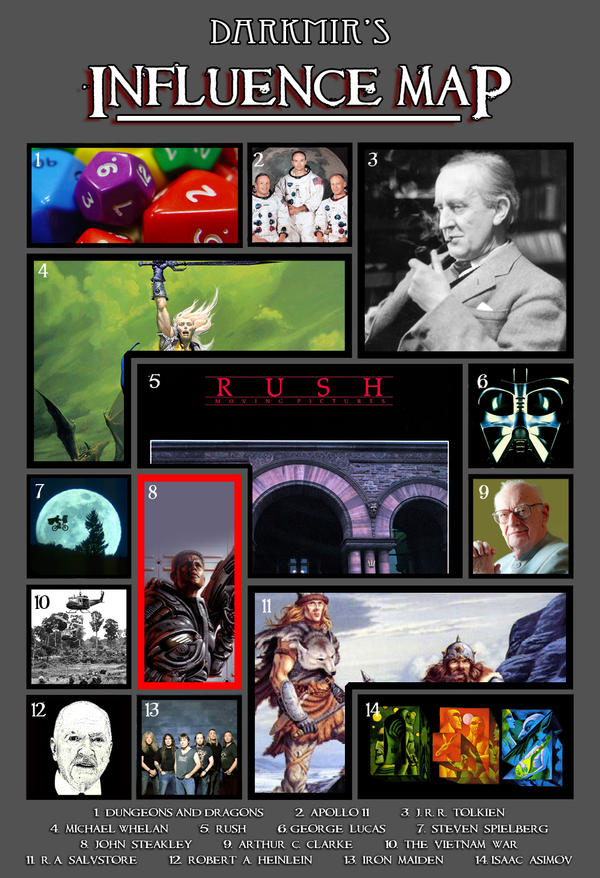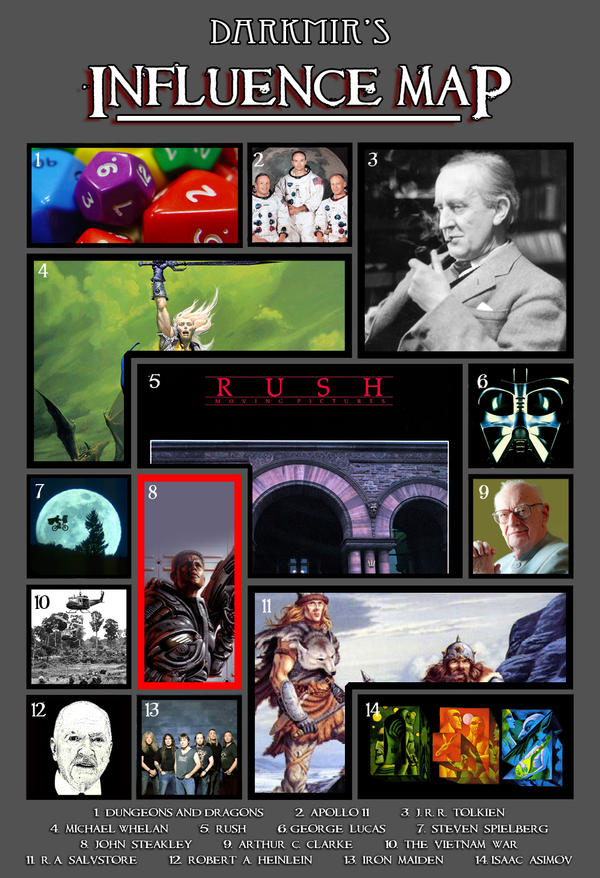 Watch
Not nearly enough boxes.... even if you use the original grid and fill every box.

I almost put that painting of Michael Whelan's on my influence map, but mostly because I like the Elric novels

I wanted to add tea, backgammon, and my asthma inhaler to my influence map as well, but I'm not quite sure how they
influence
me exactly. They are important to me, but not direct sources of inspiration.
Reply

Like I said, not enough boxes...

But, that's a part of the charm of this little exercise, also.
Reply

Mighty influences, indeed! Michael Whelan has been one of my favourites as well. Larry Elmore, who did the painting for 11 was/is also one of my precious influences.

Reply

I also love the work of Larry Elmore, as well as Clyde Caldwell, and all the others given their starts and great careers and acclaim because of TSR. As I've aged, Elmore's work has come to look a bit "comic book-ish" to me, but I still think he's a great artist.
Reply

What a great idea, and your influence map is amazingly similar to mine.

Reply

Not my idea.... Someone else came up with this, based on yet someone else's older idea I suspect.

This is sweeping DA right now, and I thought I'd post one of my own.

But thanks none-the-less, Blades.
Reply

Oh yeah, the art in that Stormbringer rpg book is incredible! I met the original artist in Atlanta once and he gave me a wonderfully critical portfolio review.

Reply

In the 80's I had an art business with a guy named Bob Giadrosich, who also has a page here on DA. We sold originals, prints, and live art at fantasy and sci-fi conventions all over the country for a little over 3 years.

Growing up, my idol in art was a guy named Michael Whelan, who is the artist you are mentioning. I worshiped the guy. In 1985, we (my partner Bob and I) were scheduled to attend the Atlanta Fantasy Fair, and Michael Whelan was one of the special guests for that show. I couldn't stop talking about it for months before the date.

My partner Bob, along with my best friend at the time, approached Mr. Whelan at the show, and arranged for me to spend an hour alone with him. An hour turned into almost 2. Michael was actually working on a painting while he and I spoke. I got to watch him paint, question him about his techniques, his influences, show him my work... not to mention photos of him and me together, and autographs, of course.

To this day, one of the most special memories of my entire life.
Reply

That was really nice of him. I bet you learned a lot from those 2 hours and what awesome memories too!
Reply