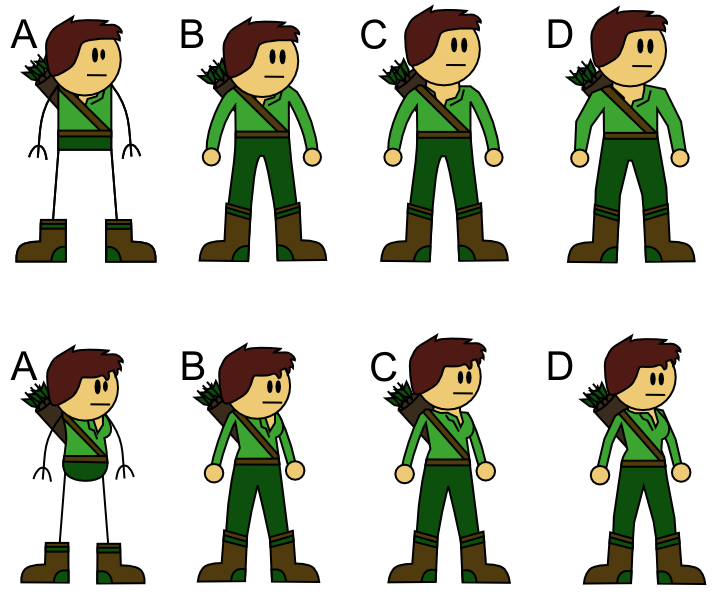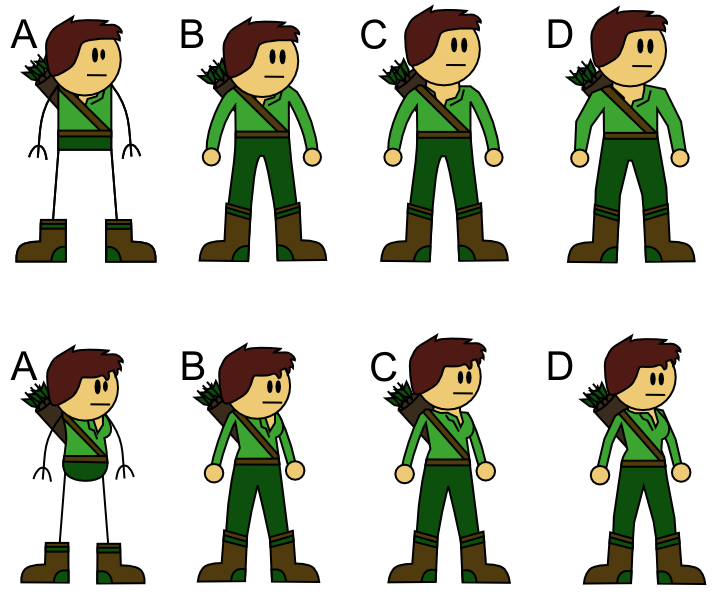 Watch
Pretty much what it says on the tin; I was playing around with Inkscape and decided to play around with different shades of a drawing style. This is something that I've been working on for a while: I've been trying to develop a workable style for different projects.

Some general thoughts:

(A) Order of the Stick Style. It's quick. It's easy... but it's also pretty much entirely someone else's trademark. Plus, I've got to be honest, I don't really care for some aspects of it. The mismatched eyes creep me out and I find it easy to lose track of the wire-thin arms and legs when the scene gets busy.

(B) Similar to OoTS Style but with thicker arms and legs. This is what I've been using for the most part, but I'm not overly sold on it. I like the thicker limbs, but it just looks awkward for some reason. Plus, for femalies, it relies a lot on the idea of Hartman Hips... which grates me a bit.

(C) Similar to (B), just with a neck. The addition of a neck helps a lot, I think. It makes the overall figure look less like an evil midget or something. The limbs are still noodle-like, they don't have any solid joints and just curve about like OoTS. This could get a little unnatural at times.

(D) This reminds me of Timm Style, actually. There's a ruggedness to the character that I like, but I'm not sure how it would look in motion/an action pose. It seems like it'd get unnatural looking.

Bottom line: I really need to study anatomy.

Anyone have any thoughts/suggestions?