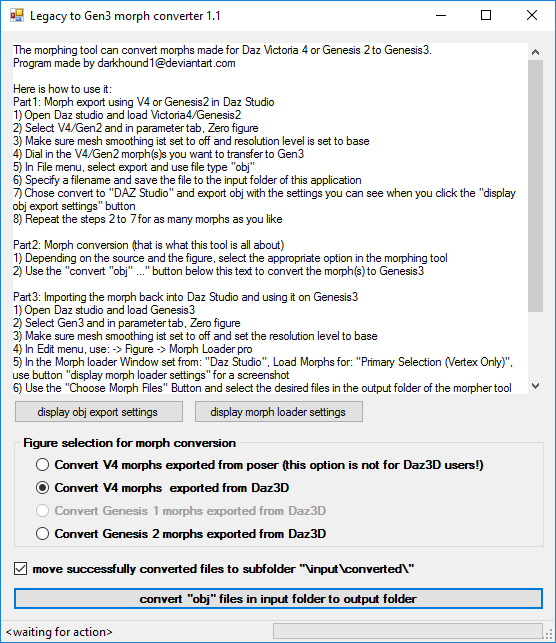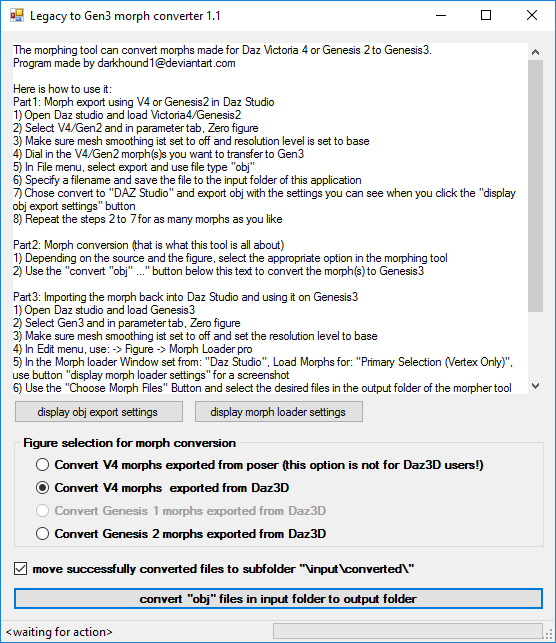 Hello everyone,
this is my first DA premium content item. The
Legacy to Gen3 morph converter 1.1.Edit: The Morph converter has been updated to version 1.1. Morph accuracy from V4 to Genesis3 has been improved. This update should also fix most of the teeth problems.
I advice to use the latest version. The content has also been updated with an improved clone.
Purpose of the morphing tool:
The morphing tool can convert morphs made for Daz Victoria 4 or Genesis 2 to Genesis3 exporting from and importing into Daz Studio.
It supports V4 poser morph export and Daz Studio import for Genesis 3. Genes 2 poser morph export is not supported.
What is included:
The package includes some content for Daz Studio 4.8 and higher. Six base morphs for the Victoria 4 morphs and the Genesis 2 morphs.
There are separate morphs for the head and the body as well now. So you can use e.g. a V4 head morph with Gen2 body morphs on your Genesis 3 female figure. Isn't that cool

And the morphing application itself. It has been created with Visual Studio 2010, so you will net .NET Framework 4 to run it. You will need Windows 7 or higher to run it. It will work for 32bit and 64bit windows versions.
It is easy to use and has been thoroughly beta tested.
How to use the morphing tool:
Part1: Morph export using V4 or Genesis2 in Daz Studio
1) Open Daz studio and load Victoria4/Genesis2
2) Select V4/Gen2 and in parameter tab, Zero figure
3) Make sure mesh smoothing ist set to off and resolution level is set to base
4) Dial in the V4/Gen2 morph(s)s you want to transfer to Gen3
5) In File menu, select export and use file type "obj"
6) Specify a filename and save the file to the input folder of this application
7) Chose convert to "DAZ Studio" and export obj with the settings you can see when you click the "display obj export settings" button
8) Repeat the steps 2 to 7 for as many morphs as you like
Part2: Morph conversion (that is what this tool is all about)
1) Depending on the source and the figure, select the appropriate option in the morphing tool
2) Use the "convert "obj" ..." button below this text to convert the morph(s) to Genesis3
Part3: Importing the morph back into Daz Studio and using it on Genesis3
1) Open Daz studio and load Genesis3
2) Select Gen3 and in parameter tab, Zero figure
3) Make sure mesh smoothing ist set to off and set the resolution level to base
4) In Edit menu, use: -> Figure -> Morph Loader pro
5) In the Morph loader Window set from: "Daz Studio", Load Morphs for: "Primary Selection (Vertex Only)", use button "display morph loader settings" for a screenshot
6) Use the "Choose Morph Files" Button and select the desired files in the output folder of the morpher tool
7) Hit Accept
8) You can find the morphs under "Morphs/Morph Loader" on your Gen3 figure
If you are using e.g. a V4 head morph on your Genesis 3 figure and want a look like of the V4 version, you need to use the "Victoria 4 head (base)" from the provided content set to 100%
in addition to your imported morph which you also need to set to 100%. And that's it. Same for body morphs. You can mix and match any way you like

How much does it cost and how can I get it?
The application and the content as a package costs
2400 DA points or 25 USD (paypal).
Option 1: You can either buy it through DA using the premium content link on the right. If you are using this option, you have to rename the application extension from .exe_ to .exe (sorry about that, but da does not allow .exe uploads)
Option 2: You can get it using paypal. Send me a note in DA providing your paypal data and I will send you a request for payment.
When I receive the payment, I will send you a link to download the application+content.
Additional information for beta testers:
There will be discount for better testers who provided feedback. The discount is only available through option 2. I hope this works for you.
If you are a beta tester, just add the info to the note you send me (just to make sure I don't forget the discount).
Important information concerning the content: You need to delete the old content from the beta to avoid problems.
To do that, delete the following folder inside your content library:
<your content folder>\data\DAZ 3D\Genesis 3\Female\Morphs\Darkhound1\


Some examples using the morphing tool and Victoria 4 morphs on Genesis 3:
And an example made by

(it includes mature content)