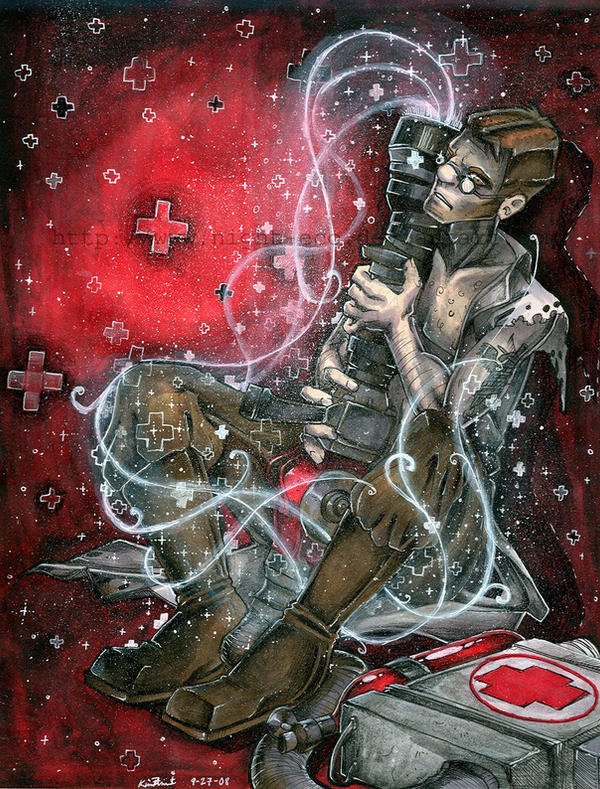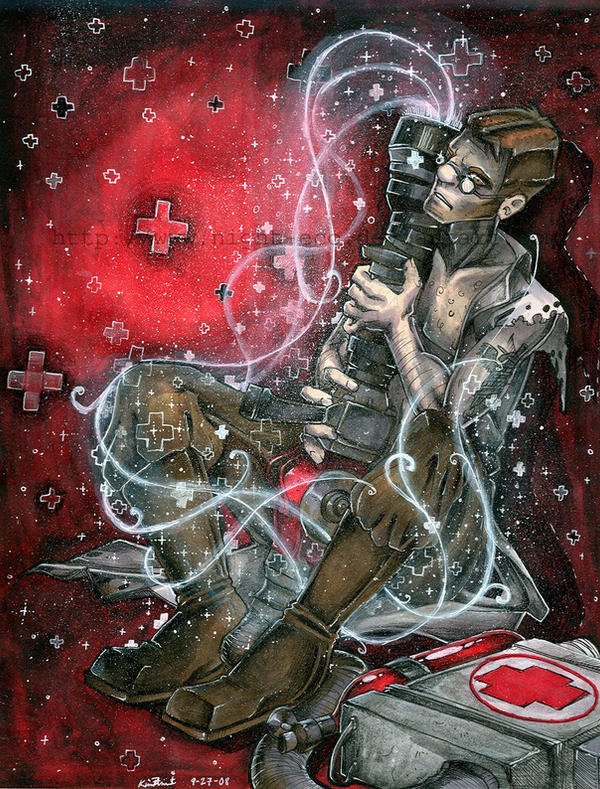 based on the song 'I'm Your Medic' by Captain Spalding.
TF2 fanart ftw.
I originally wanted to have him covered in blood or something, but I thought this would be neat.I dont know if I'll do other characters. maybe scout and sniper, possibly soldier. Those are the classes I usually play.
Add me on steam: Sylverbu
Medic/TF2 (c) Valce
Art (c) me
Please do not copy, modify, or redistribute without expressed permission.
I drew this for
as part of an art trade =o
I'm Your Medic lyrics:

I'm your Medic
Saving peoples lives, so give me a little credit
Scout rushing me with his little baseball bat
Needles in your face, punk take that
This might hurt a bit, come and get it.

I'm your Medic
But you can call me Captain Spalding
The guy on your team always in the top 3
You're like, "Captain Spalding! Ubercharge me!"
"We're dyin' over here! Can't get past this sentry"

So turn your head and cough, 'cause you just got reamed
My Steam Rating says 'EAGLES SCREAM!'
You wish you'd wake up like it was a bad dream
You thought you'd killed me, but I was just winged
I'm your MEDIC!

I'm your Medic
Pick the wrong team, I'm not on and you regret it
Head of the Class, Valedictorian
Self-medicated on midichlorians
Almost dead? On my way. Don't sweat it.

Stop crying my name if you've got full health
I know who needs healing fool, let me share the wealth
Just spawned at our base
And you're all up in my face?
Man take a step back! Heal yourself!

Me you can't get rid
You'll be lucky if you live
If you're not on my team kid
Open up your spleen with
My surgical steel kit -
Man, I ain't got time to bleed
When I'm backin' up my boys from PCG
I'm your MEDIC!

I'm your Medic
Don't be spammin' me because you've got a little headache
Ubercharged Heavies walkin' in sprayin' lead
I be busy savin' fools down in the red
Hack you with my bonesaw - pathetic.

I'm your Medic
You think I'm in the Bitch Seat? Yeah - I heard, you said it.
You think that it's a noob class? Man, don't you get it?
They call it a support class because I CARRY YOUR ASS.
DON'T FORGET IT.

Want me to pull the plug? Then I'll grant your wish
When you see me rollin' in with Havoc Six
Gonzo, Norm, Jeremy, GWhitta too
Nothin' but BADASSES populate my crew
AND I'M THE MEDIC.