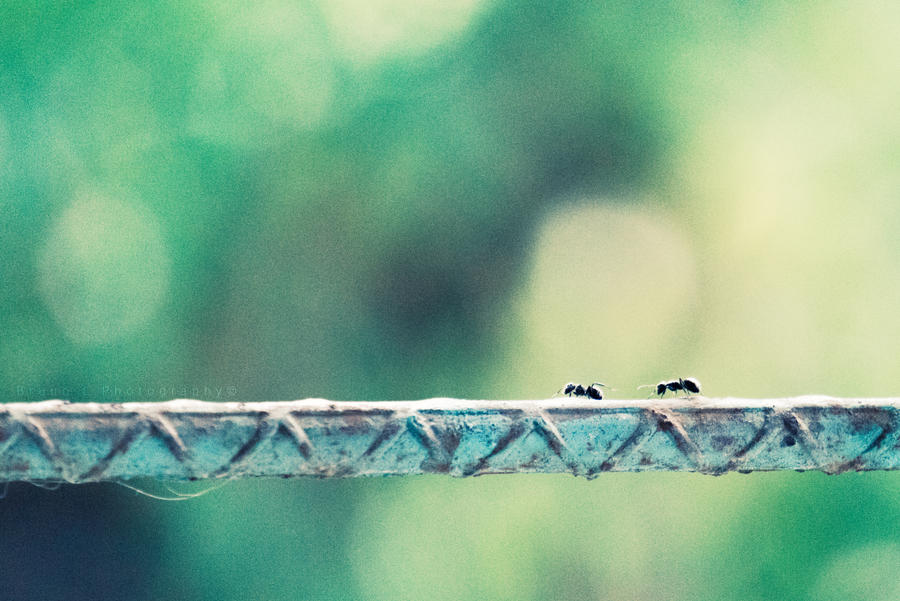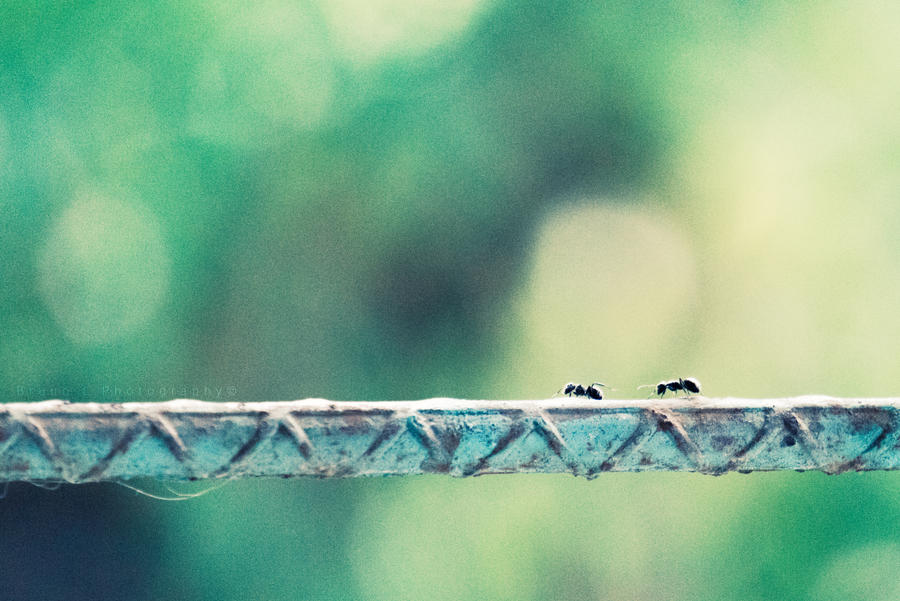 Shot at home on my balcony. Just a pair of ants crawling to the apartment. And no, I didn't stop them.
If you didn't gather it yet, the title is an ant pun...
Shot with Sony a7R + 55-210mm APS-C lens.
Support my Indiegogo campaign to become a Pro!
www.generosity.com/community-f…
Let me begin my saying: woah.

Vision:
This is incredible, from the out-of-focus background to the highly detailed foreground of the fence and the ants. The detail is amazing, and I find it even more so that I can see the fine threads of maybe a spider attached to the pole. The color of the background shows it as spring, and the color of the bar implies winter, the ants showing summer. There's a lot more to the drawing than the eye can first detect.

Originality:
I have never seen an image like this, and I'm sure, even after a very thorough search, I'd probably only find a very few images like this, and they wouldn't really even be close, I'm sure.

Technique:
A a Sony camera is always the best option for HD pics like this.

Impact:
Beautiful. It shows emotions that can't easily be put into words, and with even showing different effects just with the colors of the objects, it leaves countless thoughts in the mind of the viewer.

Amazing.
The Artist thought this was FAIR
28 out of 28 deviants thought this was fair.
To me the angle the contrast the depth and the subject all work together; it takes skill and an eye for detail to be able to have sought out and captured this moment (one of millions at this moment)!

Ants are to me a symbol of explorers/adventurers; a community that depends on each other and in many ways you also captured that little bit of essence of these creatures (insects) in this one shot.

Like walking across a bridge over troubled waters...
These ants are on a (secret) mission; and you caught them in the middle of the 'action'.

Would have loved to see you get in a bit closer to the subjects to put even more emphasize in them.
The Artist thought this was FAIR
15 out of 15 deviants thought this was fair.