I


's,

...and especially
's

New Avatar!
Thank you so much to
UnicornReality
for my brand new avatar!
I love it sweety! Thank you so much!

Stock
I've decided to close my stock account, I just don't have the time for both. I have moved my nature pics to stock exchange for now but will probably do something with them with a bit of manipulation for backgrounds.
I will be adding stocks to this account, you can find them in my gallery in the PSD, Textures, Brushes and Backgrounds folders.

Please don't use any of my photomanipulation work and if you use my stock please comment somewhere to let me know and credit me in your deviation description.
Thank you.  
My Stamps
Thank you to
Grunge-and-Glitter
and
Kaylek
for the awesome stamps!
Thank You!

A big thank you to all that come and comment and fav my work, thank you for the watches, I will try to get round to pop in to say thank you to you, but if I don't get time I really do mean THANK YOU!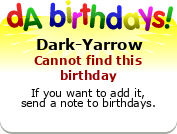 Some Awesome Stock