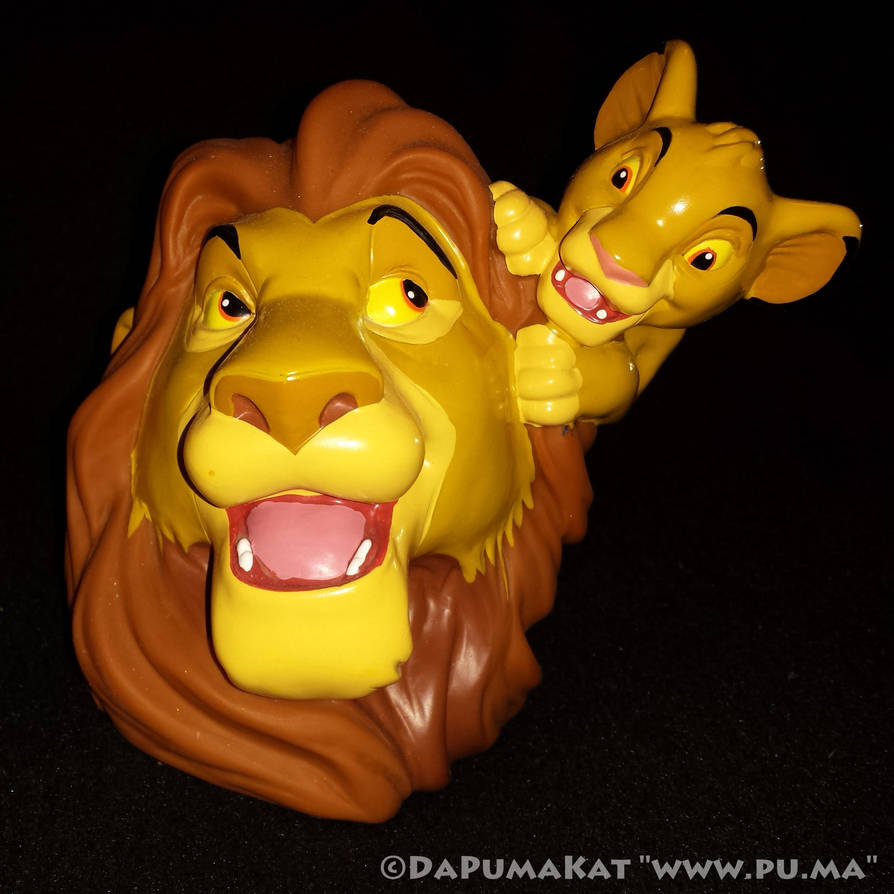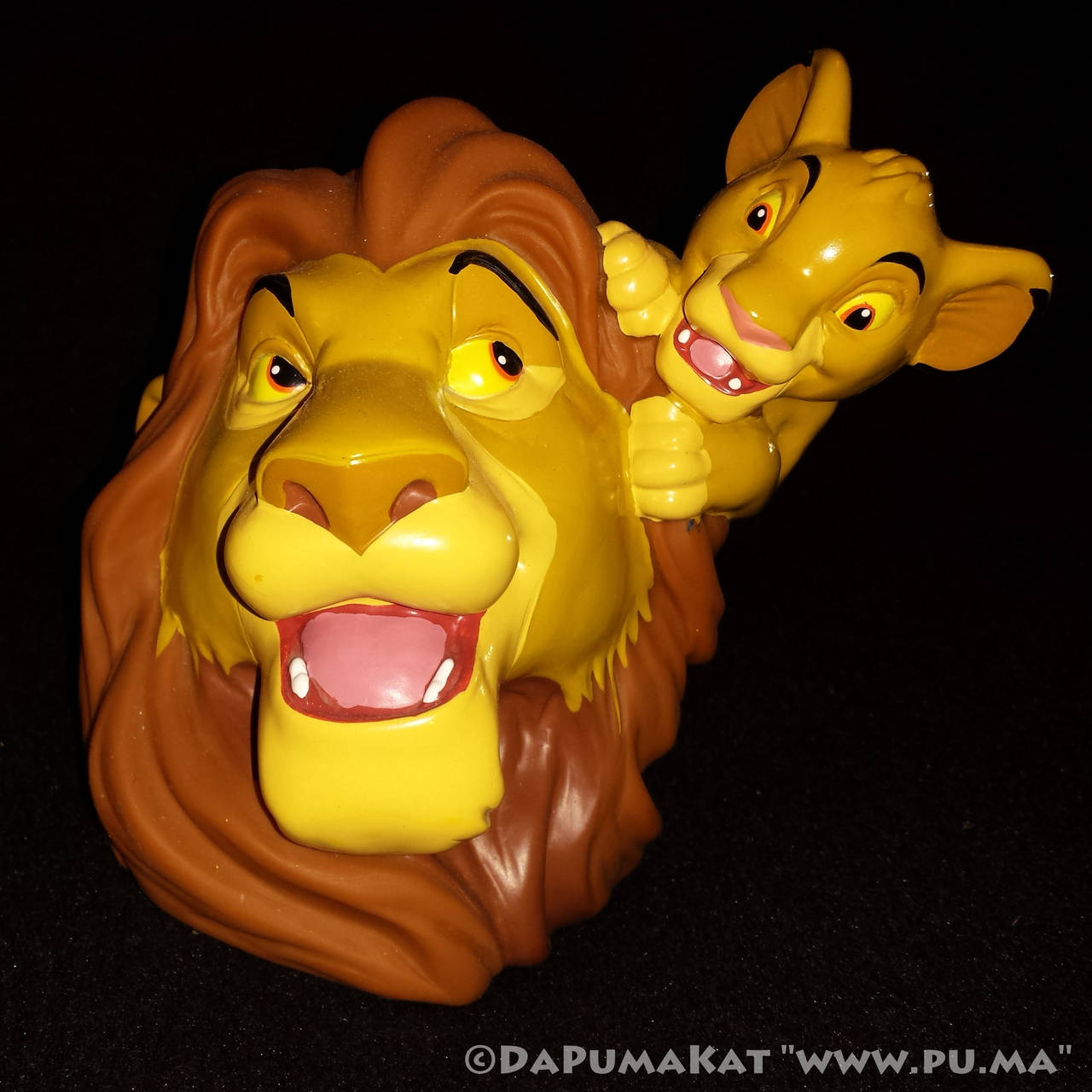 This Lion King bank is of Simba climbing on Mufasa's head. It was made by Pax of Concord, Ontario, Canada. These were sold at around the time of the original release of the movie. I have seen these for sale in both Canada and Europe. I am not sure if the European versions say they are made by a different company.
It is 6" tall, 6" wide and 5" deep and is made out of vinyl. I like the way this bank looks however my complaint about this bank is the stopper in the bottom is rather difficult to take out. Usually a knife or a screwdriver is required to pry it out. I guess it is one way of enforcing savings

If you don't have a knife or a screwdriver at hand, stomping on it or hitting it with a hammer works, just like with a ceramic one but with less mess,
See image.
Although I would recommend the knife or screwdriver method over this.
OTHER VIEWS OF THIS BANKSOME OF THE OTHER LION KING BANKS IN MY COLLECTION
Check out my gallery to see more interesting and unique Lion King toys and plushies. Consider adding me to your watch list. I add new stuff all the time.

Reply

OMG WHERE DID YOU GET THAT FROM?!!!!!!!!!!!!!!!!!!!!!!!!!
Reply

Reply

I just found two of the same bank today! And yes it is very hard to remove the stopper! I admire all of your Lion King things too by the way! They are stunning!

Reply

I saw in your gallery. It looks like you had quite a haul on Mothers day

Thank you for the compliments on my collection. You have a very nice Lion King collection yourself.
Reply

Yes I did It was a lot of fun!

Your welcome! I have always enjoyed looking at all of your wonderful Lion King things (it is also helpful) Thank you so much!

Reply

I use this all the time

I also have the Simba and Mufasa bank that talks and moves there heads whenever you put money it. Found them both at a second hand store. Love your photo!
Reply

Thank you

I always thought the talking Mufasa and Simba bank that Thinkway did was neat. They are hard to find with the cardboard treetop still intact though. One thing that is kind of interesting is Thinkway actually re-made the talking Mufasa and Simba bank for Simba's Pride. However for Simba's pride the characters on the bank were supposed to be Adult Simba and Kiara. I thought Thinkway was pretty lazy though. They just recolored the cub Simba to be Kiara and never changed Mufasa at all. So it looks like a Mufasa and Kiara bank. I will have to upload images of both when I have a chance.
Reply

Really? Wow, that IS rather lazy of them... I hate it when companies do that! It would still be awesome to see it though! I look forward to your upload!
Unfortunately the treetop on mine is not in tact

You can still put money in it, but it just looks like a trunk. I still love it all the same though. It is cute.
Reply

Very cute bank.

Reply