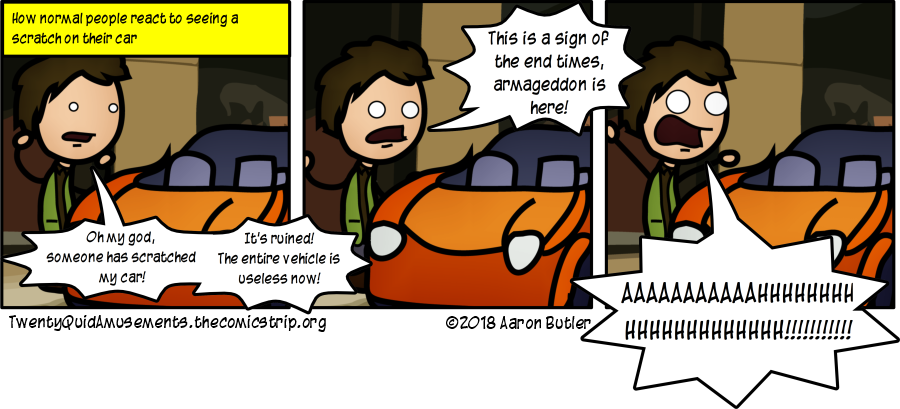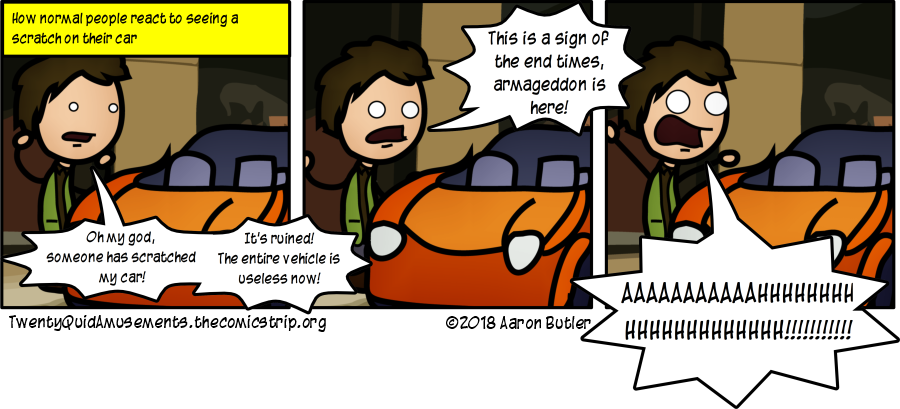 Watch
Check out the official website for the latest 20 Quid Amusements comic strip!


First

Previous

Archives

Next



I can't be the only one who has noticed people reacting like this to their car being scratched?





Maybe it's because I don't have a car, but it looks like they're overreacting to me. The kind of reaction someone has over seeing a scratch on their car, is roughly equivalent to the reaction someone would have to waking up with one of their arms missing.



I guess the upside to this overreaction to car scratches, is that people also see it as being the ultimate revenge. Forget murder, keying someone's car will apparently hurt a lot more.


Also, a little off-topic here. But I'd like to thank everyone who leaves comments on my comics. SkylaComics, vindurza, Blondbraid, ToddNTheShiningSword, MCPZR, and anyone else I've missed. You guys are what keep me motivated.

Reply


And here I thought I was exaggerating at least a little bit when I made this comic!
Thanks for that, I needed a good laugh.

Reply

To be fair, the lacquer is a form of protective layer on the car that prevents it from rusting and corroding, and any openings in the lacquer can lead to pretty bad damages over time if it isn't repaired.
Reply

That is true, and is something I've heard before, and can definitely understand and agree with.
People still seem to overreact a little bit to me though.

Reply

depressingly this is kinda accurate in the U.S
Reply

It costs way too much to repair a car so yeah...
Reply

Even for a little bit of paint?
...
I think I just answered my own question there.

Reply

Heh, way too accurate. Great work.
Reply