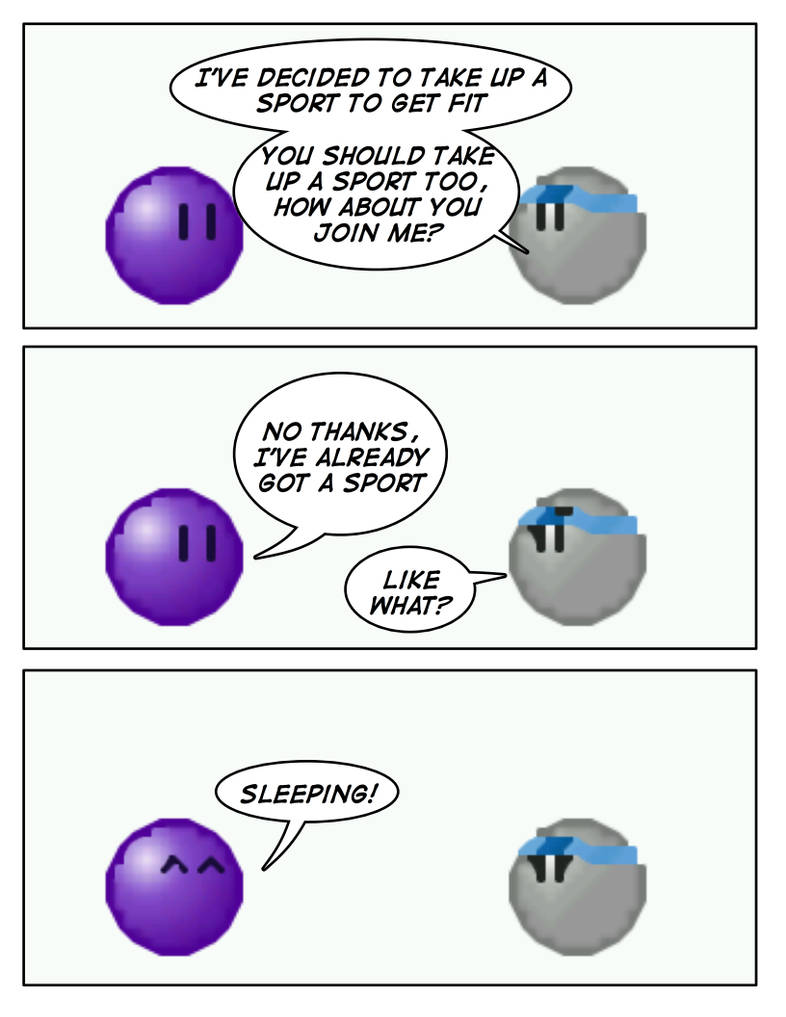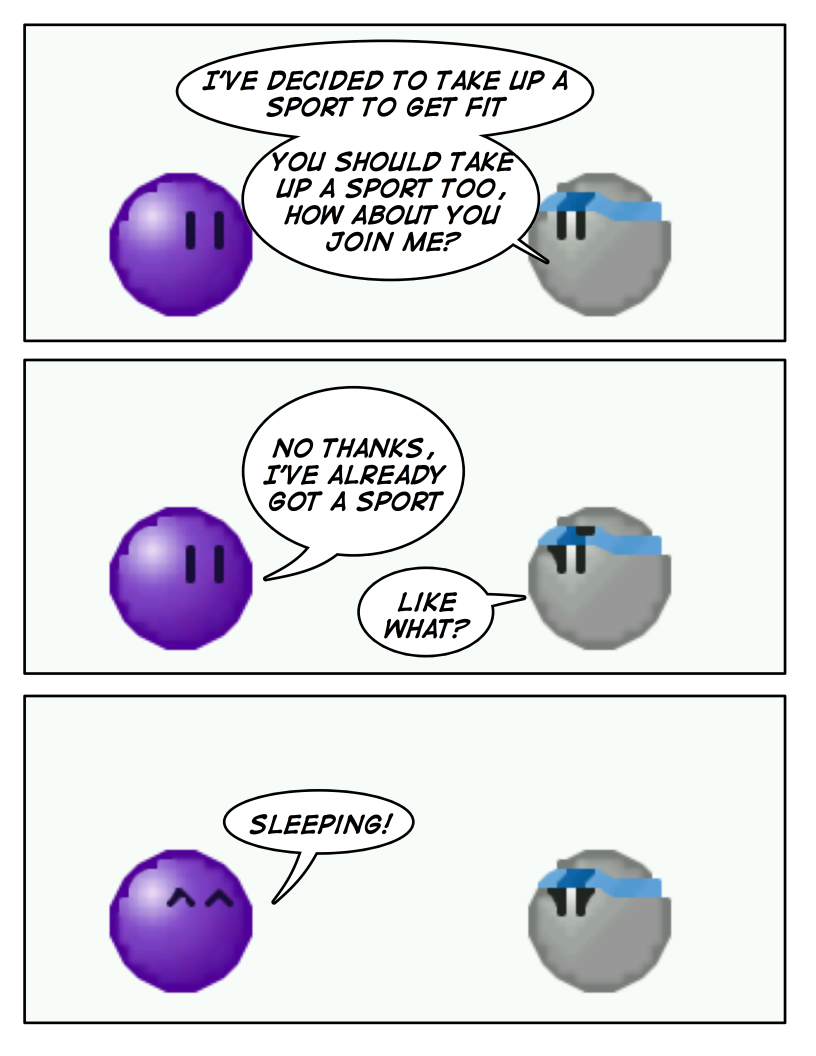 Watch
If you like this, be sure to check out my other Emoticomics here
[link]
So, who here thinks sleeping should be considered a sport? If you think a sport should be difficult, then remember that a lot of people struggle to get to sleep. Whether it's insomnia from stress, or that there just aren't enough hours in the day, some people can find it quite hard to sleep.
Not me though. I sleep like a log. I usually sleep any where from ten to twelve hours a day. No I do not nap during the afternoon; it's just that I sleep in that long (Usually going to bed at 10:00pm and getting up at 10:00am). Now that I think about it, no wonder I struggle to fit in everything in a day. Maybe I should start getting up earlier.

Sleeping is very good for health.

Sometimes even more useful than actual sport if that sport causes a lot of stress.
Reply

Eyebrows through bandanna?

Reply

Isn't that how it usually works with cartoons and comics?
I'm pretty certain I've even seen eyeballs with hair.
Reply

*Tries to visualize an eyeball with hair.*

Reply

I meant an eyeball which is overlaid above the hair. ¬¬
Not an eyeball with hair! Although I can visualize that quite easily. You could call it eye hair.

Reply

Eye hair... and an eyeball with a toupée. If an eyeball with hair combs his hair, won't he poke himself in the eye?


Reply

Only if he combs his hair too roughly.
They have to be veeeeerrrrry careful.
Reply

I'm surprised at how long it took me to realize that an eyeball monster would be too harmless to be a monster, and wouldn't function well as an animal and would die either way. What good is an eyeball monster?!



Reply

Some games have used eyeball monsters you know. Terraria for example. There I think they just hover and ram into you, I think there's some which can shoot lasers as well.
But in reality, an eyeball monster would probably just be a cute, harmless, doomed little critter. Doomed because I can't see how one could ever survive.
Reply
(1 Reply)

lol! classic!

Reply

LOLOLOLOLOLOLOLLOLOLOLOLOLOLOLOLOLOLOLOLOLOLOLOLOLOLOLOLOLOLOLOLOLOLOLOLOLOLOLOLOLOLOLOLOLOLOLOLOLOLOLOLOLOLOLOL
Reply

Reply

lol I'm like the purple one xD
Reply

Me too. Sleeping is such a hard sport. Sometimes you've got to try and go for the record, and sleep in for an ungodly amount of time.
Reply