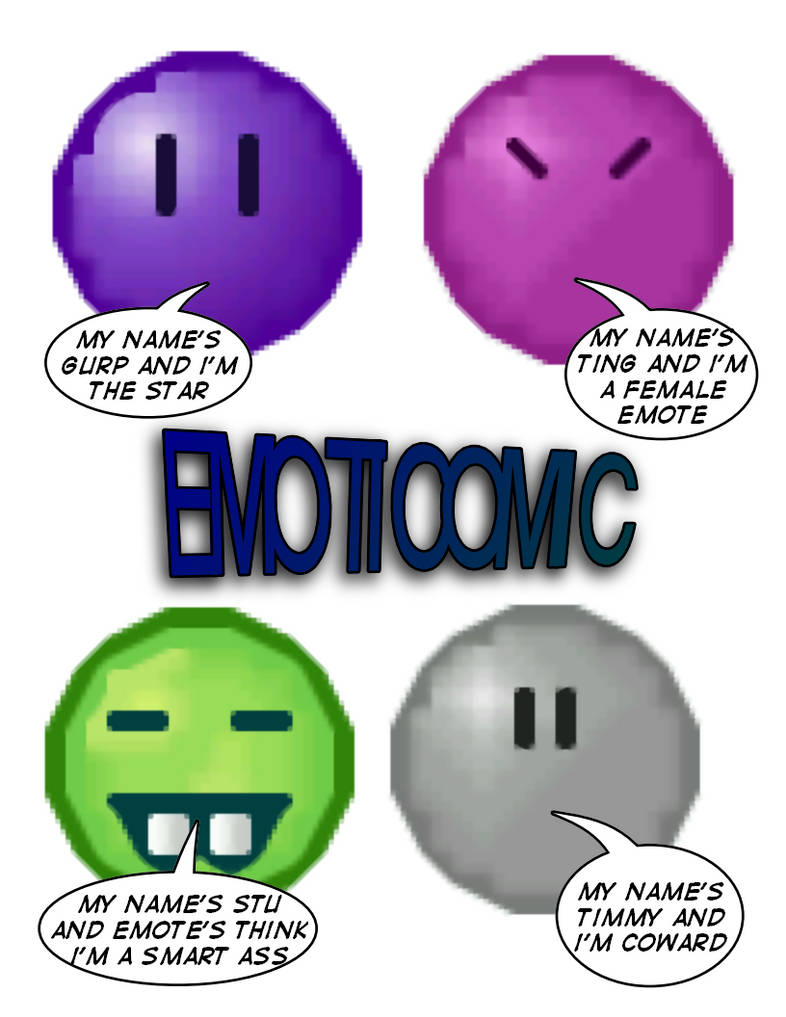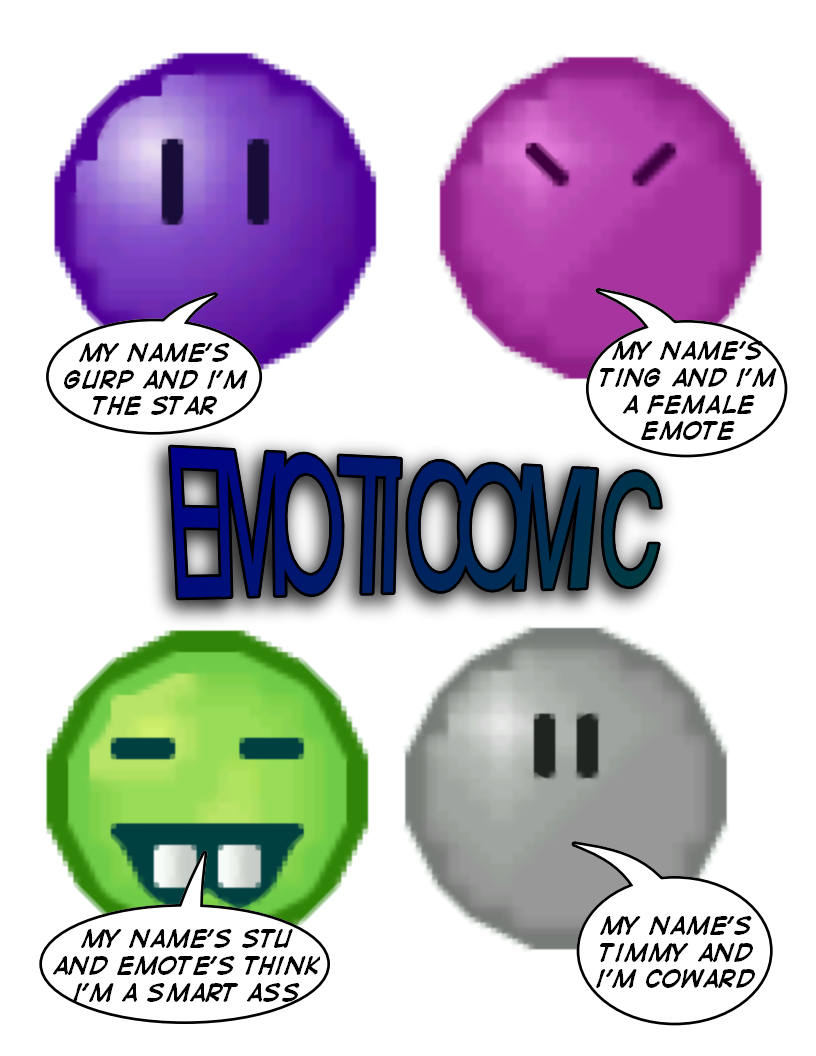 Watch
My first page in the emoticomic series, I hope the names of the emotes doesn't offend anyone.

The female emote looks somehow evil.

Mainly because of her eye shape. Such eyes usually belong to villains.

Gurp is even shining a bit more strongly than the others. I guess that means he really deserves the name of the star.
Two big teeth in front of your mouth indicate your smartness.

Maybe the brain of emotes is all collected in their teeth?
Nah, I read the comments below so I know he just thinks he is smart, not is.
That grey emote has an anxious feel (those eyes).
Reply

Well the female emote is usually quite angry, so you're not far off.
Gurp is shiner than the others. Most of my emotes have different levels of texture and shininess.
I was just about to say that Stu only thinks he's smart, but you've read the comments, so I don't have to.

I'm glad Tim looks anxious. That was what I was trying to go for. And thinking about it, his colour matches his personality.
Reply

Oh, okay. This explains it. WAIT. It says everyone thinks he's a smart-ass, not that he actually IS one. Got it.
Reply

Yeah, he acts like a smart-ass but he's actually a total idiot. That at least was what I was trying to go for with him.
As for Timmy being a coward... well that didn't play out at all. If anything I should have said that Gurp was the troll and that Timmy was his victim, since that's pretty much how it seemed to have played out.
Reply




OR




Reply

NO COMMENTS EVER IN THREE YEARS?!?!

Well, now I finally know the names of the emotes.
Stu, Timmy, Ting and...
*scrolls up*
GURP?...

I wanted to look this one up because I looked up the Journal and realized you've only got a dozen of these left, so I wanted to check out the first one and see how long it's been. I could simply have used the Journal to find it, but decided to just browse and the more from you area happened to show something to me that looked like this.
I was wondering what "Introduction" would look like from you.
All this time and I didn't realized you had an official, like, recurring cast.

Reply

Because no one really looks at the introduction page, I've actually resorted to sometimes calling them by their colours, such as in "Choice"
fav.me/d30sddc
I also generally shorten Timmy's name to Tim. And the reason why I called him Gurp, was because I couldn't think of a name for him, so I got the word "Purple" took out the "le" and replaced the first letter.
Also, really, you didn't realize I had reoccurring main characters?
Damn, I wonder how many other people have failed to realize that those four are main characters?
Reply