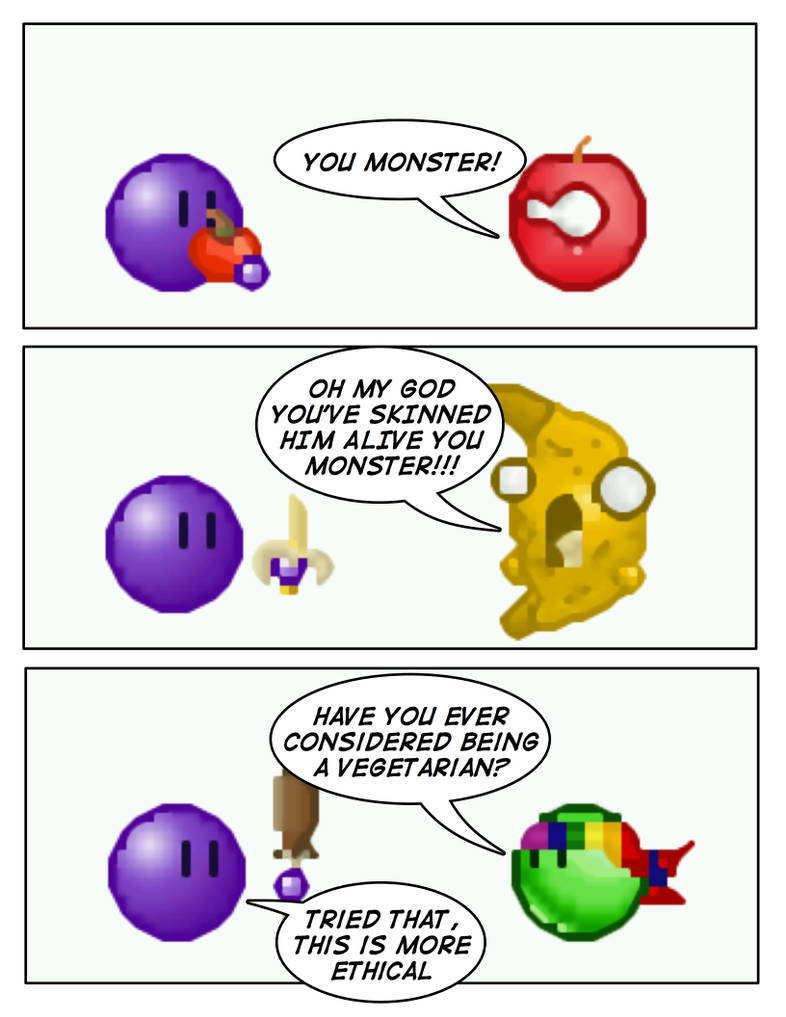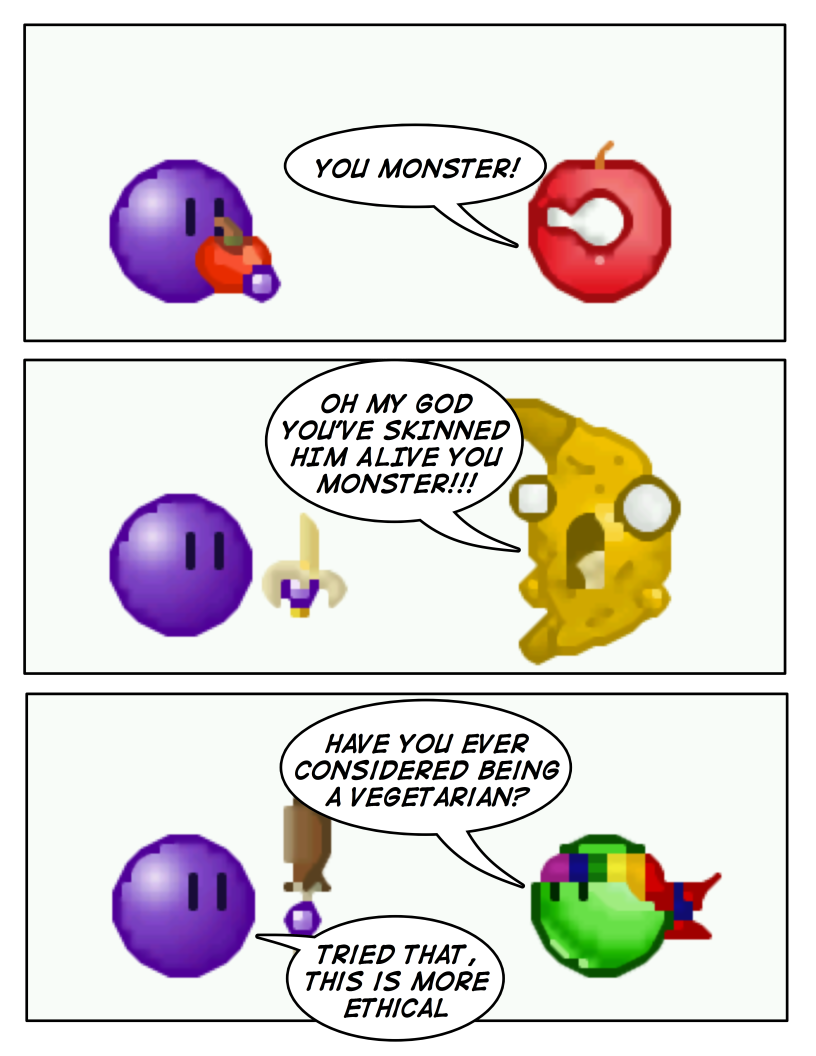 Watch
I could give a long explanation about how plants are living organisms too, and how I view all life as being equal and that's why I'm not a vegetarian. But the truth is, I'm not a vegetarian because I just don't care. You could bring up the argument that I care enough to not eat other humans, but honestly, how many animals eat their own kind? I can't think of any that do it on purpose, except humans that is. So that's why I have that ethic. Now you could bring up the argument that I care enough to not to eat my pets, but think of this, not a whole lot of animals eat creatures which they're attached to. I can think of countless examples where a predatory animals looks after another animal and never eats it (even though it usually would), and there are quite a few dangerous animals which are kept as pets, whom never attack their owners (although there are those that sometimes do). So that's why I have that ethic as well. So basically, my reason for not giving a crap about what animals are killed to full my tummy, stems from me being an animal myself, and who has similar ethics to other animals. But of course there's also the whole "a plants life is worth just as much as an animal's life, and you'd have to be a monster to favour one over the other" argument that I intend to use if anyone ever tries to covert me to giving up meat.
And as for Vegans… sorry, I just don't get you guy's full stop, so I can't give any arguments there.

None the less, I'd like to say to all you Vegetarians, Vegans, and whatever the word is for those people who only eat meat. Please continue doing what you believe is morally right, and don't let anyone (not even me) tell you otherwise. Because personally, I believe you should be able to do what you want without another person telling you, you shouldn't.

Of course none of the above comment has anything to do with the comic. I just made the comic to make people laugh, and I saw the opportunity to share my personal opinions about something I really shouldn't have. So feel free to ignore this whole comment. As a matter of fact, I encourage you to ignore it!


I actually heard that vegetables feel when we are eating them. That they make a special
stuff
while we are eating them and that that
stuff
is supposed to make eating harder, so there is no way to eat without causing pain to someone. I guess everyone just chooses whom they want to give that pain.
I'm vegetarian because I don't like the flavor of meat and fish.

I don't eat carrots and don't drink milk for the same reason.
Reply

I don't think vegetables feel pain because they don't have a brain to feel it with. Just because something happens when they are damaged doesn't mean they feel pain. Chemical defense makes sense. Plants feeling pain is just something people say to rationalize arguments they're trying to make.
Reply

Yeah, I heard that vegetables feel pain as well. Whether it's true though, I don't know.
Still, fruit is grown by the plant to be eaten by animals. So I suppose it's ethical to eat an apple. So long as you don't chew the seeds, and you poop the seeds on a nice dirt patch.
Not eating something because you don't like the taste of it. That I can understand.

While I actually like the taste of all those things you listed, there are some popular things I don't, and which I refuse to eat. For example, anything alcoholic.
Reply

This reminds me of some of the weirdest arguments I've heard about this. Ones about how plants have feelings, and about screaming rocks.
Reply

Well, rocks don't scream, but plants really have feelings.

And they also feel pain when we are eating them.
Reply

Reply

But what if
What if we all exist in a computer game. In reality, what we here call "plants" are actually humans. What if we humans are plants in the reality and only became humans in that game. Maybe "plants" created that game to see what happens if they all turn into plants and we turn into humans. WHAT IF

My fantasy works too much
Reply

I don't know, but that reminds me of the thought I had when I was a kid about perception: What if one of us perceives all colors as being completely different from what others see? how could that person know their perception is different? They would still call all the same colors we see all the same names, so no one would know, and there would be no way they could know they were seeing the world differently from everyone else. Like if a person saw a photographic negative of the world, they'd still call everything the same, and colors would "go together" or not go together all the same ways (most likely) but look all different, like the way Enderman sees the world, and they'd never realize unless they could swap minds with someone.

You can never know if your perception is different unless you can get another perception and compare.
Reply

Reply

Well, the transition from funny to dead serious was quite fast!
I must say I agree with what you said, you really explained your opinion well.
Reply