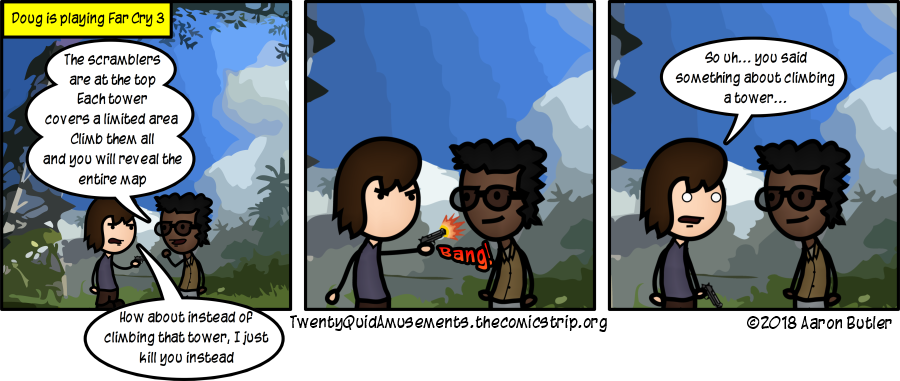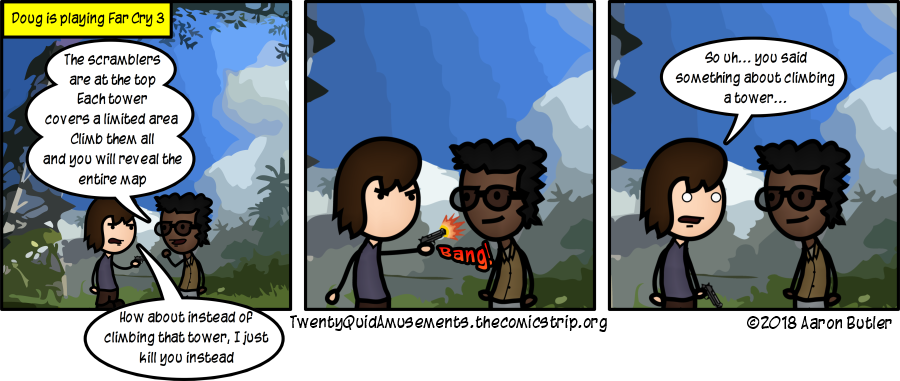 Watch
Check out the official website for the latest 20 Quid Amusements comic strip!


First

Previous

Archives

Next
Please tell me I'm not the only one who tried to kill him as soon as I could?
So yeah, I finally tried playing Far Cry 3. Now I've played Far Cry 2 before, and the only problems I had with it was the annoying malaria thing, the weapons degrading, and the fact that whenever you drove anywhere, an enemy jeep would spawn behind you and start shooting at you. Forcing you to get out, wait for them to stop and get out, and then shoot them, so you can drive off again, only for it to happen again seconds later!
But other than those small complaints, Far Cry 2 was a pretty great game. It was released around the time when games were trying to get rid of the HUD, so you had a nice little map you looked at, a bit like what Minecraft does. It's funny how that's completely changed, and now games try to shove as many HUD elements as possible onto the screen.
But when I put on Far Cry 3... my goodness was I bored.
Now this isn't a review. I haven't played enough of the game to accurately review it. And considering a lot of people like this game, I'm sure there's plenty in it worth playing. But I didn't like it.
Firstly there's the character you're playing as. I'm sorry, but I just can't bring myself to play a character who embodies everything I hate, which is basically reckless teenage behaviour, that you expect all of the victims in a Slasher movie to have. I watch Slasher movies to see those people get killed, I don't want to play as one!
Then there's that tutorial. One slightly wrong move, and you have to redo that entire bloody tutorial! That's what mostly put me off the game. I had to redo that entire tutorial too many times! There's little room for error, and there's DEFINITELY no freedom for messing about. It's really forced and really linear. Compare that to Far Cry 2 where the tutorial is kind of open ended, and the beginning bit is incredibly short, and you can understand why I started to dislike Far Cry 3.
Then came the tower climbing... which I just didn't want to do. I've not played many Ubisoft games (for some reason), so it's definitely not a worn out concept for me. Yet I was sick of it on the first tower!
Lastly, animals are too damn hard to kill!
I didn't play for much longer after that first tower. Maybe about thirty minutes to an hour. Hence why all of my opinions on this game should be ignored. You can get a good idea of some games in that amount of time, but this isn't one of those game. It's that tutorial man. It killed the game for me!

"
I watch Slasher movies to see those people get killed, I don't want to play as one!"

Reply

I'm so glad that came off as funny, and not as the conceited ramblings of a madman.

Reply

Far Cry 5 makes a joke about the tower thing actually.
Reply

Wow that tutorial sounds necessarily bad! Surely they should assume most ppl have played a Far Cry game before and should be able to bypass it easily :/ I wonder if a different team made this one?
Reply

As far as I know, Far Cry 3 was most people's first Far Cry game, and the one that set the formula that the other games would follow. So my best guess is that it was indeed made by a different team.

I guess it was mostly my fault that I kept having to do the whole tutorial over and over again. As I kept messing about. It still would've been nice if it had checkpoints though. ¬¬
Reply

I feel this will be pretty close to how people react to one another in the new fallout lol
Reply

Considering how people reacted to each other on Day Z (anyone remember that game?). I think it's obvious that people will act like this on the new Fallout game when it's released.

Bethesda are definitely not going to get people to play their game the way they expect people to.
Reply

they seem to have thought it out they sound like they have systems in game to discourage fighting and encourage helping one another it should fun to explore
Reply

I can't wait to hear how this all implodes... or works. Both sound like they would be equally as interesting to hear about.

I'm not going to play the game, so it won't affect me either way.
Reply

Reply

As long as you didn't pre-order it, I hope you enjoy it.

Reply

I snagged the collectors edition

I am weak and a sucker for awesome props
Reply