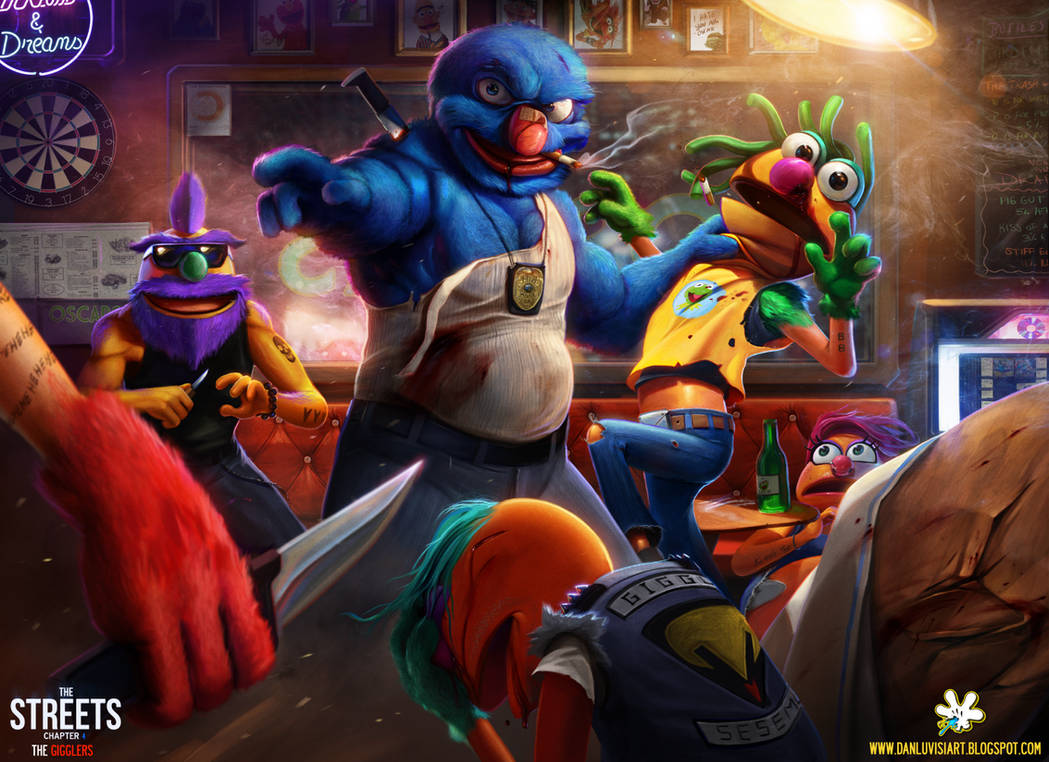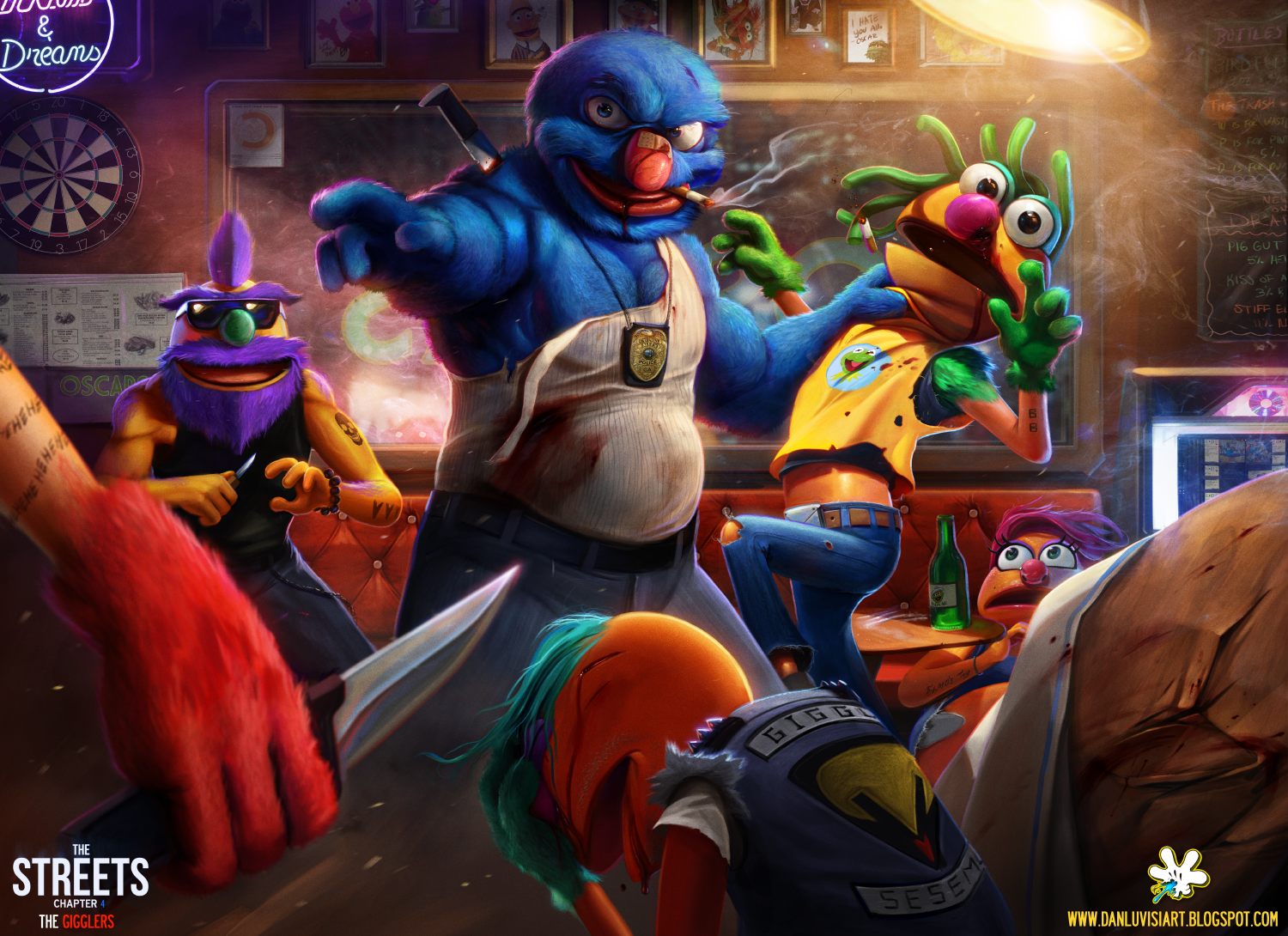 Watch
Part 1:
tinyurl.com/le2nbhz
Part 2:
tinyurl.com/kyc9cos
Part 3:
tinyurl.com/nbeoqeq
PART 4: THE GIGGLERS
Tiny white grains raced up a green-paper chute, pouring out the other end into the nose of a barely legal Muppet hooker. She pulled back, gathering her thoughts as her face burned, the bar blurring as the cocaine coursed through her frame.
Surrounding her were a gang of ruthless killers and drug pushers, known by their infamous yellow bird-shaped insignia. These were The Gigglers—a rowdy biker-gang associated with The Bird, The Streets' most notorious mob leader.

A handful of them competed in a race to see who could chug down the most beer, before slamming their glass mugs back onto the table. They come to a halt when the bar's main-entrance door flies open, banging against the wooden walls and silencing the jukebox. One of the bikers, Max, throws his green dread-locks to the side, trying to squint through his already head-splitting comedown.

Grover, a six-foot wall of blue, matted fur, makes his way through the bar, staring down the crowd of infidels who quickly go back to their own business—the once prolonged music now back on. Grover approaches the long, wooden bar-top table, lifting his coat off as the bartender approaches. The bartender wears shades, and accompanies a purple, fluorescent mo-hawk. He looks up at his
foreign customer. "What can I do for ya, pal? Beer, liquor?" he smirks. "The girls?"
Grover doesn't emote. The bartender shrugs his shoulders spinning back, but Grover slides a folder in front of him, again grabbing his attention. The hawked-Muppet looks down, opening up the manilla dossier, pushing through various polaroid photographs. "Yeah? What of it?"

"I'm looking for the red one. He goes by--" Grover stops, as the green-dreaded biker, Max, taps his shoulder from behind. Max smacks on chewing tobacco, smirking as he looks back at the gang as Grover slowly turns to face him.
"Yes?" Grover asks, noticing the other Giggler's as they stop their vice related activities—their focus now on him.
"My girl back there," Max says, pointing to the young hooker. "She says she knows you. Says yous' a cop. That right?" the biker chomps, almost expecting reactions from his fellow Giggler-thug accomplices. Grover looks down, a police badge resting against a stained wife-beater.
"What's it look like? Now fuck off." Grover scowls, turning and looking back at the bartender. "Look pal, I'm looking for—-"
Max is relentless, slapping Grover again. "Hey buddy, we don't like cops--"

"Good, because I don't like Muppets," grunts Grover, as he quickly spins around. With a reach of his massive blue fist, Grover connects with Max's large, pink nose, splashing blood onto the table behind him. Max falls to the floor, holding his broken snout as it drips a dark crimson juice. "My nose! You broke my fucking nose!"
One of Max's comrades quickly runs over to Grover from behind, slamming a knife into the giant's fuzzy shoulder. The edged blade meets flesh, digging deep into Grover's trapezius muscle. But the pain means nothing to the veteran of such, as Grover pauses, turning his head to see the now regretful Giggler, as he steps back cautiously. "Hey buddy...let's calm down now!" the Giggler says, raising his hands.
"Big mistake." Grover says, clenching his fist. The Muppet soars, courtesy of Grover's canon-arm once again. The purple-bartender from earlier leaps over the counter, trying to jab in hits, only to be slapped down.
Grover grabs the Giggler by his aqua-green hair and slams him face-down into one of the bar's numerous tables, causing the wooden legs of the table to buckle, crashing to the floor. The young, coked-hooker from before quickly jumps back, gasping as the towering blue giant walks over to the downed Max, wrapping his fuzzy fingers around the Giggler's neck.
"I'll ask one more time you little punk," Grover says, watching as Max flails about. "I'm looking for your leader, where is he?"
Max wiggles, trying to escape the choke hold but cant. "I—I--"
Max stops, as his eyes catch a new challenger, who walks out of the bathroom. Grover notices, slowly turning his head to his right side, following Max's sight. There stands Grover's target. His hair savage, his body thinned. His arms covered in tattoos, written of once loved giggles that would one day be feared. Grover smirks, snapping Max's neck as if it was a twig.
"It's been a while," Grover says, dropping Max's now broken body. He yanks the blade from his muscle, and tosses it to the ground. Slowly cracking his knuckles, he walks towards his blade-wielding foe.
"Good to see you as well, Grover," giggles Elmo. The sickly looking creating reaches for a knife, placed into his biker boot, as he prepares for one long, overdue, brawl.