In our continuous effort to improve the deviantART experience, we're publishing weekly Site Updates to keep members informed and to gather feedback. Below is a list of recent changes to the site, bug fixes, and feedback that was brought up by members in the
last Site Update
.
New deviantART Thumbnails
This feature will be rolled out to everyone over the next few days.
DeviantART's thumbnail images just got bigger and better! Starting today, we've increased the size of deviantART's thumbnails and, by popular demand from the community, we're also giving you a "Thumbnail Grid" mode.
Here's a run-down of what's changed:

We've made all thumbnails bigger!

Deviations display in tidier rows with no unnecessary cropping, allowing you to see the art as it's meant to be seen!

For literature thumbnails, the background has been lightened and much more room is given for text.

Very tall and very wide deviations zoom in on the image instead of showing a hard-to-click, hard-to-see skinny thumbnail. We wanted to keep cropping to a minimum, but we think this new approach is much better for the artwork.

Frames have been added around wide, small, and transparent deviations to keep each row tidy.

The information underneath each thumbnail is left aligned for better readability.

The Newest and Popular sorting options have been combined into one menu to simplify things and save space.
From
Browse
and Search pages, you can switch between Thumb Wall view and Thumb Grid view, giving you control over how the new thumbnails display.
Thumb Wall
A compact and dynamic wall of art.
The Thumb Wall places several deviations in each row and will justify their placement based on the size setting for the browser. This allows for a dynamic view to deviations, where each row will bring you new art to look at. Because of the displacement of artwork based on the row justification, every piece of art is given the chance to stand out!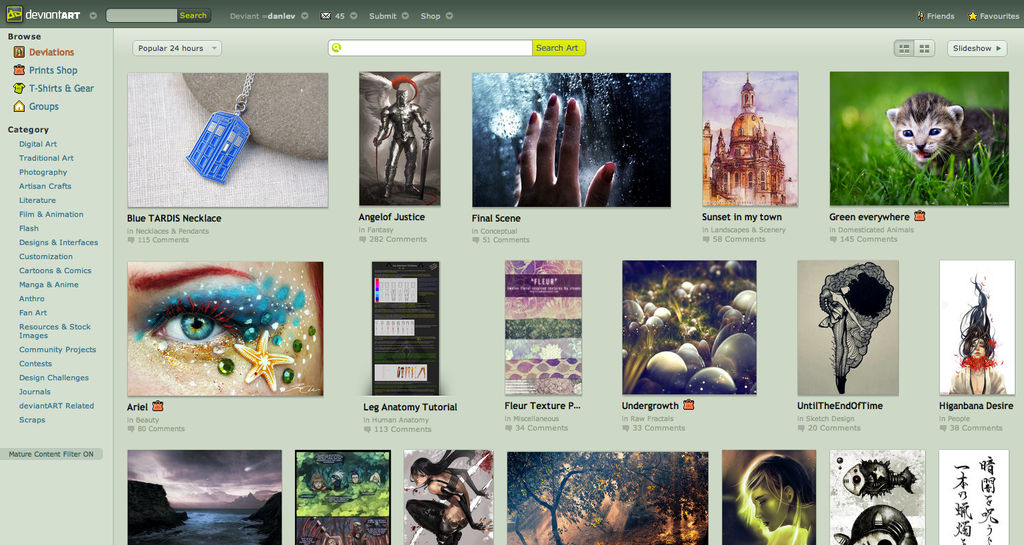 Thumb Grid
A tidy grid of art.
The Thumb Grid was designed with the organized member in mind. For users who like their viewing experience to be orderly, the Thumb Grid sticks to a certain number of deviations per row based on the size of the browser, and it keeps deviations in columns, so that deviations are presented evenly spaced and each piece of art is given a bit of room to breathe.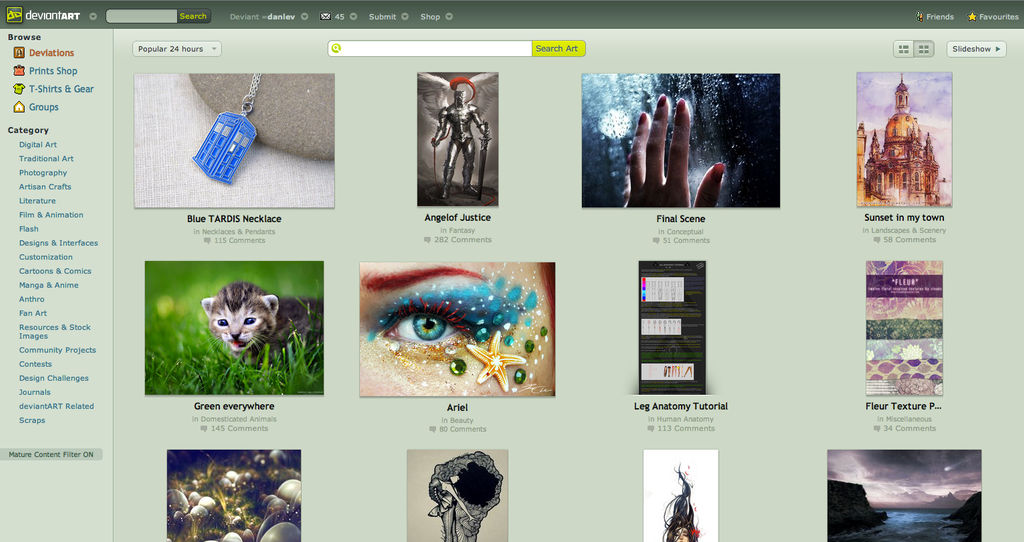 Change Log
All users have been migrated from our outdated time zone and daylight saving time settings to a proper time zone. This means that future daylight saving time changes should be automatic and more accurate. Please check your settings to verify that the timezone we have placed you in is correct. Fixed by $shadowhand

The deviantART World Map has been overhauled! The frame rate of animations has been doubled, items now wrap around the world through the Pacific Ocean, and the shadow map properly refreshes itself. Added by $kouiskas

Groups that were closed and then re-established did not track pageviews accurately. Fixed by $shadowhand
The FAQ breadcrumbs were not properly formatted. Fixed by $DEVlANT

Users of some popular extensions for Google Chrome experienced browsing errors after updates were made to those extensions. Fixed by $muteor

The Edit button went missing from Group Journals. Fixed by $ZombieCoder

Em dashes (—) stopped working in Journal titles. Fixed by $shadowhand

Links to literature deviations in the Featured Deviation widget resulted in 404 errors. Fixed by $KnightAR

The "More Journal Entries" link being was cut off on user pages. Fixed by $shahyarg

Deactivated accounts were able to collect folders. Fixed by $muteor

The "Comments Disabled" box was not properly formatted when the deviation was viewed while navigating using the "next" and "previous" buttons. Fixed by $shadowhand

Ctrl+clicking on stacks in the Message Center did not open the stack as expected. Fixed by $DEVlANT

When activating Edit mode on a profile that had a video embedded, the video overlapped into the Edit page. Fixed by $shahyarg

Improvements have been made to error messages in the Shop cart. Fixed by $KnightAR

For some users, the deviantID picture was impossible to change after upgrading to the new deviantID widget. Fixed by $DEVlANT
The logos used for the Share buttons were out of date, and the Twitter logo was incorrect throughout the site. Fixed by $drommk

The Featured folder was not an option for the Gallery Folders widget for Groups. Fixed by $DEVlANT

The oAuth API Application approval was not showing the information details for apps. Fixed by $KnightAR
Getting blocked by a Group erroneously removed all favourites that the blocked user shared with the group. Only deviations that are exclusive to that Group should have been removed from favourites, consistent with user block. Fixed by $shadowhand
Certain events weren't triggering a Writer autosave. Fixed by $kemayo

DeviantART Muro redraw embeds shrunk suddenly when you resized them. Fixed by $Alisey

Old Journal skins had far too much padding when editing in Writer. Fixed by $Alisey
Your Feedback
Several users mentioned wanting to see Channels more prominently placed. Some said that they would like to see Channels incorporated into the Message Center, provided it didn't add to the message total. Others said they would like to see it included as part of the main page.

=Hoshiichan mentioned that Channels are easy to overlook in favor of regular browsing, simply because of their placement in the footer. ~DeviBrigard said that it's easy to not notice the fact that Channels are present in the footer to begin with.
Feedback about the Watch Redraw button was entirely positive!
Users would like to personally set what deviations show up in the "More from this user" section of their deviations' pages. Suggested by *InsaneKane87
Users would like for Super Groups to be able to set folder icons the way Premium Members can. Suggested by ~careas

Users would like to be able to view more than 24 deviations/stacks at a time in the Message Center. Suggested by ~Yamitora1
Users would like a way to edit submitted deviations drawn in deviantART muro through deviantART muro. Suggested by *Roxyielle
Discuss!
New Thumbnails

How do you feel about the new Thumbnails? Which mode do you prefer: Thumb Wall or Thumb Grid? We'd love to hear how your browsing experience has changed!
Have a suggestion, idea, or feedback? Leave a comment on this article!
Find a bug? Report it to the Help Desk! (Be as detailed as possible!)