Being a Premium Member just got sweeter!
Multi-Submit and Scheduled Submit, two often-requested features that will make submitting to deviantART even easier, have just been launched to Premium Members!
Multi-Submit

Multi-submit is a tabbed interface built into the Submit page which allows you to upload and submit multiple deviations at once.
There are several ways to upload multiple files:
Drag and drop several files onto the Submit page at once.
Select several files from your Sta.sh by opening the "Select file from Sta.sh" modal and dragging to select, or by using control+click (command+click, for Mac users) to highlight several files at once.

Submit an entire stack from your Sta.sh by hovering over a stack and clicking Submit!
You can then change settings for each one, and then save them for later or submit them to your gallery. In addition, the Submit page will retain the order and settings of any files uploaded, even if you navigate away from the page itself, which means that you can complete the submission process at your convenience, from anywhere you go, without having to keep track of what you were planning to submit or when.
Scheduled Submit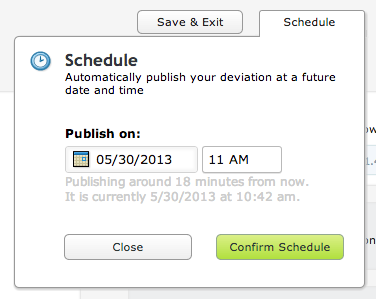 Scheduled Submit lets you upload and prepare submissions, then set a time and date for them to be publicly posted to deviantART. For example, this Journal was scheduled to publish at 2PM. For deviants with a busy schedule, or for those who are likely to upload and submit multiple deviations at once, this gives them the opportunity to prepare and present their work to their watchers without having to worry about flooding Message Centers or risking works going unnoticed.
Once you select and confirm your date and time, that file is squared away! The tab will turn orange and will remain on the Submit page each time you come back to it until it is submitted. If you want to change things prior to its submission, you can click Cancel on the orange bar and then make your changes.

This Journal was scheduled.