More Like This

DeviantART is proud to announce More Like This - a new way to explore deviantART. When you find a piece of artwork that you love, More Like This surfaces related artwork, artists, and Collections. With More Like This and our other
new browse upgrades
, deep-diving through the deviantART community's diverse collection of over 200 million deviations just got better.

We developed More Like This to make it easier to find the content you love. With over 100,000 new deviations being submitted daily, it's easy to get overwhelmed by the sheer amount of browsable artwork. More Like This allows you to discover corners of deviantART catered just to you, based on deviations you already love.

The viewing experience no longer stops after one image. With More Like This, you can choose to browse endlessly through a stream of artwork, changing your path each time you click "More Like This" on a deviation. If you love exploring artwork, you'll love More Like This.






More Like This is not image-recognition software. Instead, it looks at where an image exists on the deviantART social graph and finds deviations that are nearby. This means that members of the deviantART community help define the More Like This results. Explore the connections and insights of the deviantART community with every click.







When you organize results by artist, More Like This surfaces people that create artwork similar to what you've selected, allowing you to find and explore new talent!





With millions of Collections of artwork curated by the deviantART community, More Like This lets you organize results by Collections of Favourites from the community that are relevant to the artwork you select.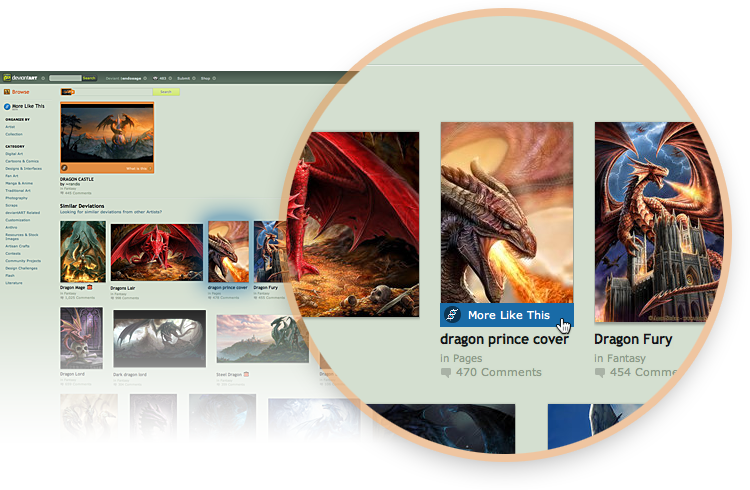 When using Browse or Search, hover over a deviation and select "More Like This" to see more content like that deviation. This means that you can select "More Like This"
from
More Like This results, allowing you to browse endlessly through a stream of related artwork!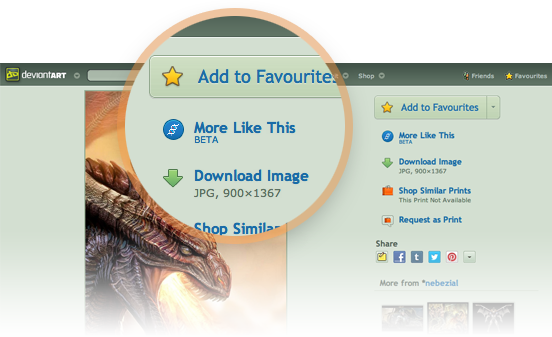 More Like This buttons can also be found on deviation pages.

We've improved the left-hand navigation bar to include Popular and Newest options. For deviants who like their art to be larger than life, the new Full View mode allows deviations to be browsed through at a larger scale. Full View mode also provides the ability to favourite, collect, view comments, and participate in the discussion right from the browse page.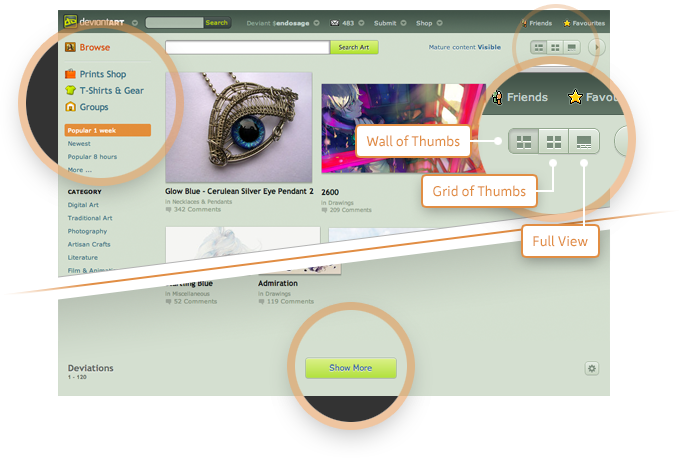 Our new Show More button allows you to scroll endlessly while browsing More Like This results. For those that prefer the original pagination interface, we've added an option to toggle between both modes. Your setting will be preserved as you browse.