Starting today, we're testing a series of new features on the site. These features are currently available to many of our Beta Testers, as well as small handful of the general deviantART audience. #deviantartupdate
Today
When art news happens around the world, deviant artists are among the first to respond in the most evocative ways possible. We're proud to unveil the
Today page
— the new human and dynamically powered newspaper for the community that reflects the stories inside of deviantART as they pertain to art, fandom, pop culture, and world culture.
Designed to showcase a variety of content — including editorial pieces, Journals, contests, and even deviants new to the site, the Today page will reflect the undercurrent of what's happening now — both online and off.
The Today page will improve the accessibility of various areas on deviantART, creating new and easier ways for both our logged-in and logged-out audiences to enter the deviantART experience.

Read more from techgnotic and our Content team: About the Today page
We'd like your feedback: The purpose of the Today page is to inform you what's happening, today, on deviantART! We'll be updating its content daily, and want to know if it's enhancing your deviantART experience. If so, how? Tell us what's working! If not, what would you like to see on the Today page? How can we make it better?

Navigation
The new navigation will make it easier to jump in and explore the full range of deviantART. Everything related to Your Account will be grouped together on the right side of the page. Undiscovered and What's Hot will be separated from Browse and Search to highlight and more clearly reflect their functions. The Browse bar will scroll down the page with you.
The more menu, which was previously available next to the deviantART logo on any page, has been cleaned up and moved to a more prominent location. We've often received feedback that the previous placement of the menu was too hard to find, and its contents overwhelming. We've removed items from this menu that are duplicated in other menus of the navigation, or easily accessible from one of them.
For users who prefer the Stick Menu option, it remains available, but has been relocated to your Settings page.
When viewing deviations on the Browse page, the secondary navigation and left sidebar will travel as you scroll, so that other pages can easily be accessed regardless of where the viewer is on the page. With endless scrolling on Browse pages, having the navigation readily available can be handy if you're deep into a browse experience.
Daily Deviations, which now have infinite scroll, have been added to this secondary header as well.



Activity Feed (Beta)
As we designed our upcoming Mobile app, we understood we needed something more streamlined and direct to carry the flow of what you want to watch. The Activity Feed aggregates activity from deviants you watch, including Journals, deviations, Collections, Status Updates, Polls, Forum threads and Critiques.
The Activity Feed lets you easily interact and comment on artwork and content shared by your watchers. Keep in mind, we love the robust tools in the Message Center and it's not going away.
If an item is removed from your Message Center, it will also be removed from your Activity Feed. You can customize what appears in your Activity Feed by editing your Manage Friends settings for specific deviants. (These settings apply to both the Activity Feed and the Message Center.)


Status Updates
The Activity Feed comes with a new way to easily communicate with your watchers: Status Updates! You can use Status Updates to post quick personal updates, share a work in progress or your commission status, share the work of an artist you like, talk about current events, ask your watchers for advice, share what inspires you, or just talk about how you're feeling. Whatever you'd like!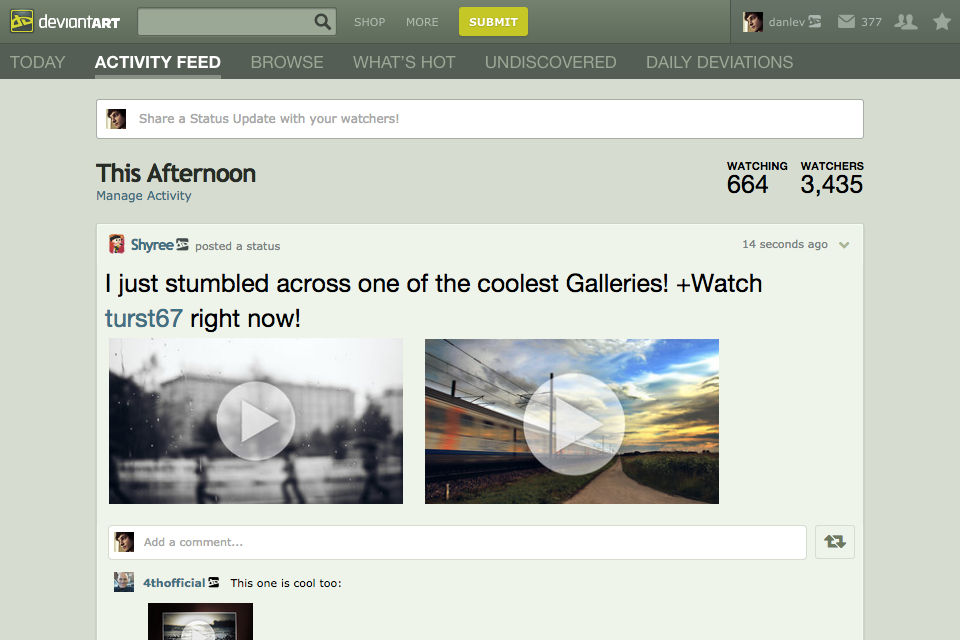 Tags
Tags create landing pages around topics — making it easier to discover related artwork, bringing together artists and art appreciators, and forming communities around common interests. As deviantART grows and creates new ways to discover great content, we believe tags will play an important role in better surfacing artwork.
You now have the ability to tag your deviations and Collections. Tags added to your deviations will be publicly viewable -- this is a change from the previous use of keywords, which were private. Visitors can learn about your work by viewing how you tagged it, and can find more works by you and other deviants based on tags. Tags can also be used in comments, Status Updates, Journals, and Collections.
Important: Keywords added to existing deviations before tags launched will not display publicly unless you approve them using the new Tag Editor, which can also be used to add and edit tags on your existing deviations in bulk. Tagging your deviations and collections will improve their visibility across the deviantART network. Tagging is a crucial part of discoverability and will help your work find the audience that will appreciate it most!
Tag pages display artwork, Journals, Collections, Status Updates, and a stream of activity around a shared theme. You can also find a list of deviants who are frequently using that tag, to connect with other people who share your interests.
Get started now! Read our tagging guide and use the Tag Editor to approve tags on your deviations.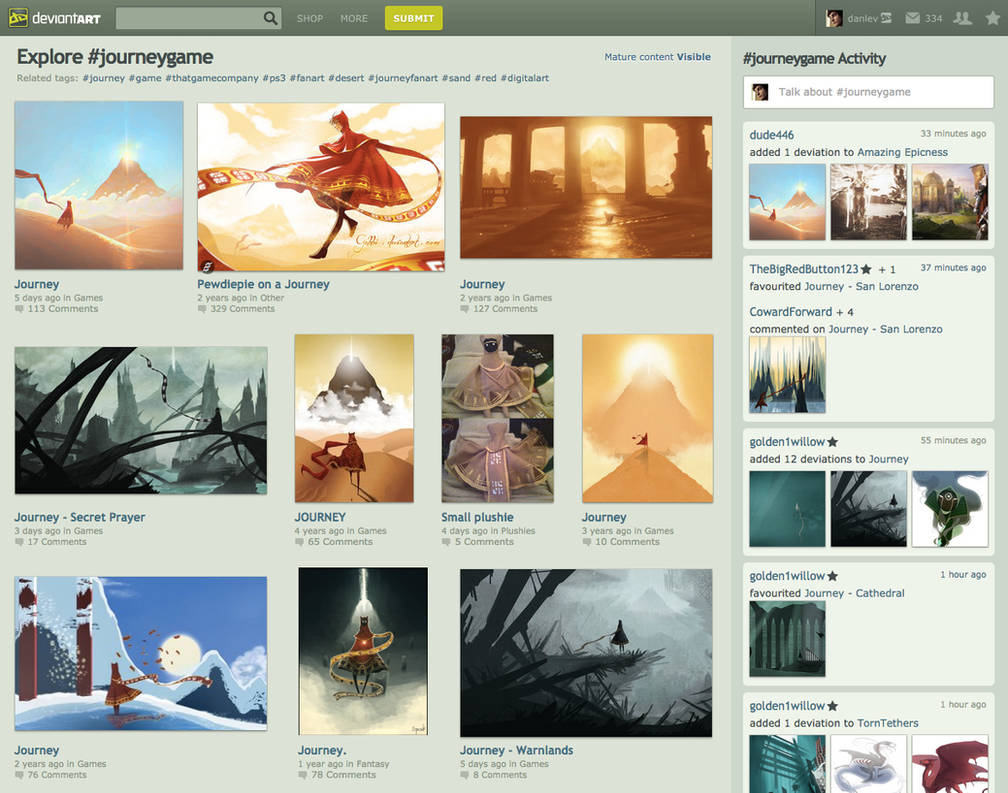 Collections
You can also now watch Collections made by other deviants. When you watch someone, you'll automatically be watching all of their Collections -- but you can also choose to enable or disable watching Collections on a deviant-by-deviant basis. Collections are surfaced through the Activity Feed, creating a new way to discover and expose artwork on deviantART.

Art curators are among the unsung heroes of deviantART, and with these new changes, we're now surfacing Collections on deviation pages, allowing you to discover curations of artwork that include a specific deviation.


Test it out!
We encourage you to test these features over the next week, and let us know your thoughts once you've had a chance to integrate the new experience into your deviantART routine. We're confident these changes will improve your deviantART experience!


Header artwork: Lotus Lake by fractist