In this week's change log, tag pages get a brand new look! We've also implemented a number of bug fixes and smaller improvements. Stay tuned for more, and keep the bug reports and feature requests coming!
Redesigned Tag Pages
The design of tag pages has been uplifted in Eclipse, featuring a cleaner design that puts more emphasis on the art itself.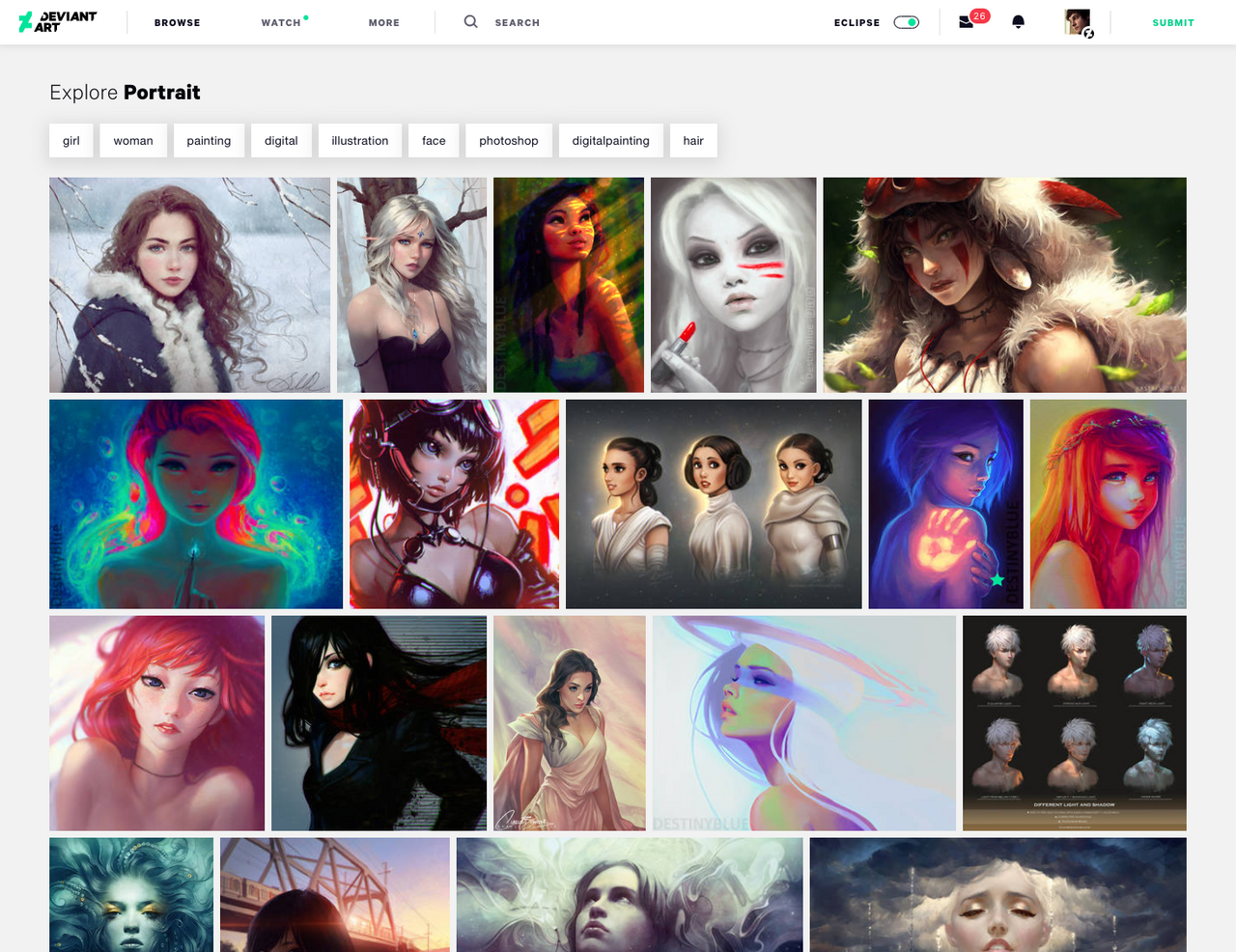 Change Logs Moving Forward
Up until today, we've been releasing updates to Eclipse once a week. Starting today, we are moving to continuous development cycle on Eclipse, meaning we will be releasing changes more frequently throughout the week rather than once a week. The change logs will still be posted once a week, but they will now be a recap of the past week's changes.
Change Log
Fixed issue where comments would sometimes appear duplicated if you clicked "load more" after new comments were added.
Infinite loading now loads more content before you reach the end of the page, making the loading smoother.
Fixed issue where you couldn't edit forum comments from the comment permalink page.
When adding deviations to your comment or journal, the search icon now behaves as a submit button.
Fixed issue where folders would not tell you when you've reached the description character limit.
Fixed issues where some galleries would appear as empty in some rare circumstances. (Thanks for reporting, @beavotron)
On your own comments, the delete option now appears under the dropdown instead of under the comment.
Fixed bug where comment likes would not appear until refreshing the page.
Fixed issue where a code name would appear rather than the text "comments are disabled" on deviation pages with disabled comments.
Comment count on profile header displayed comments received rather than comments given. (Thanks for pointing out, @rotane)
When creating a poll, deleting a poll option would also remove all choices below it.
A faint line would sometimes appears under the title of literature and journal thumbs in status updates.
Keep Sharing Your Feedback!
In addition to these updates and bug fixes are smaller improvements we've made as we continue to develop larger features in Eclipse.
Follow these steps to share your feedback:
Switch to DeviantArt Eclipse
Hover over your avatar
Select "

Give Your Feedback

" to access our official form
Haven't received access to Eclipse yet?
Join our waitlist today
! Eclipse is steadily rolling out to deviants, so we'd love for you to start exploring the next phase of DeviantArt!