Hello everyone,
I'm looking for a Icon artist to do a Icon for my application
Mail Notifier
, if you know someone or you think you have a special talent for Icons please contact-me.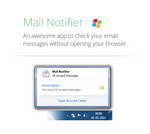 (The artist will be payed by points or money)
Icon information's:

I need 2 icons for the system tray. One for when we don't have emails and the other for when you have unread emails in your inbox. The system tray icons should be Windows 7/8 style, white and black. The size of this 2 icons needs to be 16x16.

I need other Icon, this will be used as the application icon. This Icon should have the following sizes:
16x16 | 24x24 | 32x32 | 48x48 | 128x128 | 256x256
All of this Icons should be related to Emails. If you have any questions, please write one comments. Thank you.
You can send your icons to this email:
maildanielnet@gmail.com
Once I have a good collection of Icons, the Icons will be chosen by a vote.
All the artists are welcome to contribute to this project.

Best regards,
Daniel Rebelo