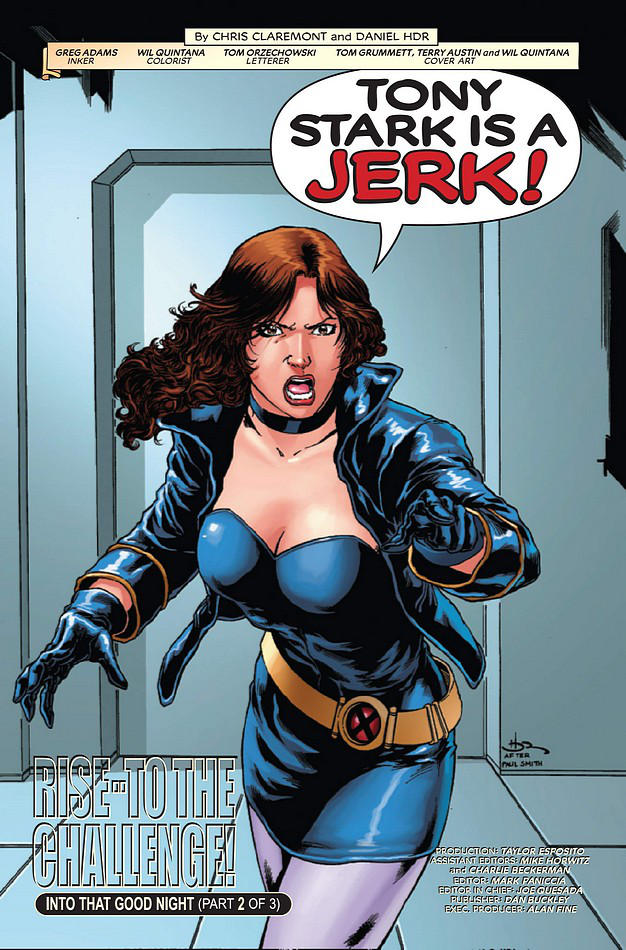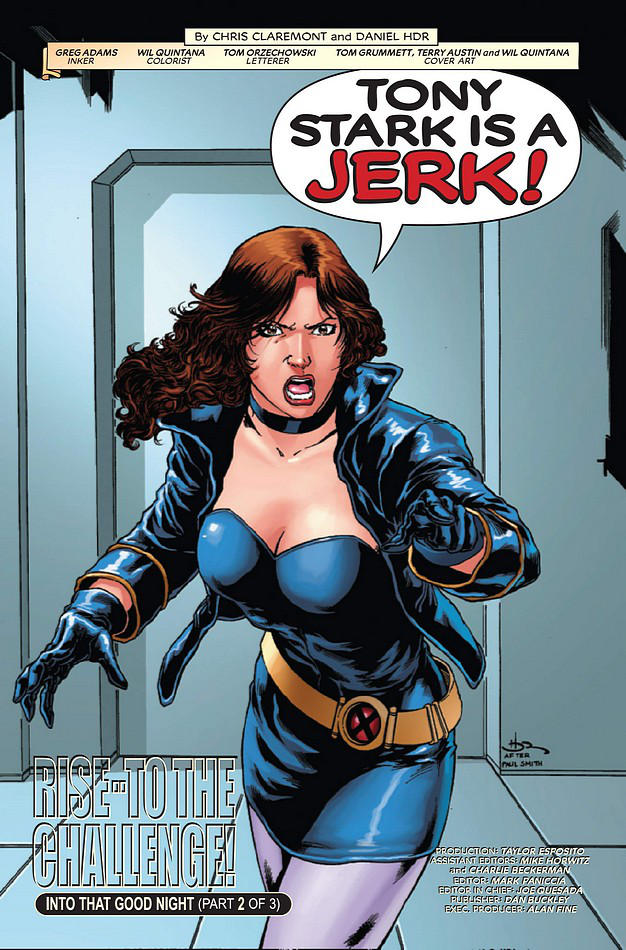 Watch
Page 01 from the web preview of X-Men Forever 22 (Marvel Comics)

Write: Chris CLAREMONT
Pencils: Daniel HDR
Inks: Greg ADAMS
Colors: Wil QUINTANA

Ooooh... now I get it. There's a tribute to this page in Ultimate Comics: Spider-Man Vol. 3 or 4, I don't remember right now. It's where Aunt May, Gwen, and MJ meet Miles Morales, and Captain America shows up saying that Miles isn't going to be Spider-Man, and then the opening page of the next issue is of Gwen in this exact pose, saying "Captain America, you are a JERK!" Now I geddit.

Awesome!
Reply

Now this is nice, Kitty agrees with the guys at Wizard Magazine!
Reply

I have to tell you these comic pages you posted are boring. Just characters sitting and talking. Yeah, than a out of shape female whomever it is comes in yelling tony stark you a jerk is-really genius-no i don't think so. Just shows what marvels has which isn't much.
Reply

Um, you can't really fault the artist if the writer calls for pages/panels of characters talking. Gotta work with what he's given.
Reply

Thanks a lot!

This scenes are requested at the original Claremont script!
Thanks a lot 4 your comment, man

Reply

A great tribute to a classic page, way to go

Reply

Ta ficando bom em rapaz!! hehehe..trabalhando com a lenda viva ai dos XMen!! parabens. mto bom o trampo

Reply

Vamos ver se rolam mais

O cara é disputado

Adorei tuas paginas do Blackest Night Superman! Holly fucking great, cara!
Reply

É... essa cena foi clássica...


Reply

Sem duvida. Solicitaram referencia a ela no roteiro. O Claremont pediu pra seguir a mesma composição , eu podia colocar meu estilo, sem problemas. Daí não podia deixar de colocar a sinalização no canto inferior direito.

Abraço e obrigado pelo comentário.
Reply

Awesome! I was so expecting her to say (Professor Xavier is a Jerk).


Reply